The timing for uploading our last record podcast couldn't be more perfect, as it's just been confirmed that Joss Whedon is on board to write and direct The Avengers sequel.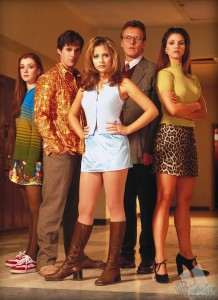 In this episode of our podcast Elyse, Alice Marie, Lois and Moxie called each other up to talk about their many feelings about the Whedonverse. While, without a doubt, we all enjoy Joss Whedon's output and are happy to have a fellow geek creating exciting content, certain problematic tendencies in his writing and direction were begging to be discussed. While not everything is covered, among the things discussed Moxie breaks it down on the erasure of bisexuality in Buffy, Lois is through with Firefly because of the show's treatment of Chinese culture, and Alice Marie has a lot of feelings (both good and bad) about Dollhouse and the show's premise. And then there's that one movie he just did. With all the butts. The episode then finishes off with a great (although not Whedon-related) tangent discussing Joan Watson and the upcoming series Elementary. And there ya have it, folks. You should come to our panel at Geek Girl Con in Seattle, because it'll be like our podcast, except with cleaner language and a lot more audience interaction.
As always, be forewarned of massive spoilers and salty language. You can stream the podcast in the little thingamabob below, find is in iTunes, or just download the file.
Related posts :