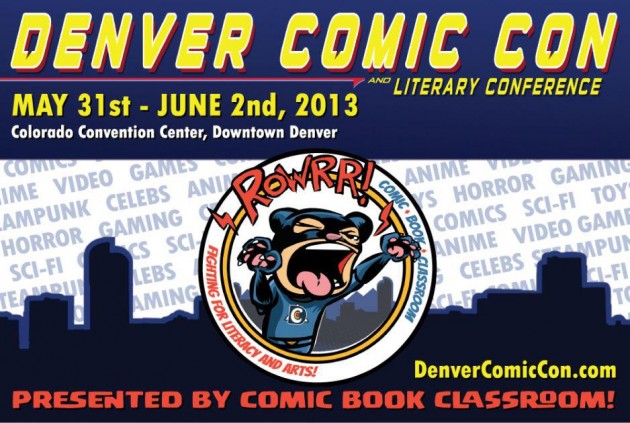 A reminder that Denver Comic Con is just around the corner, this coming weekend of May 31-June 2nd. Rick, one of our Staff Writers, will be part of a couple of panel discussions at the convention:
1pm, Saturday, June 1: The Boy Who Loved Superman
Every year, DCC puts one, special "Super Fan" in the spotlight – someone who exemplifies our Missions of Education, Community and Diversity.  This year we bring you Mike Meyer the World's biggest Superman fan.  Mike was scammed out of his entire Superman memorabilia and comics collection (almost every issue, ever) and the comics community came to his aid and replaced most of it.  But that's not all:  Mike is going to tell you all about his world-famous Superman collection!
Panelists: Mike Meyer, Rick Rivera
3pm, Saturday, June 1: Denver Public Library presents Out from Behind the Mask: Queer Heroes Among Us
Readers don't need to hunt any longer for GLBT heroes and villains. These diverse characters and other worlds are creating change in this world. Both adults and teens are finding stories of acceptance and hope.  Our panel of super fans will share favorite comics, graphic novels and manga titles across the spectrum of sexual identity. Whether you are an ally, questioning or omnisexual, please join the discussion.
Panelists: Laurie Spurling, Wayne Markley, Rick Rivera, Becker Parkhurst-Strout
4:30pm, Sunday, June 2: Women in Comics
Women used to be an extreme rarity in comics – but times are changing.  Or are they?  Find out if things are any different, what are the unique challenges in comics these days, and what are the prospects like now?
Panelists: Ramona Fradon, Amy Reeder, Emily Martin, Rick Rivera 

The full convention schedule is available via Guidebook. So if you happen to be there, drop by one of the above panels!