It goes without saying… May the Fourth Be With You!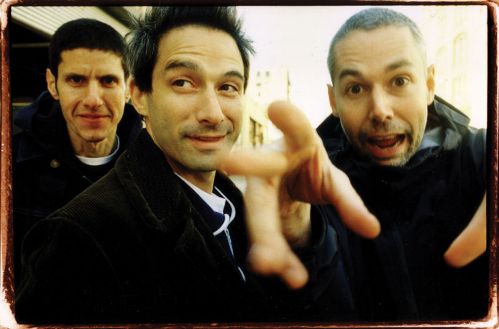 We were saddened to hear that Adam Yauch aka MCA of the Beastie Boys passed away today. In honor of his (and the band's) prolific output, check out this fantastic glossary of 170 Beastie Boys lyrics references that was put together by the Onion AV Club.
AVENGERS!!!!!!!! A few of our staffers braved the midnight crowds and went to see it last night. We promise to do our best and avoid spoilers if we end up talking about the move on the site in the next few days.
This Saturday is Free Comic Book Day. Drop by your participating neighborhood comic book store, pick up a freebie, and buy a book or two if you can swing it. Don't know where to start? Check out our own Alice Marie weekly comic book feature for inspiration, or just get to know the staffers – they're sure to have tons of recommendations!

Do you take your tea with milk or science? This ceramic tea set, combining function with Russian folk style, is pretty awesome. Too bad it's only a prototype, or we'd be hosting tea parties with this set for sure!
We honestly can't wait for Pixar's Brave to hit theaters – it feels like we've been waiting forever. So any and all new stills are welcome!
With the Total Recall movie remake coming down the pipeline, some might be looking forward, but others are looking back – mainly, at concept art that shows what the film would have been like if it had been directed by David Cronenberg instead of Paul Verhoeven.
Check out this Kickstarter to help fund the publication of an anthology of feminist speculative fiction! This book should be required reading in classrooms.
English speakers already adopt foreign words to describe particular situations/feelings (schadenfreude, anyone?), so this is a great list of ten untranslatable wordsto add to our vocab. Each term is paired with a work of sci-fi or fantasy that could be best described using that particular word.
The Mary Sue knocks it out of the park (as always) with this awesome article on illustrating realistic, functional wheelchairs. It's always good to see folks of varying ability in media, and it's even better when it's done right!
We spy with our little eye… Alias on this list! Ten showrunners of some beloved series talk about some of their biggest regrets while working on their shows. (Like frakkin' Battlestar Galactica!)
Combining our love for Game of Thrones and Lego, check out this stop motion video recreating the show's intro!
This video mash-up featuring clips from 182 superhero films (coming in just under five minutes) makes you wonder if it's a sign that the genre is a bit tired, or if it's just tried and true.
Tumblr patron saint and very British author Neil Gaiman is re-teaming with Coraline, James and The Giant Peach and Nightmare Before Christmas director, stop-motion genius Henry Selick, for an adaptation of Gaiman's most recent novel, The Gravyard Book. One step closer to having a film version of everything Gaiman has ever written!
Bethesda Softworks (publishers of Skyrim and Fallout) have just shown the first trailer for their next big franchise, Dishonored. The developer, Arkane Studios, last worked as level and asset designers for Bioshock 2. Yeah, it's a Neo-Victorian steampunk setting, and yeah, it's been done, but the pedigree, political intrigue in the story, and the potential for emergent gameplay all make it very exciting.
The John Carter stories have inspired a gender-swapped version called Jane Carver of Waar, by Nathan Long. Based on this excerpt, it sounds like a fun, campy ride!
DC's just released their newest Super Best Friends Forever short. Part of their "DC Nation" series of interstitials on Cartoon Network, it features Supergirl trying to get out of being grounded, 'cause, you know, "vanquishing wickedness takes precedence over trivial penance!" (Thanks Wondergirl!)
Really looking forward to the final chapter of Mira Grant's post-Zombie-Apocalypse-blogger-political-thriller trilogy, Newsflesh.  The third book, Blackout, is available on May 22nd, and after the crazy twists and turns that Grant has thrown at sister and brother blog-team George and Shaun Mason, we've got no idea what to expect.  All we know is that it's going to be shocking, it's going to be bloody, and absolutely no-one is safe.
Half of tween girls are gamers who love Beyonce. We're so proud! Here's looking at you, kids.
Loving these old cabinet cards altered into geek art by Alex Gross!
Also amazing: Foto Marvellini's super-hero family portraits. So cool!
Joseph Gordon-Levitt might be in a revamp of Little Shop of Horrors as Seymour, the florist who raises a giant singing carnivorous plant. That might be kind of amazing.
Star Trek: TNG cast recently reunited in Calgary – tears were shed, laughs were shared, and if you weren't there, you can check out these video clips.
What's on your radar this week? Tell us in the comments!
Check out our previous Geeking Out posts.