Obviously, we don't always need to give gifts to show love and appreciation for someone, and besides that, any occasion is a good one to give a token. That said, it is the holiday season and a lot of you might be looking for ideas. We rounded up a few items we wouldn't say no to, as well as a few links to DIY gift lists and charities you might want to consider instead.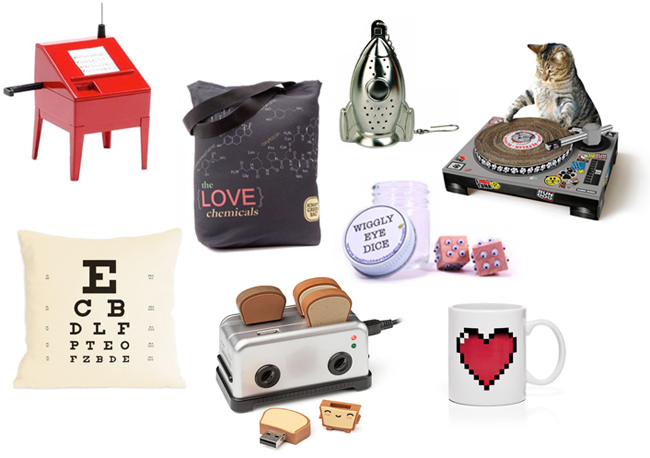 Prefer the DIY approach? Here are a few good lists for geeky handmade presents. Take your pick. Other things to consider? A CD mix of your favorite songs, given in a hand-lettered card, or make a custom map for a local friend or relative of your favorite spots, writing down interesting stories about each location.
Another way to go is donating to a charity in a loved one's name. We've picked a few unique ones below, but you can also consider your local food bank, or use Charity Navigator or GiveWell to find the cause that's right for you.
Hero Rats. These cute rats save lives everyday by sniffing out mines and testing for TB! They're cheaper and faster to train than dogs and a little really does go a long way, from feeding them or setting up a love nest so they can breed, to paying for a handler's training.
Con or Bust, coordinated by the Carl Brandon Society, aims to raise funds for disadvantaged geeks and fans of color to attend SFF conventions.
The Ali Forney Center supporting homeless LGBT youth was devastated during Hurricane Sandy. With the New York area still dealing with the heartbreaking fallout of the hurricane, AFC could really use some help in their ongoing mission to provide a safe, supportive space for young people who have nowhere else to turn.
Whatever you may end up giving or receiving this holiday season, we really just hope everyone feels loved and has fun. What gift would we like to receive? Besides your ongoing readership, keep sending us guest post ideas and tips on things we should consider writing about!