We're No. 1! is a weekly feature looking at first issues in new comic series, as well as one-offs and special releases. In his reviews, Jeff highlights stories with diverse characters and plot lines Geekquality readers can care about, as well as points out comics that miss the mark.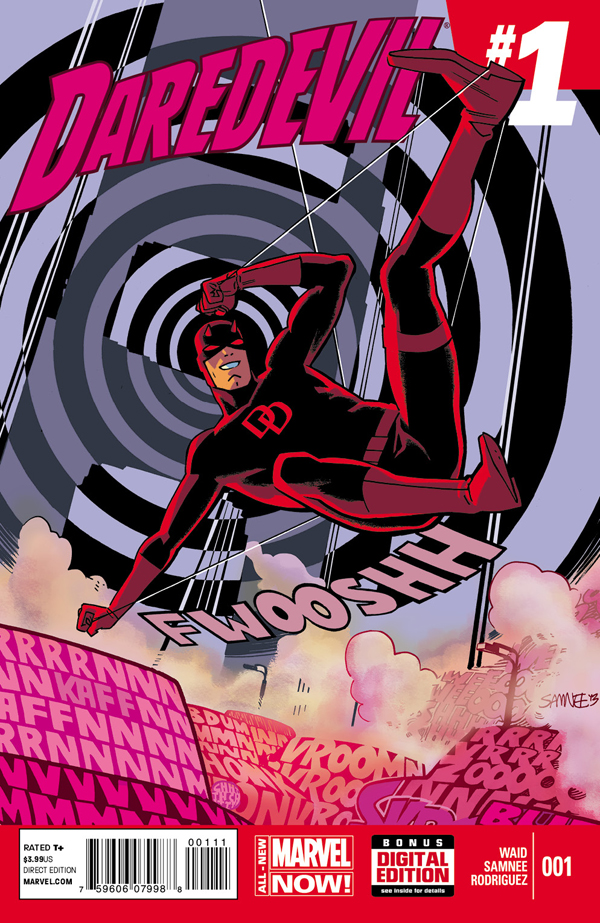 Caped hero fans had little fare to sate them this week, with only Marvel's Daredevil #1 coming this week. Matt Murdock has become a public figure, his secret identity as Daredevil having been revealed to the world. Now he's left his traditional home in New York's Hell's Kitchen for a place a bit more suited to his left leaning sensibilities: San Francisco. It's a bit of an odd fit for him and the new surroundings serve as a big part of the story. For a blind man with super senses, knowing your surroundings well is part of the gig, and it's interesting to follow Daredevil as he tries to work in a city not nearly as cramped at NYC. He's also got a new partner, a lawyer named Kirsten McDuffie, who spends most of the book as the voice in Daredevil's ear, the Alfred to his Batman. Hopefully in the future she'll have more to do.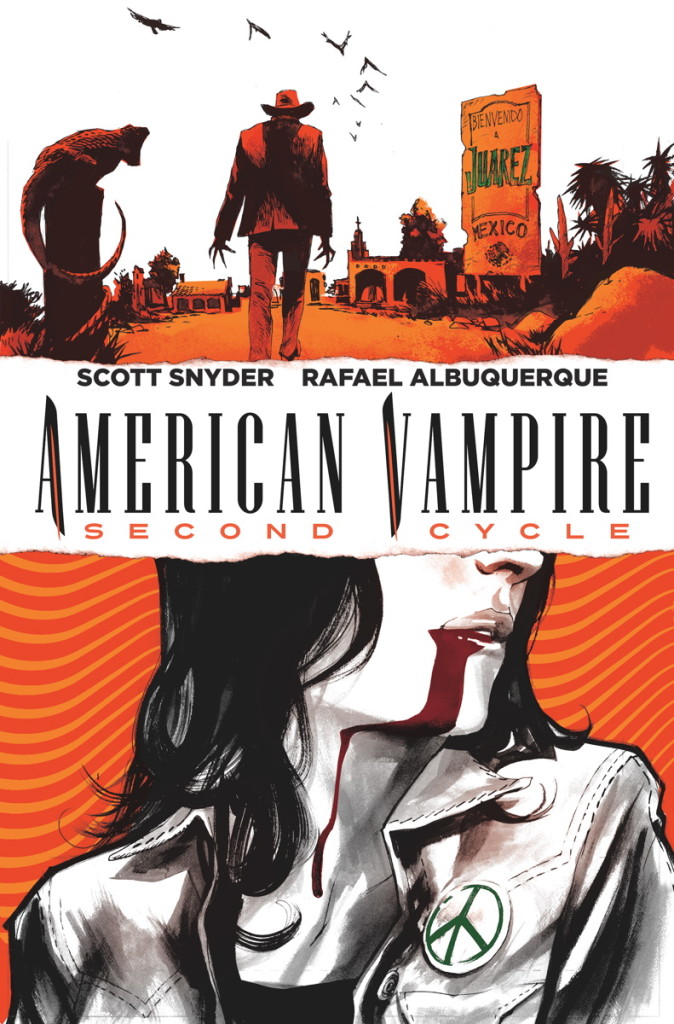 Scott Snyder and Rafael Albuquerque have created a new jumping-off point in their monument horror series with American Vampire: Second Cycle #1.  The book finds one of the titular American vampires, Pearl Jones, taking in young vampire strays and housing them in her family's ancestral home in Arizona. She's far removed from Skinner Sweet, the man who turned her into one of his new species of vampires back in the 1920's, but she's determined to more fully understand the nature of the various "races" of vampires in the world. This concept has been at the core of the book from the beginning (its earlier volumes are highly recommended reading) – the idea that what we think we know about vampires isn't even close to the truth. Why they have separate abilities, even unique fangs, is a mystery to some, and the new breed of day-walking American vamps is the most dangerous yet. Pearl Jones has been through the ringer a bit in the days since she was changed, but she's a sympathetic and caring vampire (if there is such a thing), at least when it comes to her own kind, especially children. There's not a whole lot of character development for her here, in part because she's already fairly well established. However, there's not enough to convince brand new readers to really like her in this first issue. Hopefully this new series will encourage new readers to check out the back issues, because Pearl is worth getting to know.
One publisher took on an ambitious project this week, interpreting seminal rock band Rush's album Clockwork Angels #1, the story based on Neil Peart's lyrics as adapted by writer Kevin J. Anderson. The protagonist Owen Hardy lives in a steampunk fantasy world ruled by the Watchmaker. His is a world where everything – even rainfall – is timed and ordered just so. But what happens when Owen decides to take his life into his own hands and hits the roads to get a view of the Angels themselves? And just who is the mysterious Anarchist? Fans of Rush have been clamoring for these stories to come to comic book form for ages. Newcomer Nick Robles takes the penciling in stride, creating a warmly lit universe that's certainly enchanting. The book is a touch predictable in its scripting, however. The boy wants to set out and defy the laws of his fathers? What teenager doesn't want to do that? Sadly, the book has little input from women or characters of color among its cast. In fact, the only female character in the book is Owen's supposed true love, and she's dedicated to The Watchmaker's ideals of order in all things, unwilling to even sneak out with Owen for a single moonlight kiss. No wonder he skipped town first chance he got.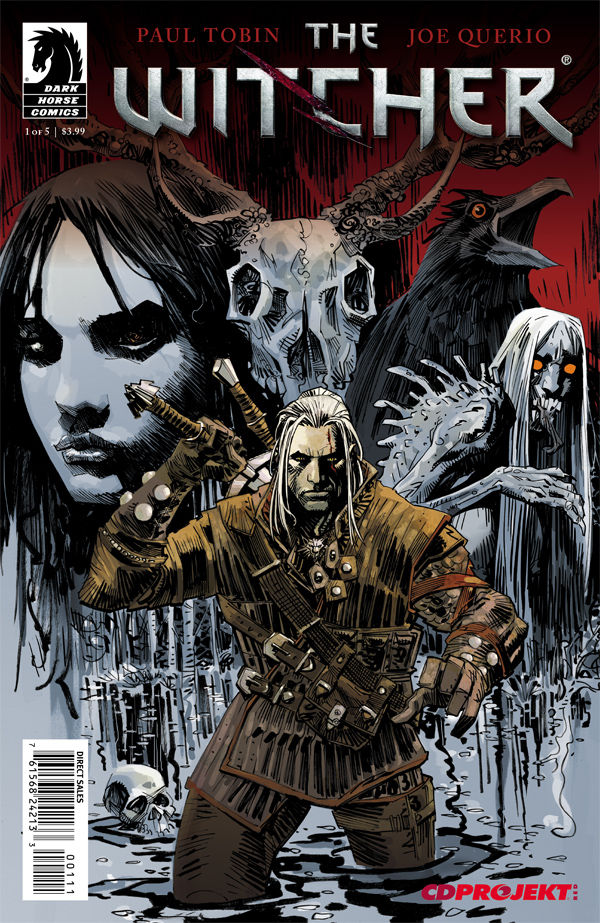 Several of the other indie publishers just wandered around in the dark, in some cases literally, this week. Dark Horse brought us Witcher #1, about a man who seems to be hunting evil creatures in a medieval world with the help of a newly found hunter/companion and the man's vampire wife. She doesn't speak a single word in the book, but seems to be the two men's savior in the end, as they wander into one dark forest too many. Meanwhile, what a "Witcher" might be, and why the main character Geralt is one, or why he's out on his own, are mysteries that aren't even addressed here, and it took some digging to discover that they are based on a gaming series. That's the kind of stuff that publishers want to fill us in on, really. All geeks may be created equal, but we don't all geek out on the same stuff. If you like the Witcher gaming series, I hope you enjoy the book, but it seems to move in circles without a well written plot structure, and I think I'll opt out after issue #1. Also, seriously, the wife needs to have at least ONE line. She's way more interesting than her husband, even in silence.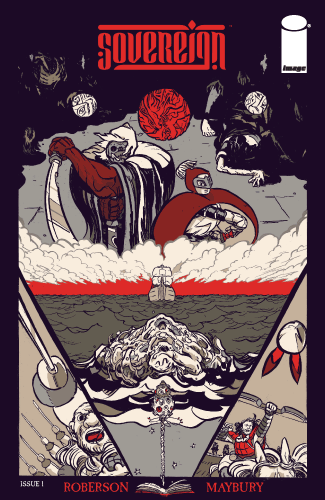 Image Comics offered up the worst new book of the week (that's a phrase I'm certain I've never said before when referring to the publisher) with Sovereign #1. I'm also certain that there are people out there who are going to say that "some folks just don't GET it" when it comes to this book, and they may be right. It's a fantasy tale about … well about something. It seems to have three different unconnected narratives, each set in a dark medieval world in which magic seems to be reemerging. There are three knights wearing the aspects of birds who fight the undead. Then suddenly there is a clan of horsemen following a prince who doesn't seem to mind that his father is about to die. And finally there is a collection of travellers whose ship is attacked by a sea monster that turns out to be dead already. While Paul Maybury's art is simple in style, it's still quite vivid and he creates three seemingly distinct worlds rather beautifully. However, the plot structure from writer Chris Roberson is so disjointed I wasn't certain if any of the worlds were supposed to be connected, or if this was a short story collection of three unfinished pieces. Perhaps it's an anthology; perhaps it's a larger over arching epic. But three hours after reading it I can't even remember any of the characters' names, let alone care enough about them to keep reading. I do think this book will deserve a revisit after it's finished and collected into a larger edition with the entire story in place. Roberson is a respected, award winning writer and I don't think he'd leave us lost in the woods on purpose. That said, the single issues won't be making it into my pull list every week.