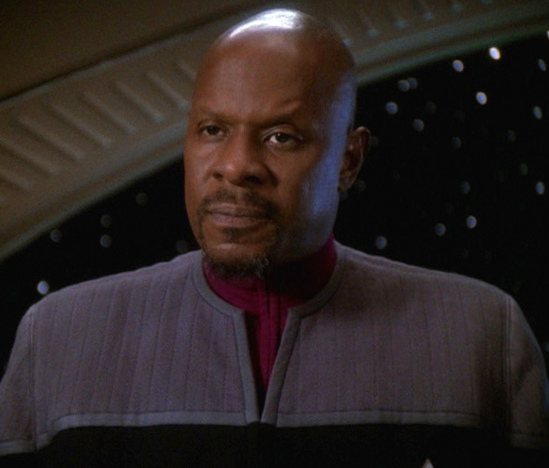 Did you know that it has been almost 20 years since Deep Space Nine first aired on television? Re-watching the series lately, I've been blown away by how consistently cool Captain Benjamin Sisko is.* He doesn't always get as much love from Star Trek fans as he deserves. And as much as I'll always admire Kirk, Picard, and Janeway for their own merits (and none for Captain Archer! Byyyyyye!) I think it's high time we had a Benjamin Sisko appreciation day around here. So here are 9 reasons for you to love Sisko. (But if you don't, that's OK. I'm sure your favorite captain is awesome, too. Unless your favorite captain is Jonathan Archer and then there's no hope for you.)
He called his buddies out when they were pestering him to hang with them in Vic Fontaine's hip 1960s holosuite nightclub, rightly pointing out that romanticization of that era was problematic for him because things weren't actually all that cool for Black people in the 1960s, and he refused to pretend that it was just a big sexy retro romp.
In the Pale Moonlight. It's just the very best episode. It is everything. Please watch it. Then watch it again because it's never the wrong choice.
Deep Space Nine wasn't a fancy, top of the line Galaxy Class Starship equipped with every imaginable creature comfort. DS9 was an old refurbished Cardassian ore processing station at the ass-end of the galaxy, filled with crooks, killers, and people who mostly hated each other. And Sisko made everything work out of sheer will and bad-assery.
He's a complete Kirk fanboy. When he goes back in time and meets his hero, he gets James Tiberius Kirk's autograph. He didn't even have to stand in line at a convention!
His best friend Dax (a symbiont who had occupied a male body when they became friends) reappears in Sisko's life with a female body and it's no big deal.
One time he punched Q in the face. It was awesome.
He was into baseball. Do you realize the significance of this? He got people interested in putting on historically accurate costumes and playing an ancient sport. This is the 24th century equivalent of being a Renaissance Faire jouster! And he brought it back. Bless his LARPing heart.
Not content to let his mirror-universe self have all the facial hair fun, Sisko grew a goatee so fans could bask in its meticulously-sculpted glory.
His face, when he has exactly zero fucks to give, is the best face. And Sisko wears this face almost constantly.
* Yes, I know he started the series as a Commander.