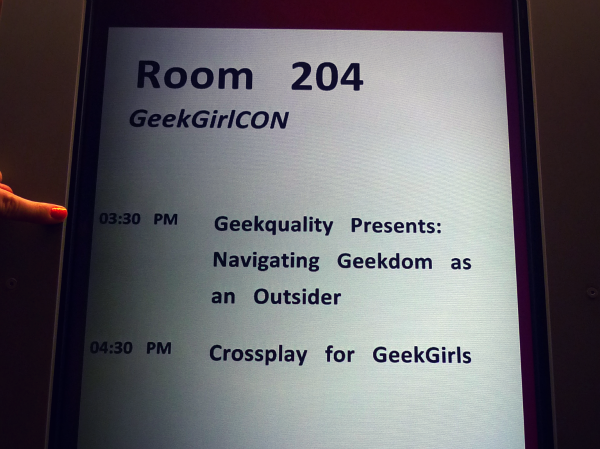 GeekGirlCon is over, yet we still can't stop thinking and talking about it. As we've mentioned before, the idea for this very site emerged at the first GeekGirlCon, last October. Going to Seattle this year not just to attend the event but to actually present a panel was a mind blowing experience. We were thrilled/nervous/super-duper excited that nearly 70 people attended our panel, and the feedback we've received has been really informative and encouraging. (If you were at our panel, please share your thoughts!) Our friend and designer Kiri Moth couldn't make it to the Con, but she sure sent us off in style with business cards and tote bags she designed for us, as you might see below modeled by Captain America and Wonder Woman: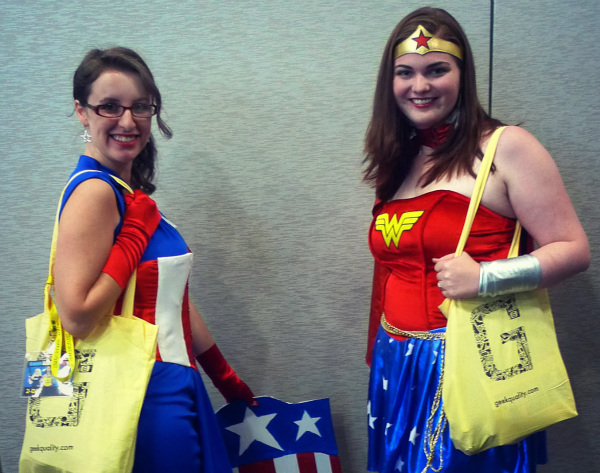 We didn't take many photos, to be honest, but there's been other extensive coverage, which you can find linked on GeekGirlCon's press page. Rather than the usual Friday links round-up, we wanted instead to share our personal highlights from GGC. I have a feeling this isn't the only post inspired by our Con experience you'll be seeing on the site, but let's kick it off.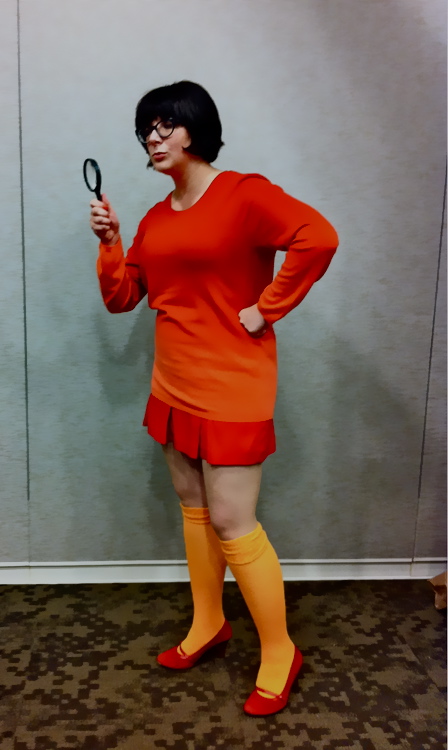 First, a shout out of appreciation needs to go to a few of our staffers:
Our brilliant co-founding editors Moxie and Elyse, and our ace copyeditor/whip cracker Mace were unable to join us at the Con this year and their presence was sorely missed. Hopefully, with more advanced planning and possible additional resources we'll be able to all get together next year.
Did you happen to see Velma Dinkley among the semi-finalists at the GGC Masquerade? That's our own Jen, co-founder/editor and the much appreciated videographer of our panel. We're hoping to extract the audio from our session and make it available as a special podcast episode, so stay tuned!
And now, onto the impressions.
ALICE MARIE
My second year at GeekGirlCon left me feeling just as invigorated as the last, if not more-so. You can't walk into that place without feeling all of the pretense, fear, and cliquishness of other cons just melt away. Every single panelist is approachable and accessible, and every single attendee is friendly, excited, open, and willing to listen and learn. This is a con that not only gives you great workshops and screenings, but also answers the BIG QUESTIONS and has a very visible focus on social justice running through it. GeekGirlCon is one of a kind, and I want it to stay that way.
I'd have to say the standout sessions for me were the "Go Make Me A Sandwich" panel, Greg Rucka's  lecture on Why Men Write Women Poorly, and the fabulous JoJo Stiletto's Nerdlesque revue. But the crowning jewel of this year's GeekGirlCon was the screening of Wonder Women: The Untold Story of American Superheroines. I was a sobbing wreck from the first frame to the last. Gloria Steinem? SOBBING. Kathleen Hannah? BAWLING. Montage of 90s TV superwomen and Riot Grrrl music? RIVERS POURING FROM MY EYEBALLS. It was a cathartic final moment, as every single feeling of empowerment hit me like a freight train and knocked me right in the feels. On the other hand, as emotional as it was for me, I couldn't help but notice the lack of diversity in the documentary. For all of the great work of the Riot Grrrl movement, we can't forget Salt N' Pepa and Queen Latifah, and we can't really have a discussion of punk roots without bringing up Poly Styrene. (And don't even get me started on the ladies of Living Single.) This just calls for a sequel, to highlight the women who aren't frequently represented in feminist discussions, but are still just as Wonderful.
LOIS
While I would have loved to attend every single panel, there were a few that were great for the burgeoning social justice nerd. Stuff that highlights misogyny in the geek zeitgeist is something that often takes folks by surprise, no matter how long they've been immersed in geek culture. So whether or not you might be new to social justice, a lot of this year's programming could have served both as an introduction and as a great refresher course.
Total bias aside about our own panel, the session I enjoyed the most was Saturday's "Go Make Me A Sandwich": Barriers to Women's Participation in Online and Fan Spaces with Anita Sarkeesian (Feminist Frequency), Maile Martinez and Lila Kitaeff (Reel Grrls), Regina Buenaobra (ArenaNet), Grace (Fat, Ugly or Slutty?), and Colette Vogele (Without My Consent). I'm sure most of us are aware – and many of us have probably been on the receiving end – of online harassment, especially of a veiled or blatant sexual nature. You can feel stripped of your sense of agency and power when stuff like that happens. The question is, how do you police the internet, which is without law, like the Wild West? While the burden shouldn't be on us to protect ourselves ('cause people should behave with decency), it was still great to hear some reassurance that we can fight back and feel safe again, if we just band together.
The one panel I really regret skipping? The Spotlight on Purple Reign. I would have loved to have a Q&A with Purple Reign and her partner, Phoenix Jones, because it's not every day that you meet real life superheroes.
RICK
Most cons, above anything, are about hype: the rush of meeting creators and other fans, the few behind-the-scenes workshops, but mostly the sales pitch that something SENSES SHATTERING IS COMING SOON. GeekGirlCon, though, is powered by Feels™ as well as Big Ideas, with a whole lot of love and joy. The thing that struck me the most about GGC was how it was an obviously safe, inclusive space. It's hard to argue with a convention audience made up primarily of women, with a very strong presence – both among attendees and in the programming – of traditionally marginalized and invisible groups. I can't help but wonder how many con-goers finally felt safe enough to just be themselves at GGC.
I was only able to attend a slice of what was on offer, but the panels I did go to were, in many ways, about the Big Ideas. How does the concept of Doctor Who allow for the (often squandered) opportunity to take a critical lens to the role of women in society and concepts of gender and gender-fluidity? How can women fully participate in online interactive spaces while maintaining their dignity, identity and, most importantly, safety? How are modern superhero comics addressing the objectification and lack of representation of women, and is the resounding success of new interpretations of characters like Batgirl, Batwoman and Wonder Woman helping to turn the tide? What can the (predominantly male) creators of popular media do to create compelling, well-rounded female characters and avoid the reductive "man with breasts" or over-sexualized "strong female character" tropes? It's a lot to mull over, as not only someone attempting to create media, but also as a straight, cis, able-bodied, middle class male working on recognizing his privilege.
If I had to make a case for perspectives that need additional representation, it would be to see more racial diversity both in the attendees and in the focus of the various panels. Although discussion of race is not the focus of GGC, considering that it's an event about inclusiveness and examining the outsider in media, I am certain there's room to discuss the representation of minorities in the media. Additionally, it would be great to see a stronger emphasis on the difficulties of being anywhere but the extremes of the gender spectrum, and I would appreciate panels on how queer issues are addressed in pop culture and what content creators can do to help.
TANYA
I wasn't at GeekGirlCon last year and so much of my time before the Con this year was eaten up with nerves and preparations for our panel (tote bags, people, you gotta love 'em but they sure can be a challenge to produce) that I didn't really pause to ask myself what I was expecting from the event. The wonderful thing about GGC is that it turned out to be unlike the other cons I've been to (Alternative Press Expo and WonderCon, specifically). Sure, the sense of geeky enthusiasm was palpable and contagious, but there was this undercurrent of joy and open minded curiosity that really stood out. In fact, it felt like a perfect cross over of a fan convention and an academic conference. I also really appreciated how many panelists, after the allocated time ran out, stepped outside the presentation rooms and casually continued the conversation with attendees. There was no sense of superiority or lording of expertise over anyone: it was clearly a mutually rewarding experience both for the con goers, as well as the guests and panelists.
I attended several great panels but probably the stand-out for me was A Fate Worse than Death: The Last "Outsider" in Popular Culture – Disability. Moderated by blogger/editor/social policy advisor Day Al-Mohamed, the panel included Liz Henry, Gail Simone, Teal Sherer, and Lawrence Carter-Long. The discussion of tropes and common misconceptions surrounding disability was witty, engaging, and not nearly long enough. I also enjoyed wandering around the 3rd floor and talking to some of the exhibitors, like the folks at GrayHaven Comics responsible for putting out anthologies that give voice to emerging artists and writers in comic books. I do wish I'd planned my time (and energy reserves) a little better to check out some of the panels focusing on STEM fields and hands on workshops (I really DO want to learn how to solder!) so I'll just have to make more of an effort next year.
Did you attend GeekGirlCon? Tell us your favorite parts of the weekend!