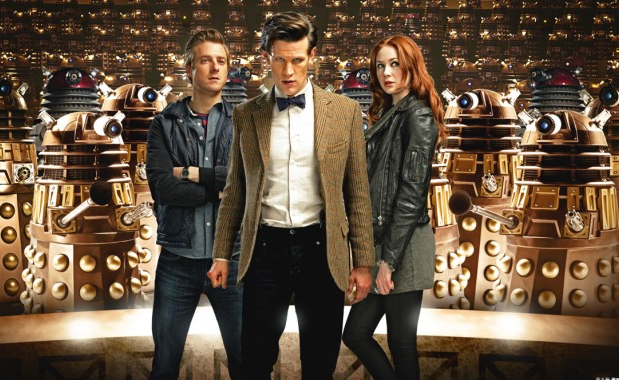 After watching the Series 7 premier of Doctor Who, I was appalled: fully, literally, to my core appalled. What the hell is Steven Moffat doing? Is he actively TRYING to be sexist here? Does he actually want me to start hating this show? This saddens me so completely, because I adore Doctor Who.
A couple of blog posts out there already are perfect examples of just how ridiculously problematic of an episode "The Asylum of the Daleks" was, but I wanted to add my own two cents. Throughout viewing the episode, I was seriously bullet-pointing my thoughts, from the get-go saying, "Oh for fuck's sake, Moff." (Spoilers ahoy.)
First of all: Amy Pond is a model? Because obviously, obviously all she's good for is her looks. I mean, Moffat has pretty much said that time and again in reference to Karen Gillan. Yeah, I know this was hinted at in the last series, but seeing it fully realized made me so angry. Amy Pond (despite what her characterization over the past series may imply) is a fully capable woman who is truly quite brilliant, yet she's been reduced to an object. And just in case you didn't think she was robbed of her agency enough at this point, Moffat makes a pretty great show of bringing that point home: in addition to being put in danger, just so the Doctor can save her once again, she's now completely worthless because she can't bear children. Awesome.
I'm not even going to get into the "cyloning" of the Daleks. What the hell, man? Seriously?
Let's move on to Oswin. I'm glad we're getting a Far Future companion, as I've been wanting one for a while now. There were a great deal of problematic elements to her initial characterization, however. First of all, she's a genius super hacker, but does she need to be in a mini-dress? I'm all for wearing whatever you want, but I feel like with Moffat's track record of female characters, this choice wasn't a personal one. Then the bit about "I was having a bit of a phase", in reference to her first love, a woman. Because bisexuality is a phase, apparently. SUPER! How nice of you to "get back to normal" and like boys again. GREAT!
These are just a few of the things that left me fuming, and I'm not alone in this, as you can tell from the Tumblr posts I linked above. (Seriously, check them out for  some great commentary on "Asylum".) And then let's start a petition to bring back Russel T. Davies.