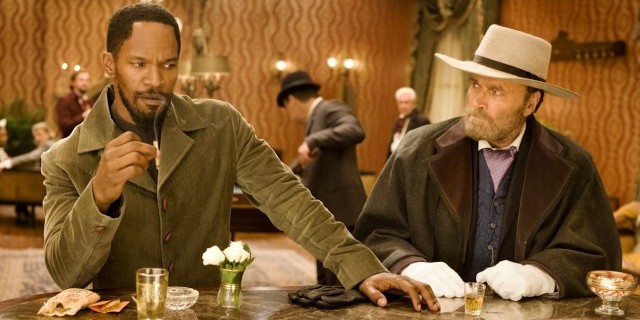 On our radar this week: reminiscences on The Wire, concept art for "Iron Woman", and the Django Unchained trailer.
It's here, it's finally here!!! How many of you are going to see Prometheus, or already braved the midnight lines this early morning? Debuting last night to wide audiences, the movie already brought in $3.5M at 1,368 box offices.
Neil Gaiman remembers Ray Bradbury in a tender tribute.
It's hard to believe it's been almost 10 years since the first episode of The Wire aired. Take a trip down memory lane, as Maxim asks the stars and makers of the series about their most memorable moments.
The Russo brothers, directors and producers of Community, are in talks to direct Captain America 2.
On that note, superhero movies galore are being scripted for Warner Bros. Justice League, Flash, and Wonder Woman, oh my!
Do you want an easy, legit way to get your Game of Thrones or True Blood fix? Send a tweet to HBO telling them how much you'd pay for a standalone HBO Go account with "Take My Money, HBO!"
We know that Disney output can often be problematic but this is just a childhood ruiner. Plagiarism and stealing other people's creative input is never cool. Lois is trying to forget the crushing moment she found out the real life inspiration behind My Neighbor Totoro.
Even if some of us here are fans, it's hard not to roll our eyes at Wes Anderson's list of his favorite movies set in New York, clearly overlooking the fact that the city is one of the most diverse places in the world.
We can't decide if these brain cupcakes are icky or just delicious.
No, we're not morbid, we just like good, dramatic writing and cliffhangers! Check out this list of the ten most heart-wrenching  fictional deaths, and then follow up with a summary of some of the more interesting TV deaths from this past season.
In her article on women's presence in STEM fields, journalist Ann Santori writes, "So, if I'm a scientifically-minded woman, it's not that I don't have any female role models, it's that I see these women working their asses off only to fade away into the gender studies back annals of history while movies about upper-class, white, male Facebook founders win Oscars."
Loving this awesome concept art of an "Iron Woman" suit!
The Django Unchained trailer is out!
One of Moxie's favorite recent artists, Franco, designs some beautifully badass posters.
Dominik Omega is a nerd and this is relevant to our interests:
What's on your radar this week? Tell us in the comments!
Check out our previous Geeking Out posts.