We've been a little quiet over here (although we have a couple of posts and a podcast episode coming down the pipe line over the next week and a half) because we're in the midst of preparing for our trip to Seattle for Geek Girl Con, August 11-12! As we've probably mentioned a bajillion times, we will be presenting a panel at the convention and we couldn't be more excited/nervous. Details!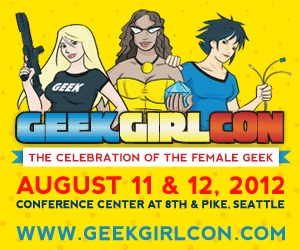 Sat, Aug 11, 3:30–4:20 PM (RM204)
Navigating Geekdom as an Outsider
If you aren't a straight, cis, able-bodied, aged 18-35 white male, it is often very difficult to access geekdom and media. How do marginalized geeks cope in an atmosphere that so many find unwelcoming, threatening, and exhausting? Panelists seek to help you keep fighting the good fight while maintaining your mental and emotional health through community building and setting boundaries.
I will be moderating this discussion with Rick, Alice Marie, and Lois. Regretfully, Elyse and Moxie are unable to join us this year, but we wouldn't be where we are without them, so we'll probably be dropping shout outs every moment we get. Our Canadian ambassador & muse Jen will be on hand to document our panel.
So now we are swimming in business card layouts, travel reservations, and brainstorming outlines, as well as dealing with various little curveballs thrown our way as we prepare for our first trip to a convention as a team. I've been working closely with our brilliant designer Kiri Moth on something exciting that we really hope will materialize in time for the Con. (You know what? It WILL materialize, somehow. We're going to make it happen. And I think you'll love it.)  Lois has been making new friends via Twitter and we're looking forward to meeting everyone in Seattle. We'll also be hitting the town on Friday night, August 10, and we'll let you know details of where you can join us for some karaoke! Make sure you follow us on Twitter and also keep an eye on the #ggc12 hashtag for all Geek Girl Con tweets!
In the mean time, we apologize for having a little less content over the next couple of weeks. We'd love to hear – who is going to be at Geek Girl Con?