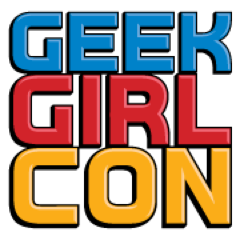 It's almost time again for Seattle's GeekGirlCon. This is our fourth year attending the convention and will mark the third time one or more of our staffers will be participating as panelists. Basically, GeekGirlCon has played a big part in helping us develop Geekquality. With the convention only a week away (October 11th and 12th), it's time for another round up of what we're looking forward to at the Con.
This year promises to have more opportunities for gaming, with tabletop free play check out, various RPG and tabletop game makers and groups, and a console room hosted by Ubisoft. The concert this year welcomes The Doubleclicks, Sammus, and Thundering Asteroids! (And before the concert, Hello Earth Productions' Outdoor Trek will perform their 2014 show "Mirror, Mirror" in RM303.) And while more than a few hours will be devoted to checking out the game play and wandering through the artist and exhibitor booths full of all sorts of geeky delights – and trying to get our hands on these adorable Social Justice Class pins – GeekGirlCon continues to be a convention where we go to learn and be inspired. Thus, here are programming selections we are marking in our schedules – and wishing we had a TARDIS to make it possible to be in several places at once. (Panels denoted with * include one or more Geekquality staffer as panelists.)
SATURDAY, OCTOBER 11
10AM: Notable Women in Science – RM301
Hosted by University of Washington scientist Adrienne M. Roehrich, the discussion will highlight the stories and accomplishments of a number of women in science, including looking at obstacles they faced.
11AM: Why Isn't Bilbo a Girl? Talking to Kids About Media Representation – RM303
The panelists will lead a conversation on how to talk about character representation and diversity issues with children in a positive and thoughtful way.
11AM: What To Say When You Don't Know What To Say – Connections RM204
Anne Krook, author of "Now What Do I Say?" Practical Workplace Advice for Younger Women, will share tips for young women navigating challenging discussions and situations early in their careers
12PM: Double Others – RM303
Adverbia and Raychelle Burks of Curly Hair Mafia are joined by several other panelists, as they take a look at non-human characters of color, discussing how racial identity interacts with the supernatural aspects of a character.
12PM: Feminist Community Building 101 – RM301
The panelists – including Black Girl Nerds founder Jamie Broadnax and Crabcat Industries' Jessica Merizan – will discuss strategies for developing positive feminist communities in response to harassment issues in tech, gaming, and other geek spaces.
1PM: Cosplaying While Fat – RM302
Panelists will share their experience with body shaming trash talk, as well as share tips on putting together amazing costumes when "off-the-rack" options just aren't enough.
* 2PM: A Woman's Place is on the Bridge: Trek Women in Charge -RM303
Some of last year's Star Trek panelists return, joined by Grace Moore of All Things Trek, to look at how the women in positions of command in Starfleet fare, both within the universe and as perceived by fans.
4PM: Queerbaiting in Genre Television: Representation or Exploitation? – RM302
With genre media still often lacking in queer representation, the panelists will examine the impact of subtext on fans. "Is it harmless fun, a step in the direction of positive representation, or exploitation of the queer audience?" asks the panel.
5PM: The Heroine''s Journey: Moving Beyond Campbell''s Monomyth – RM302
Panelists Tricia Barr and B.J. Priester will discuss Campbell's "The Hero's Journey" and how its construct can be transformed and reinvented for a modern heroine.
*6PM: (Not So) Strange Appetites: Women and the Horror Fandom – LL2
Two of us from Geekquality will be joined by several other horror-loving women, including Ashlee Blackwell of Graveyard Shift Sisters, to discuss how female fans engage with the horror genre, what they enjoy about it and what could be improved.
7PM: Sex Scenes From the Female Gaze – LL2
Award-winning romance writers will examine the sex scene written from a female perspective, including some steamy readings, making this an 18+ panel.
SUNDAY, OCTOBER 12

10AM: The Carol Corps and the Evolving Face of Fandom – RM303
The Carol Corps, fans of Marvel's Carol Danvers (Captain Marvel), represent a great shift in comic book fandom. Panelists, including 9 year old Aeris who founded the Carol Corps Cat Commandos, will discuss Carol Corps' impact both on fan culture and the comic book business industry.
10AM: Diversity in Young Adult Fiction – RM301/302
YA authors, editors and fans of the genre will lead a discussion examining the market of young adult lit, and how the wants and needs of its readers are (or aren't) being met by publishers.
11AM: Geek Elders Speak: How Media Fandom Empowered Women in the 60s, 70s, and 80s – RM303
From fanzines to conventions, Jamala Nadra, Linda Deneroff and others will share their experience of being girl geeks and nerds and participating in fan communities before the internet.
12PM: Fandoms and Black Twitter – RM303
GeekMundo's Seattle Slim will look at how Black fans use hashtags and Twitter's wide reach to interact with geek media and rally behind some of their favorite characters.
1PM: Fatness & Fandom – RM303
PNWFattitude's Rachelle Abeller is joined by several panelists to discuss how fandom communities can still be exclusionary for people of size. Panelists will share their experience working on improving the experience for plus size geeks everywhere.
2PM: Gaylaxy Quest: Exploring Queer Fantasy and Science Fiction – RM303
Co-hosted by Gay City Health Project, Queer Geek! and Gay Romance Northwest, the panel of LGBTQ speculative fiction authors will examine the genre and share stories of characters who are both "out of this world AND out and proud".
3PM: Is 2014 the Year of the Asian? – RM 301/302
Panelists will provide a a brief historical overview Asians in cinema and delve into a discussion of where we stand today with the presence of Asian creators in recent releases in television and film.
4PM: Women in Nerd Music – LL2
GeekGirlConcert performers The Doubclicks and Sammus are joined by rapper Shubz Balack (Shubzilla) in a discussion of their experience as nerdy musicians, sharing how they started and the challenges they met, as well as providing useful tips for creating your own nerdy music.
Please note: the times of each panel and workshop were taken from the GeekGirlCon website and subject to change by the event organizers. When you are at the convention, always check the signs for most accurate time and room details.