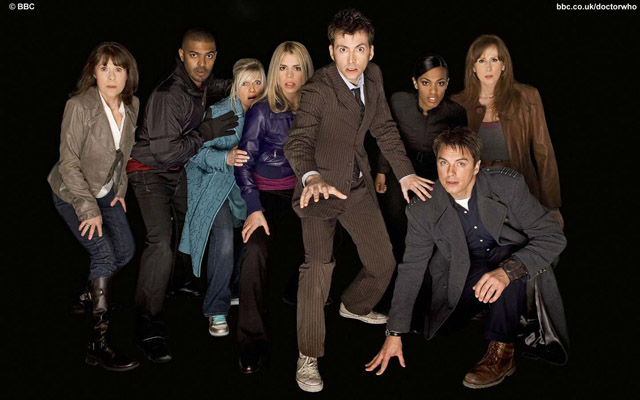 I've been re-watching the Russell T. Davies era of Doctor Who. I'm doing this because I want to remember why I fell in love with this show in the first place, and also because I do this every year. This time around, I'm noticing things in the Steven Moffat-penned episodes that I didn't really notice before.
"The Empty Child"/"The Doctor Dances", "The Girl in the Fireplace", "Blink", and "Silence in the Library": these episodes are hailed by many as some of the best episodes of the RTD era. No doubt, they're all very good; Steven Moffat has a knack for mystery and suspense, I'll give him that. But now I'm noticing elements in these episodes that trouble me as a viewer and a woman. The way Moffat treats his female characters is horrendous, and I'm really surprised I didn't see his pattern with River and Amy from a mile away.
The Time Traveler's Wife
One of the first things I caught is Moffat's obsession with the idea of the Doctor imprinting on the ladies in his life from their very young age, so that every move they make is influenced by their obsession with the Doctor and his presence in their lives. He has obviously done it with Amy and River; Reinette, first encountering the Doctor through a "time window" as a child; and to an extent Sally Sparrow. He even did it to that one girl at the end of series 6!
With Sally Sparrow, the Doctor's influence isn't as blatant. In "Blink", from letters to DVDs, he left her messages and created a conversation that was predestined to happen. In creating these paradoxical time loops, he deprived Sally of free will. The "Time Traveler's Wife" trope robs many women in the Doctor's life of choice, making their lives and paths predetermined for them by his presence. Even though we keep hearing that "time can be re-written", for these women it cannot be, and that's a problem.
Trapped
Another recurring theme in Moffat's episodes is that he really likes to trap his women: River in the computer, Reinette on the "slow path", Amy in the past. Sure, they get to live out the rest of their lives (or their consciousness, as is River's case), but they are forever gone, and have no way of ever coming back. They will never see the Doctor again, and the way that these women have expressed themselves, it seems like a fate worse than death.
It feels almost like he's putting them in their place. River ends up no longer able to explore; Reinette can no longer be comforted by her childhood friend; and Amy is sent to a time and place where she can no longer be the strong, independent woman Moffat so desperately tried to tell us she was.
The Pesky Companion
Last, but not least, of Moffat's tropes is the sense I got that he must have hated Davies' choices of companions. Moffat chose a buxom bombshell and a willowy ingenue to be the women in the Doctor's life. On the other hand, Rose is a sassy, working class young woman; Martha is a Black doctor; and Donna is an older every-woman. And look at how Moffat has treated them.
In Rose's run, Moffat kept her around, but as a second fiddle. In "The Empty Child"/"The Doctor Dances", he gave her a side story that mostly consisted of her making eyes at Captain Jack, portraying her as a flighty flirt who really couldn't care less about the mission at hand. That's just not our clever Rose. In "The Girl in the Fireplace", Rose and Mickey are left to be "tin dogs" together, wandering around the space ship, getting into trouble and needing to be saved. Once again, Moffat showed blatant disregard for Rose's actual characterization and personality, not to mention Mickey's.
During Martha's time with the Doctor, in "Blink" he trapped Martha and the Doctor in the 1960s – a period of heavy racial duress, which put Martha into a lot of danger – and focused the whole story on Sally Sparrow. Carey Mulligan may be more of Moffat's "type", but we all know what an amazing HBIC Martha Jones is, and she just didn't deserve to be left out like that.
Lastly, and I think most egregiously, we have "Silence in the Library". In "Silence in the Library", Donna ends up trapped in a computer, with very little screen time and a shallow subplot.
We just don't see this kind of thing happening with Amy, though, as she gets the Doctor's full attention. I believe it's because Moffat wrote his "perfect woman" into Amy Pond, whereas Rose, Martha, and Donna didn't fit the bill. In the end, it shows total disrespect for the characters, as well as for Davies, who created and nurtured them.
I know that by now you all know how much I dislike Steven Moffat, but I thought this is a good account of exactly why I feel that dislike is justified. And yes, I'll continue to watch Doctor Who, but I am anxiously awaiting the day that Moffat finally leaves the helm to more capable hands.