After surpassing his Kickstarter goal by over $5,000, comic book artist, editor, art director, writer and father Jamal Igle successfully funded the production of Molly Danger. Igle's credits include Daredevil/Shi, Nightwing, Zatanna, Superman, Supergirl and Spider-man, but Molly Danger is proving to be a project that not only shows off his massive skills, but his massive heart.
From the Kickstarter's description of Molly Danger:
Kept in constant isolation and watched closely by D.A.R.T. (The Danger Action Response Team) an organization created to assist in her heroic deeds and monitor her movements, Molly battles the Supermechs. A team of cybernetically enhanced beings with unusual powers, Molly always defeats them and yet they always managed to mysteriously escape.
Molly longs for a real life, with a real family, something she's been told she can never have. Her life changes when D.A.R.T. recruits a new pilot, Austin Briggs. Briggs has his own motivations for joining the team, newly remarried; Austin is having trouble forming a relationship with his new stepson, Brian. Austin wants to use his connections to impress Brian, an avid Molly Danger fan. However things get turned on its ear when Molly and Brian form a friendship of their own.
She believes she's an alien, whose family died when their ship crash-landed on Earth and before the atmosphere could fully alter them. She also believes that she's alone, the last of her kind.
Everything she knows is wrong.
With a story setup like that and such a personal investment in the project, Jamal's dedication to Molly Danger is something that deserves to be put in the spotlight, and as one of the backers, I had a stake in the story as well! He was kind enough to talk to Geekquality about this project, from its inception to its future.

Why is Molly Danger the hero we've all been waiting for, young and old alike?

She's strong, she's smart and she's brave. She's a hero who doesn't give up, she doesn't take short cuts and she genuinely cares. I think that's the most important part to me, that she's such a giving and loving person. From a creative standpoint, she's the type of character that I grew up reading and loving.
She's a hero inside and out and doesn't have any doubts about the job at hand. She's also something that we don't have enough of anymore, at least in American comics, which is a young female superhero who is just as physical as her male counterparts. To me she's the female answer to Ben 10.
How much has the character design of Molly evolved since her creation?
Very little actually, to be honest. Sometimes as an artist, a look for a character comes to you and just fits. I had moments over the years where I thought I should streamline it and make it more "modern," for lack of a better word. The problem was, none of the changes felt right. Then, once I became a father and looked at how little girls dress themselves when they're playing, I knew my choices were right. Little girls, at least the ones I know, love the design of Molly.
How much has your daughter contributed to her character evolution?
In terms of writing, quite a bit, especially now that she's about to turn five and has developed her own habits and opinions. Molly, I think, started out when I first created her as a much more sarcastic and intense character. She was a reflection of who I was as a writer at the time. I was a much angrier person then, and I think it reflected itself in the design and the story. In the last few years I've learned so much about myself, how I relate to my family and how I relate to my daughter. Molly has certainly become a more loving character now, she just wants to help people. There's a lot of my daughter in Molly now.
Tell us about Coopersville, the city that Molly Danger has protected for twenty years.
Coopersville was a depressed post factory town in Upstate New York, the major industries had pulled out of the area and moved overseas. Then the Supermechs arrived and terrorized everyone until Molly started taking them on. Over the years Coopersville has had a economic revival based around one industry, Molly Danger tourism.
D.A.R.T. has an agreement with the city to house the Molly Danger Museum and the city receives a portion of the revenue generated by all of the merchandising and licensing D.A.R.T. allows of Molly. Subsequently, D.A.R.T. also pays for the collateral damage from the Supermech attacks but it's a tense relationship with the city government, particularly the new Mayor that will be one of the sub plots we'll explore.
Let's talk about Molly Danger and Brian, another youngster in the Molly Danger Universe. What will their relationship be like?
I don't want to spoil it too much, but Brian will be Molly's best friend. Molly and Brian have a lot in common.
Molly Danger is centered around a seemingly immortal ten year old. What can you tell us about the adults of Molly Danger's life?
D.A.R.T. (Danger's Action Response Team) is a contractor made up both of recruits from the armed forces and law enforcement, but volunteers from all walks of life. They have a fairly military based command structure, except for the fact that they also have a museum, a public relations wing, a licensing division, etc. They're led by Commander Lauren Holder, who other than Molly, is the longest serving member. Lauren and Molly have an unusual relationship. Lauren is very military, believes in the chain of command. Molly takes orders but of late has begun to ask the types of questions Lauren can't answer.
Then there's Austin Briggs, D.A.R.T's newest recruit. Austin is headstrong, hates the chain of command and is just a little crazy. He's a brilliant pilot, but he's known for taking unnecessary and expensive risks. Austin is very much a "Judd Apatow" type of character, where he doesn't take things as seriously as he should.
Action Lab Entertainment also helped create Princeless, a groundbreaking comic that challenges female stereotypes in storytelling. We will also be seeing Molly Danger and Princeless together on Free Comic Book Day (May 4th, 2013) for a preview issue! Did Action Lab's appreciation of diverse storytelling influence your decision to go with them?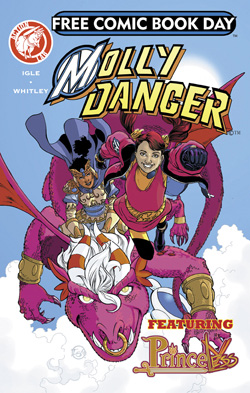 It didn't hurt! I also went to ALE because I have a very good relationship with the founders of the company and was impressed not just with their work ethic but the look of their books.
What are some of the advantages and drawbacks to using Kickstarter to fund production of a comic? 
The advantage is that you have the ability to eliminate the "studio system" in terms of drawing a check to do something you love.  I feel a certain sense of responsibility to my backers, not only to get their incentives to them, because a lot of Kickstarters don't even do that, but to give them the best possible product for their faith.
The drawback is that people think you have an infinite well of cash suddenly and put their hands out. Every dime of this project is accounted for, it's expensive to produce a book like this.
What was it like balancing working on Molly Danger while simultaneously working on projects with DC Comics and IDW Publishing?
It was difficult because, for example I did three wraparound  covers for the G.I. Joe relaunch that took a week each. This was on top of writing, doing character and concept work for Molly, writing contracts, reading contracts, talking to printers, shipping out incentives, managing my social media etc. I do a lot of work every single day.
What do you hope to bring into the comic book world with the release of Molly Danger?

Something fun, something beautiful. This book is dense for 48 pages. With the exception of a few, each page is 7-9 panels. It's a big story.
You recently released some of your designs for other characters in Molly Danger (including some marvelous ones of the villainous Supermechs). How do diverse character designs expand your range of possibilities for the world of Molly Danger?
I think it's an offshoot of how I've always worked. I believe in diversity in my work. I get bored drawing the same body types all the time. Even in my mainstream work, I would go out of my way to even make the superheroes have different builds from each other. It's more fun for me and it's important that readers get to see people in comics that remind them of themselves.
And now for a silly question. Out of all of the characters you've worked with in other comics, who would you most love to see team up with Molly?
I'd love to see a Batman/Molly Danger crossover. I think he'd like her…she's..sunny.
As of right now, you have surpassed $50, 000 from your Kickstarter, with 1,240 backers.  What is the next goal for the Molly Danger Kickstarter team?
We're just concentrating on getting book one completed, the next step is being discussed as we speak.
You can look at the progress of the Kickstarter project here, or check out Jamal's personal website or twitter. Molly Danger is slated as a four-book graphic album series, and is scheduled to begin publishing in September/October, 2013.