This post contains some plot development mentions, so if you haven't finished Season 1 of Game of Thrones/haven't read the first two books, you may see spoilers.


Everyone has a special character they hold as a litmus test to gauge how decent another person is. (Don't you?) Let it be forever known that my litmus test is Sansa Stark. In fact, I will go as far as to say that if you're a person who wholeheartedly wishes the very worst for her, you probably hate women. Oddly enough, Sansa Stark is not my favorite character, but she is definitely one I feel very protective towards, which is why I'm establishing this credo.
This is partially a contrarian reaction to the vitriolic hatred she's received from the fandom, but at the root of my defensiveness lies the fact that the unwarranted hatred of Sansa reveals the undercurrent of misogyny that runs within the geek collective consciousness. Even though there has been a little more love for Sansa lately, the hatred that still remains is absolutely ridiculous, and now that Season 2 is about to start, I'm not letting my guard down.
Admittedly, it's easy to dislike Sansa based on first impressions. Upon the series introduction, Sansa is an 11 year old girl (14 in the TV series) whose only concerns are her hair and various pretty things; she spends her time daydreaming of marrying a handsome knight, and she worries about not letting her bratty sister muss up her dress. She is willfully unsympathetic to her half brother Jon, aligns herself with her mother Cat (another much hated character), and is so painfully naive that it's impossible to not grit your teeth whenever she talks. I will acknowledge that Sansa's younger sister Arya, a charismatic tomboy, is more likable and easier to sympathize with, but this is the only allowance I will make. It's still not enough justification for the undeserved and unreasonable hatred of Sansa.
It's easy to lambast a character – I know I certainly liked to scream (and cry) over Ned's lawful stupidity honor – but when does character critique overstep? In Sansa's case, the conversation has long ceased to be a legitimate character study and has crossed a disturbing amount of boundaries into deranged hatred territory, all because she is a naive girl child. Seriously?
The Stark children (even Jon Snow) all have this willful expectation that they will always be met and treated with some modicum of honor and respect. This is due to their genteel upbringing with parents who, being parents, shielded them from the harsher realities of how ugly the world can be. Their physical isolation growing up in Winterfell only solidified this disconnect with the rest of the world. Is Sansa naive for trusting Cersei Lannister and thinking that marrying Joffrey is the end all be all? Absolutely. Does that make her some sort of villain who "deserves" to be raped, beaten, and killed? Absolutely fucking not.
What is it about Sansa that riles people up so? If it's because she's gullible and makes poor judgment calls, we need to remember that she's barely a teenager, in the book or the series. In fact, whatever mistakes Sansa has made in the past, she has made up for it by learning really fast, the hard way.
See, if anyone's to be at fault for Sansa's questionable logic and tendency to trust bad people and run her mouth, it would be her parents. Sansa grew up nurtured with stories and songs about heroes and wasn't told not to assume that the rest of the world would be just like the stories, full of good people like her parents. Because her parents didn't think to teach her "stranger danger" or any modicum of self preservation, at the end of the day, Sansa is a child who happened to grow up thinking everything would always be okay. Those who want to scorn Sansa for her naivete and over reliance on stories and songs about heroes and epic deeds of old, should then also apply the same criticism to Arya. For Arya too, learns the hard way that there are no heroes, just self serving people, and the great warriors are morally ambiguous at best. In a sick sense, the sisters are granted their wish – Sansa to be a lady, and Arya to be a great warrior, except in true G. R. R. Martin fashion, it's in the most twisted of ways. Sansa is a lady at court, but as a prisoner, while Arya may get to put her sword training to use, but only because she's on the run and every second is a fight for survival. Neither path is what they wanted, and definitely not the stuff the expected from legends and fairy tales.
Sansa has absolutely no idea how to navigate her world, trapped countless miles away from mother and a pawn of people who only care about what's between her legs and her claim to Winterfell. She is alone, physically and emotionally abused, and with a threat of rape at every turn. No one cares about her well-being, and the few who do have their own secret motives, are now dead, or too powerless to actually help her. Even her own brother didn't deem her worth a ransom to get her back when he had the chance.
Sansa is always a prisoner because no matter whose "protection" she falls under, she ends up just further ensnared. The only constant in her story is the certainty that she is always in danger of being coerced. None of this matters to the Sansa haters, who viewed her as somehow being responsible for her father's death and every other bad thing that's happened to the Starks since the Children of the Forest roamed the world at large. What, was she going to somehow single-handedly swoop down, save her father's neck, and fly off with him and Arya back to Winterfell to alert the rest of Westeros of the treachery? What's a young girl really expected to do when she's constantly sandbagged by adults? Even pros like the Lannisters at times find their backs against the walls. In fact, at this point in the game Sansa should be given even more credit, since she's playing on par with some of the "big kids".
There is an interesting plot note, which is a parallel that runs at the beginning of Sansa's story arc that mirrors another young woman's, in terms of maturing and character development under harsh conditions. That would be the fan favorite Daenerys Targaryen: the much beloved khaleesi, daughter of fire and blood, mother of all dragons.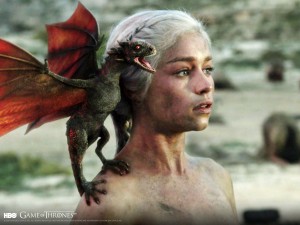 While the two come from vastly different backgrounds, they parallel each other in ways others can't. Daenerys is just two years older than Sansa and starts out the same way: painfully naive and timid, way too trusting and ignorant of how things work, and with no control over her life. So how did one ascend into becoming a solid favorite and a Westerosi Queen hopeful, while the other continues to be the most loathed?
Daenerys' endearing qualities stem from her departure from "femininity"; she rejects the autonomy of King's Landing and its system and jump starts her own kingdom by becoming khaleesi and embracing a foreign, "barbaric" culture. That she managed to hatch dragons, participate in battles, and start a sweeping revolution is undeniably impressive. Arya, too, has rejected the workings of Westeros to a lesser degree. But in this aspect, Dany is lauded for the same reasons as Arya – they are not "feminine" and weak girly girls.  Sansa on the other hand, does not have the luxury of being freed from the political system of King's Landing and its predators.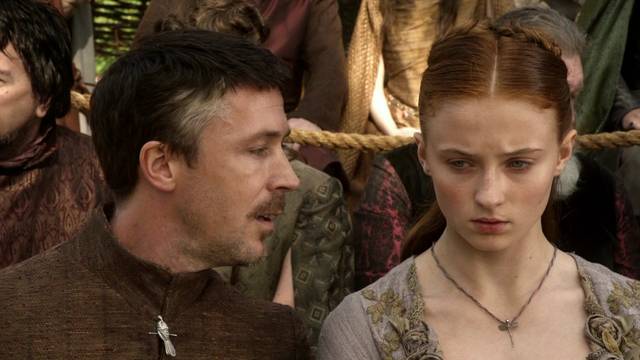 There is no denying that Dany and Arya both fought and paid dearly, especially with the young khaleesi learning how to assert herself after a rather problematic first marriage. However, given her standing, Daenerys enjoys a degree of luxury to command others and bend matters to her will. Sansa on the other hand, doesn't have the same resources. She can't rampage the court and slay the Lannisters in an open battle: she's just one girl, without even her direwolf. As the orphan daughter of a traitor, she is cautious and restrained; she bides her time making allegiances, doing things the boring and bureaucratic way. For whatever reason, this translates as her being indifferent, passive, and helpless, when in reality she's just using whatever resources she has to survive.
Misogyny (internalized or not) is most decidedly at the root of the Sansa hate. It's a fairly common, knee jerk reaction to loathe a female character who's "weak and feminine" (as if that's any sort of excuse). When fans discuss pitting Arya against Sansa, it's just another sign of completely missing the picture. Each sister is playing to her own strengths and their situations are vastly different, yet they've both managed to survive because they're playing the game. Sansa couldn't possibly defend herself and fight the way Arya does, but Arya also wouldn't last a day in Sansa's slippers, lacking the finesse and perceptiveness. The sisters are two sides of the same coin. Is Arya a badass? Definitely, but she isn't a typical Westerosi girl. Sansa's plight is the more common one, and she's shown herself to be a fast study.
Watch Sansa's eyes in this scene (especially 1:25) where she not only threatens Joffrey and his big head, but almost pushes him off the castle wall (like the little shit would deserve).
Sansa has paid for the sins she didn't even commit, with tears, blows, and blood. She's lost or been separated from everyone who mattered to her, starting with her wolf. As the books (and future episodes) progress, the game becomes more and more dangerous for her, while she continues to fend for herself without any support. But if I've learned anything in this tumultuous, emotional journey full of tears and WTFs, it's that everyone gets their dues, sooner or later. Sansa might look like a Tully, but in her heart she is a Stark of Winterfell, through and through.
One day, the young wolf will return to the North. Until then, leave Sansa alone.