Welcome back to a week with a great many new #1 offerings on the comic shelves. There's a ton to get through this week with no less than eight new titles, so let's get to it.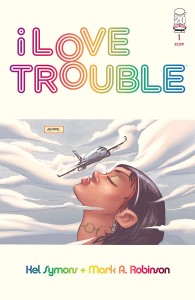 First up is another solid delivery from Image Comics, Kel Symons and Mark Robinson's I Love Trouble #1. Felicia is a tough as nails grifter fleeing New Orleans, having gotten on the wrong side of some shady characters back home in the Big Easy.  While on a flight out of town, her plane crashes in a Kansas field, but Felicia miraculously survives. She discovers, mid-crash, that she has the ability to teleport herself simply by thinking she'd rather be somewhere else. Not one to waste a gift on something simple, Felicia is back home before you know it, and starts using her new found gift to relieve unsuspecting citizens of their cash, in hopes of paying off her debt to the mob. The mobsters, ouf course, have other ideas for using Felicia's talents. This is a fun little tale of super ability told from a real world perspective: no spandex or monsters, just an unusual turn of supernatural events. Felicia is an interesting character, a tattooed bad-girl with plenty attitude, and the book is appropriately named for certain. The artistic style is fresh and frenetic, lending energy to a compelling story.
Dark Horse Comics is finally making the most of its rights to the Star Wars franchise, with Star Wars – Purge: The Tyrant's Fist #1. This is the kind of Star Wars comic I enjoy most, fleshing out the parts of the Universe we know and love already. It's set just after the events of the trilogy of prequels, as Darth Vader travels the Galaxy exacting revenge on the last remaining Jedi, helping establish the Empire's new stranglehold on the Galaxy. This is Vader as I remember him from my childhood: a frightening tower of Dark Side anger, ready to Force squeeze the throats of his enemies, and showing little mercy to the allies he finds lacking. Here, he turns to Imperial Officer Major Namada, a young woman in the service of what she believes to be a righteous cause. In these early days, the Imperial forces are coming to terms with being a conquering force, and the overtones on the nature of war here feel strongly like a political statement about things beyond the Star Wars universe, a welcome trend frankly. It's nice to see a new, well rounded female character appear in a familiar universe, and at the same time see the elements of the story that made fans of us all to begin with. Overall, this is the best beginning to a Star Wars series I've seen in a long, long time.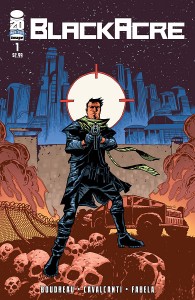 Image's second #1 offering is a touch behind their usual pace, however. BlackAcre #1 is a story of a Post-Apocalyptic America, a land that didn't need zombies or plague to kill it. Over a slow and gradual period, civilization has largely self-destructed, with one notable exception: BlackAcre. A city state developed and controlled by the super wealthy elite, BlackAcre has survive the horror that has befallen the rest of the United States, all while rival factions revert to barbarism outside it's walls. It is overseen by a powerful army, and one hero of that protection force, the man known as Hull, is about to wander out into the dark stretches of our past. Little does he know that his benefactors are not quite what they seem. Sadly, they appear exactly as they seem to us, and Hull comes off as a trifle naïve and foolish, not to notice it. There is real violence and terror outside the walls of BackAcre, but it's painfully apparent all to early that the real threat is inside the walls, not outside. This is a macho-thrill ride, and if you're into that sort of thing, it might be up your alley, but there is little here of redeeming social value, and frankly, not much that's original.
DC's newest offering this month is The Human Bomb #1, a pretty straightforward title for a pretty straightforward book. Afghanistan War veteran Michael Taylor is home now, recovering from his traumatic experiences and about to be awarded the Medal of Honor. He's looked up to as a hero by his friends and family, as well as his coworkers on the construction crew of the new World Trace Center.  Michael is plagued by recurring dreams of himself spontaneously combusting, and he's a little on edge when bombs begin going off all over America. When one of his old unit members appears seemingly deranged and then explodes, Michael learns he has abilities he never knew existed, absorbing and redirecting the explosive power somehow locked inside himself and his friend. When a mysterious figure tries to capture him, he escapes using this ability, only to watch his attacker explode. Who are these mysterious Human Bombs, and why is Michael the most powerful of them all? An intriguing post-911 comic that feels a little late to the game, this book does have the feel of a supernatural Homeland-style series. The conspiracy twist is interesting, and it is set in the contemporary DC Universe, so it might bring in some of the characters we know so well from that world, too. Still, the concept itself isn't particularly creative, and I had trouble maintaining interest all the way through.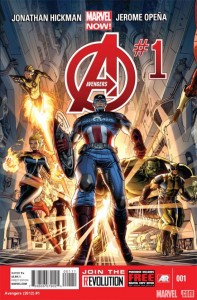 Then there are the standard #1's that aren't really new stories, but just new series. For example, Marvel gives is two #1's this week, beginning with the 5th volume of  The Avengers. The tale does follow previous Avengers story lines, but seems to be intended more to attract readers who have little contact with the series outside of the recent film. The "original" six Avengers are off to outer space to face an new and unknown threat, and when they get their super powered keisters kicked, Captain America alone returns to Earth, ready to recruit new blood, old blood, and frankly, any blood he can find. The idea of this new series is to broaden the scope of Earth's Mightiest Heroes, both in sheer numbers as well as the far reaching affect they can have, on and off the Earth. Frankly, the first issue feels really glazed over, the new villains are dull and lifeless, and there's only one woman. However, the new lineup promises to include the recently reimagined Carol Danvers as Captain Marvel, fan favorite Wolverine, and a whole host of heroes from other books past and present. This remains to be seen if it will be effective, or as convoluted as previous Avengers titles have been.
Marvel's second foray into the previously known is a new take on an old team with Thunderbolts #1. Previously, the Thunderbolts were repurposed Marvel Universe villains who had taken up new identities to either appear as heroes, or even legitimately go straight, with limited levels of success. This new iteration is a touch darker, putting together a team of some of the Universe's most violent and disturbed anti-heroes, ready to take no prisoners and dispense some rough street justice. The group is gathered by Bruce Banner's long-time nemesis General Thaddeus "Thunderbolt" Ross, who is now the nearly equally powerful Red Hulk. His assembled team includes vigilante soldier The Punisher, insane mercenary Deadpool, master assassin and Daredevil's love interest Elektra, and Spiderman wanna-be turned super soldier Venom. All are prepared to go to extreme measures to fight evils that other superheroes don't have the stomach for. Sadly, this isn't the most exciting idea ever, and I'm always bored by Elektra, who has such potential to be an interesting well-developed female character when written by her creator, the legendary Frank Miller, but falls short in anyone else's hands. She does so here, with very little on page time that's wasted on simple violence. All in all, an interesting reimagining of a Marvel staple, but a flat first issue.
There are a few other #1's that aren't really new stories as well. Mike Mignola returns to the hero he created with Hellboy in Hell #1, a story of the life after death for the d who would be a man. Fans of the film who haven't read the original comic series will be very lost here, as there is much from previous books that is poorly explained. Still, it's Mignola working with his finest creation, and a must for previous Hellboy readers. Also this week, Image brings us the sequel to their previous popular title The Strange Talent of Luther Strode with The Legend of Luther Strode #1. Luther has taken his bloody, violent war against crime too far, and now, five years after his first appearance, the criminals are ready to give a little back. This is largely an excuse for the books creators to be really creative in their ultra-violent depictions of "crime-fighting", and it's not nearly as entertaining as it's predecessor.
That's the best and worst of the new #1s in comics this week.  Enjoy the reading, and come back next week for more.