Holy heavy lifting, comics fans! There's a ton of new stuff on the shelves this week, with stories featuring all-female super teams, the return of DC's openly gay couple Apollo and Midnighter, re-imagined fairy tales, murder mysteries, wizards, and holiday fun.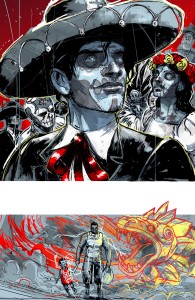 The most vividly arresting offering this week is the beautifully illustrated Dia De Los Muertos #1, a collaborative piece between artist Riley Rossmo (Bedlam) and writers Alex Link (Rebel Blood), Christopher E. Long, and Dirk Manning. Presented in the classic Golden Age format, this large volume is a collection of three stories centering on spirits that wander back into the lives of humans. Be they fantastical musings on the loss of a parent, a horrifying revenge tale, or a sadly macabre story of love lost and found again, Rossmo's style dominates the book, bringing the three disparate tales together in a way that's both cohesive and moving. The characters here are strong and nuanced, the standouts being the tattooed (and physically realistic) female lead of Link's story Dead, but Dreaming, and the heartbroken Mariachi of Manning's Te Vas Ångel Mío. This is a book you'll want to keep on your coffee table more than bagged and boarded in your longboxes.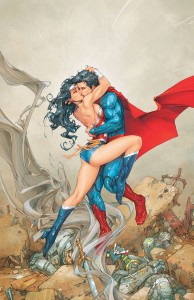 To celebrate Valentine's Day, DC brings us Young Romance: The New 52 Valentine's Day Special #1. For such a mouthful, the book is a simplistic set of six shorts that give us a fresh (?) look at some of the romantic relationships in the rebooted DC universe, including the never ending tease between Batman and Catwoman (done rather poorly here), as well as the new romance between Superman and Wonder Woman, whose Feb. 14th date goes rather poorly. There is, at least, a shining gem here, featuring Apollo and Midnighter. While these two were a famously married gay couple in their roles as members of the super teams Stormwatch and The Authority, as part of the Wildstorm Comics Universe, DC's New 52 ret-conn has brought them into its mainstream universe. While still both openly gay characters, their relationship is still in it's budding stages, and their tale in this book is both charming and violent. Since the same could be said of this LGBT analog of Superman and Batman, it's a welcome addition to the collection, and its best installment by far. Also, there are Valentine's day cards in the issue, if that's your thing.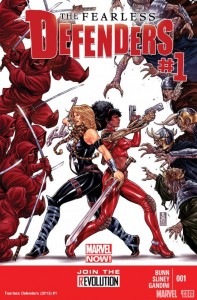 Marvel Comics gets its Girl Power on this month with a reinvention of one of its oldest super teams in Fearless Defenders #1. The Defenders have always been a group a little outside the norm, even for superheroes, taking on as many magical foes as superhuman ones, and using odd heroic parings to do it. The new lineup promises to be an all female cast, and the first issue reintroduces Valkyrie, Marvel's rather dull female spin-off of Thor, who speaks in the same Asgardian accent and has the same trouble relating to ordinary humans. She quickly teams up with an often forgotten Marvel character that's long been one of their best, Misty Knight. Knight is a no nonsense street fighter, a trained ninja who previously partnered with the likes of Daredevil, Iron Fist and Luke Cage, and sports a bionic arm made for her by Tony Stark himself. Her strength, both of character and build, isn't to be trifled with, and she's a fantastically well realized woman, who is also thankfully drawn with respect. The two women are joined by archeologist Dr. Annebelle Riggs, who's apparently meant to be the brains of the organization, when she's not swooning over Valkyrie, being described with the sad two word epithet: "likes girls." Indeed, although the characters are all powerful ladies, the kiss shared by Valkyie and Dr. Riggs felt more like a cheap trick to excite 14-year-old boys than a honest attempt at writing a lesbian relationship. Still, this book is in its early stages, and promises to introduce more female superheroes to the team in future issues, including Karma, a long time member of the New Mutants. So far it's worth keeping an eye on, and it was the first book I handed my 15-year-old daughter when she asked me, "What's good this week?"
I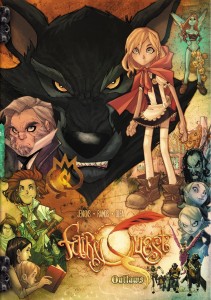 t wasn't the only book I handed her, however. I quickly followed it with Fairy Quest #1, from Boom! Studios, by writer Paul Jenkins with art by Humberto Ramos. This reimagined fairy tale features Red Riding Hood and The Big Bad Wolf as the best of friends, laughing and sharing snacks in the woods as they go about their day. Their day, however, consists of being in their story: the ever watchful eye of Grimm, the shriveled old man who rules the land known as Fablewood, makes sure the pair stay on the straight and narrow path of their narrative. When Red strays from it, along with a support group for fairy tale characters who want to control their own fate, she's is branded an outlaw. Red and the Wolf are chased from the land of stories, only to be rescued by an unlikely ally. The art by Ramos has a distinctly childlike feel, and thus the menace of Grimm and his evil minions is reduced, despite their liberal application of the terrifying technology known as The Mind Eraser. Red is a stubborn little girl who dreams of the Real World, where she can make up her own mind, and she's an interesting twist on the traditional character in her childlike love for "Mr. Woof", her thirst for independence and adventure, and in some ways, her simple naiveté. She is, after all, still a kid, and it's nice to see her portrayed as an intelligent and strong willed one at that.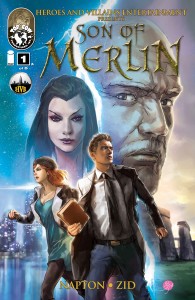 The #1's get darker from there, as we step into the criminal underworld in more ways than one. Keeping with the mystical theme, Image and Top Cow Comics team up for Son of Merlin #1. This is a rousing underworld crime drama and a magical fantasy rolled into one. Merlin lives on in the modern day, eternally attempting to thwart the evil Morgan LeFey. He's traded in his robes for a nicely tailored, pin striped Armani suit, cut his hair and trimmed his beard, yet he's still the greatest wizard the world has even known; that is, right until the devilish LeFey, who's developed her own multi-national corporate conglomerate of evil, gets the drop on him.  Merlin vanishes in his suit much like Obi-Wan, but not after he manages to pass his spell book to his son, Dr. Simon Ambrose, a world class scientist with little use for, or even belief, in witchcraft and wizardry. The best character in the tale is actually the apprentice who helps Merlin transfer the book, a no nonsense young woman named Gwen. She is stubbornly determined to force Ambrose to see the world around him for the magical reality it is, whether he likes it or not. Her efforts to convince the young physicist that his gift for science stems from his magical talents are cut short by LeFey's thugs, and the adventure story promises to be a good one. This is one of the few #1's I've seen recently that doesn't try to do too much at once. There are only three scenes, each an act in the play all on their own, and then a well delivered cliffhanger. The book has the feel of a good police procedural as much as a fantasy adventure, a combination that's been popular on television of late, and I'll be tuning in for more next month.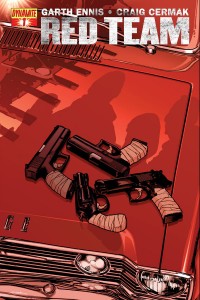 The crime procedurals get much more gritty and realistic from there, as two powerhouse creative teams hit the shelves with new stories. First up is Garth Ennis' Red Team #1. Ennis, the creator of Crossed and The Boys, as well as a long time writer of The Punisher, has long filled his works with an air of disdain for the superhero set. Here, he gets to his bloody, real world roots, with the tale of an elite unit of police detectives who've learned how easy it is to cross the line. The cops who make up Red Team are the very best, and no strangers to violence, but when they lose one of their own, they realize there are some criminals that the law will never reach. Told in flashback, we know that their run isn't going to last long, but their acceptance of the violence in their world is frighteningly real. Indeed, the narrator – Red Team member Detective Mellinger – reminds us just how haunting this abuse of power can be: "The worst possible thing happened. It went like clockwork." This is a tale of brutal violence and hard edged morality, but it lacks conviction in that the losses the characters feel aren't well presented. We never even see the partner they lost, and we barely know the bloody little family we've been introduced to here, before Mellinger begins to preach doom and gloom about the heavy handed justice they've decided to mete out. The tale promises even more of their downward spiral, and that will have to include further development of some fairly stock characters, to motivate the readers to come back to the story.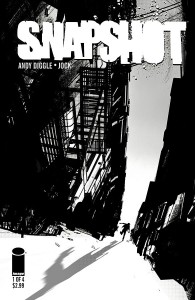 The other crime caper this week comes from the reunited creators of a personal favorite series, The Losers. Andy Diggle and the artist known as Jock bring us Snapshot #1 from Image. This is the most recent book to remind me that I shouldn't be so dismissive of black and white comics. It's a great little mystery with some riveting twists that's just the right amount of gritty and playful at the same time. The protagonist is Jake Dobson, a hip young kid who works at a comic book store in San Francisco and bikes regularly to work through Golden Gate Park. One day, he finds a lost cell phone in the park, and when it reveals photos of a murdered man, Jake's life is thrown into chaos. Suddenly there are hit men at his door, the cops think he's a hipster jerk with a big mouth, and he and his comic reading buddy are trapped in a mystery that will likely get them both killed. As I'd mentioned, I'm not usually partial to black and white, and there are a few things here that color could clarify (as in the identity of the dead man who suddenly appears very much alive, then mysteriously dead again) but the art by Jock sucked me in and the narrative is strong here. A solid mystery, and I highly recommend it.
That's that, folks, with one tiny exception.  If you are one of the few who are actually excited about the prospect of stand alone Star Wars movies spin-offs that were recently announced, you might want to check out Star Wars – Dark Times : Fire Carrier #1, but you'll find it's not really a #1 at all but the 23rd issue in an ongoing series about a rogue Jedi Master evading the clone troopers after the end of the first prequel trilogy. It's readable, but not much more.  Otherwise, come on back next week for more of the best and worst of new stories in comics!