We're No. 1! is a weekly feature looking at first issues in new comic series, as well as one-offs and special releases. In his reviews, Jeff highlights stories with diverse characters and plot lines Geekquality readers can care about, as well as points out comics that miss the mark.
Thanks to the overwhelming number of #1's and one-shots on the shelves this week, which can be attributed to the DC Comics Villains Month event, this is just part one of this week's review of some new first issues in comics. In this installment, we'll be looking at some of the best and worst from publishers beyond the big two, DC and Marvel.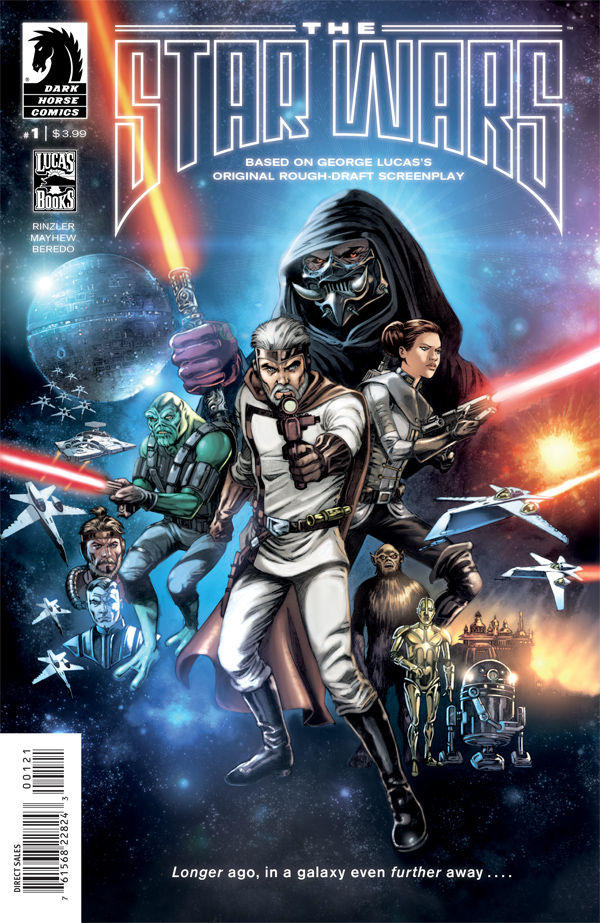 Certainly the book with the most gravitas, if not the biggest buzz surrounding it, this is Dark Horse Comics' The Star Wars. Why the "The", you might ask? The annals of lore around the epic space saga have long held that there is so much more to the story than we've been getting, and this release from Dark Horse takes us to an even more mysterious place in a galaxy far, far away. Based on the rumored original first draft of George Lucas's screenplay, which attempted to encompass his entire idea into one story, this is a story that is vastly different from what we know and love today. The Star Wars has many of the elements we're accustomed to, including Jedi, an evil Emperor, and a mysterious father who's more machine than man. But that father is NOT Darth Vader, and Luke Skywalker is NOT his son. There are loads of familiar elements in this story, and the world has the feel of the Star Wars we know, but it's deeply distorted. Artist Mike Mayhew has done some interesting work re-imagining some of the more iconic visual elements of the Star Wars Universe, including Darth Vader's face, maskless in his very first scene. My personal favorite is the revamped Star Destroyer: still a perfect flying triangle, but as a two man fighter rather than a battleship. J. W. Rinzler's story isn't so much a fun house mirror as a complete flipping of a coin, and it has it's ups and downs, for certain. The name Anakin Starkiller made me laugh out loud, but I also was disappointed that in this version Leia isn't the strongwilled rebel leader we know, but a privileged young princess, adored by her father, setting out for university. Since this is an alternate narrative that's only just beginning to be visualized, hopefully we'll see more from Leia in the future, hoping for the best.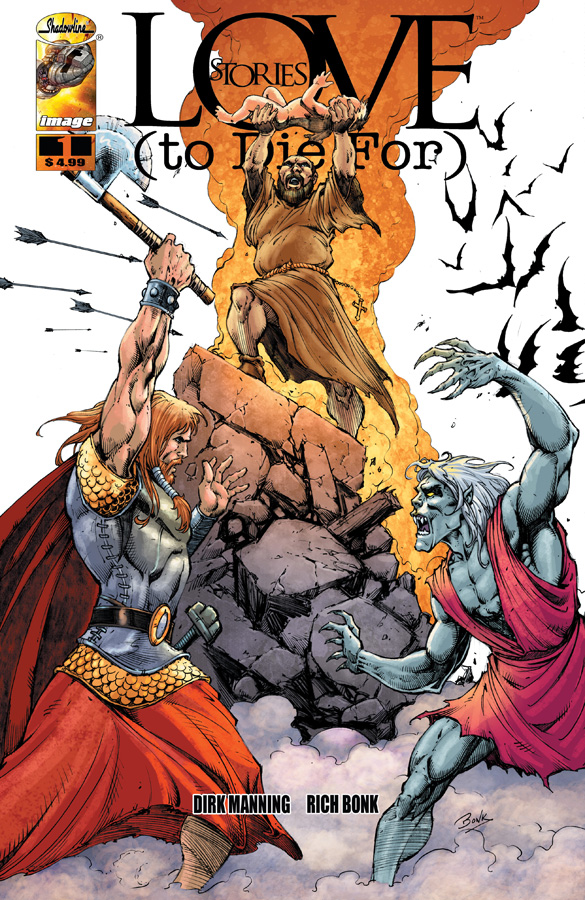 Love Stories (To Die For) is an interesting double one-shot from Image. The flip book's (half of it is upside down, depending on how you look at it) most compelling segment is "Symptom of the Universe," with Owen Gieni's writing and art. It's not an original tale; in fact, it's one that in a way has been done to death. An outbreak of deadly aliens has swept a giant space station, the monsters quickly devouring the crew and gestating. Almost everyone is dead, leaving just a few stragglers, including lovers Allison and Eric. We soon learn that Allison is actually married to Frank, who's the story's true action hero. He is willing to fight to the death, and sacrifice whomever he has to, to ensure his wife's survival, as well as the destruction of the unnamed (and largely unseen) alien menace. Allison's betrayal of his trust, as well as the fantastic "Gift of the Magi" ending, make for great reading. While Allison isn't a good person, she's a very real one, and despite the sci-fi surroundings this is fine humanistic storytelling.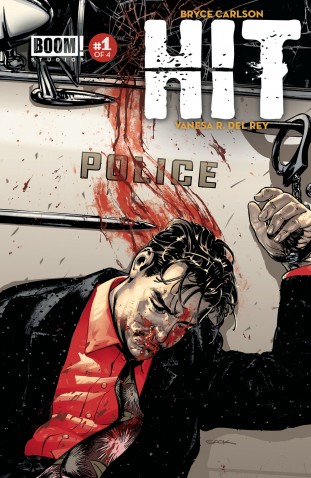 There's a great example of work from a female artist this week in Boom! Studios' Hit #1. A gritty look at the seedy side of the L.A. police force in the 50's, Hit is drawn in beautiful ­noir style by debut artist Vanesa R. Del Rey. The book really captures the feel of the era in a way the lets you know this is a group of cops who mean business. Unlike the famed Gangster Squad of the era, this smaller hit team doesn't bother to justify their work; they just kill crooks who live outside the law, and they do it violently. The book is not for the squeamish (there are meat hooks, at one point) but it's solidly written and expertly drawn. There's a fantastic femme fatale character, the police chief's daughter who gets in on the bloody action herself, rather than just slinking around in a tight dress, as stories of the time would usually have her do.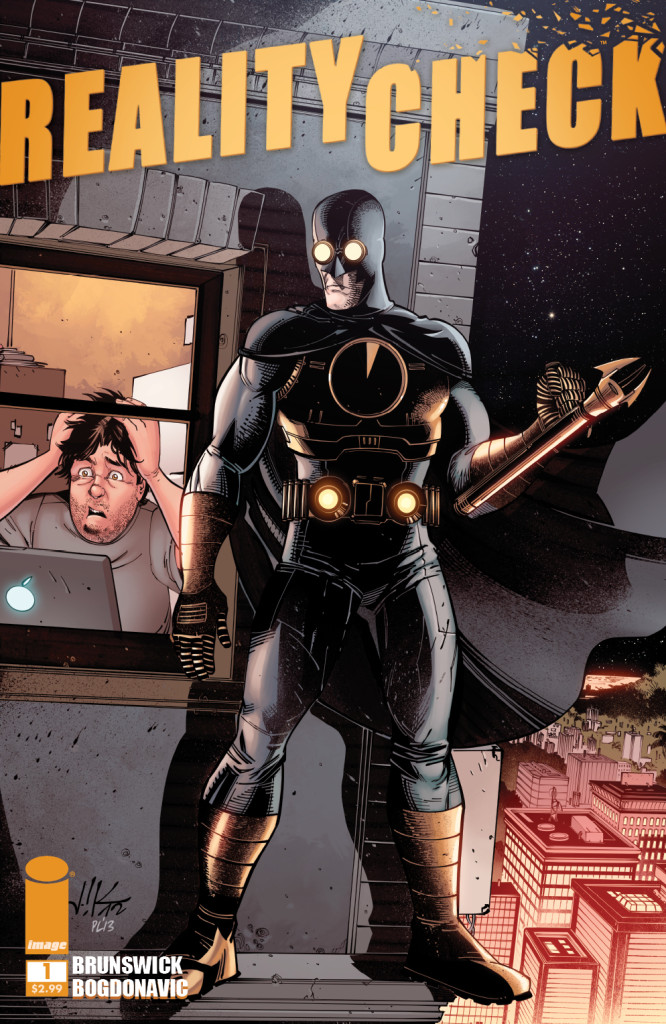 There are loads of other great new releases that are fun, albeit with little social importance in their pages. Image's Reality Check #1 is a mind-bending super hero adventure that shuffles back and forth between the comic writer's every day life as a down and out creative, and the imagination that lives inside his head. That is, until the hero of his comics, Dark Hour, arrives in his creator's living room. Described as a "libidinal Batman", Dark Hour seems to have some issues beyond what his writer thought up, or maybe the young writer has really just lost all touch with reality.
Codename: Action #1 from Dynamite Comics attempts to bridge the spy and super hero genres, giving us a pair of James Bond like agents in the Cold War who will have to enlist some classic era superheroes like Green Hornet to save the world form an evil plot. These classic era heroes are Dynamite's wheelhouse these days, but writer Chris Roberson has made them secondary, focusing largely on Operative 5 and his new partner Agent 1001. Roberson and artist Jonathan Lau lay it on a bit thick with the Bond analogue, but the combination of story genres could be promising to follow, at least up to issue #2.
Dynamite's second offering this week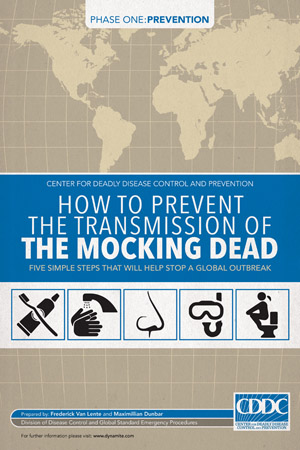 is a black and white story, and I wasn't quite sure if it was supposed to be serious or comedic. How to Prevent the Transmission of The Mocking Dead #1 is a story about a long abandoned government project to protect us from the horrors dreamed up by Hollywood. The secret analytic approach dubbed "Tinseltown" is reactivated after a zombie outbreak, calling back into service a man named Aaron Bunch. Bunch and his former friend Vanessa Malik were two geeks tasked with coming up with real-world solutions to possible genre-style threats to the world. The scariest thing about the book is the possibility that our own government might actually be spending money on this kind of research. Bunch has remained a stereotypical nerd, but old partner Malik has turned a new leaf, giving up her geeked-out riot grrrl life in favor of power suits. She's both a thorn in Bunch's side and his only defender in the halls of Pentagon. Their dynamic was fun to watch, but not enough to carry a rather goofy narrative.
And then there are the average to not-so-great offerings. I hesitate to call anything that Jonathan Hickman writes "average", but one can't live on reputation alone. His latest with co-writer Mike Costa from Avatar Comics is God is Dead #1, and it's a twisted tale of the ancient Gods of the past returning to Earth. Avatar is knows for blood and guts comics, and they don't shy away from it here, as artist Di Amorim gleefully depicts the citizens of a destroyed planet reverting to human sacrifice and global panic. A few remaining humans have holed up underground in an attempt to fend off this wave of supernatural threat, and the book seems to be trying to make a statement about religious belief in the modern world. However, it's really unclear what that statement is exactly, and I'm not sure I'll be sticking around to find out.
Dark Horse Comics brings us another chapter of Mike Mignola's Baltimore with The Infernal Train #1. A three part series this time, rather than a one-shot, The Infernal Train finds the immortal soldier Lord Baltimore in the days after WWI confronting a rogue priest and an infestation of vampires in Budapest. It's a more compelling story than some of the previous Baltimore tales, but it's veered a bit off the path of the original series. Even Lord Baltimore himself states repeatedly that he's wavered from his mission to kill the ancient vampire Haigus, and it gets to the point where I wonder why we're even here. Still, it's a fun enough horror comic in the visual style of the Mignola-verse (think Hellboy and BPRD) but with a slightly cleaner lines from artist Ben Stenbeck.
Last, and certainly least, we have a title from little known Big Dog Ink comics. Their latest is an issue #0, Shahrazad, and it follows sadly in the Zenescope comics mold of soft core porn disguised as comic art. This is a real issue #0, in that it seems to be just a big commercial for the upcoming series, filled with a few full page paintings of scantily clad women in sexually suggestive positions and no real story at all. To say it was "written" by Tom Hutchison would attribute properties to the verb that didn't previously exist. The art by Mike Krome is exploitative tripe, full of women in little more than stockings, lounging suggestively in the company of a man. When Shahrazad #1 comes out, don't bother.