We're No. 1! is a weekly feature looking at first issues in new comic series, as well as one-offs and special releases. In his reviews, Jeff highlights stories with diverse characters and plot lines Geekquality readers can care about, as well as points out comics that miss the mark.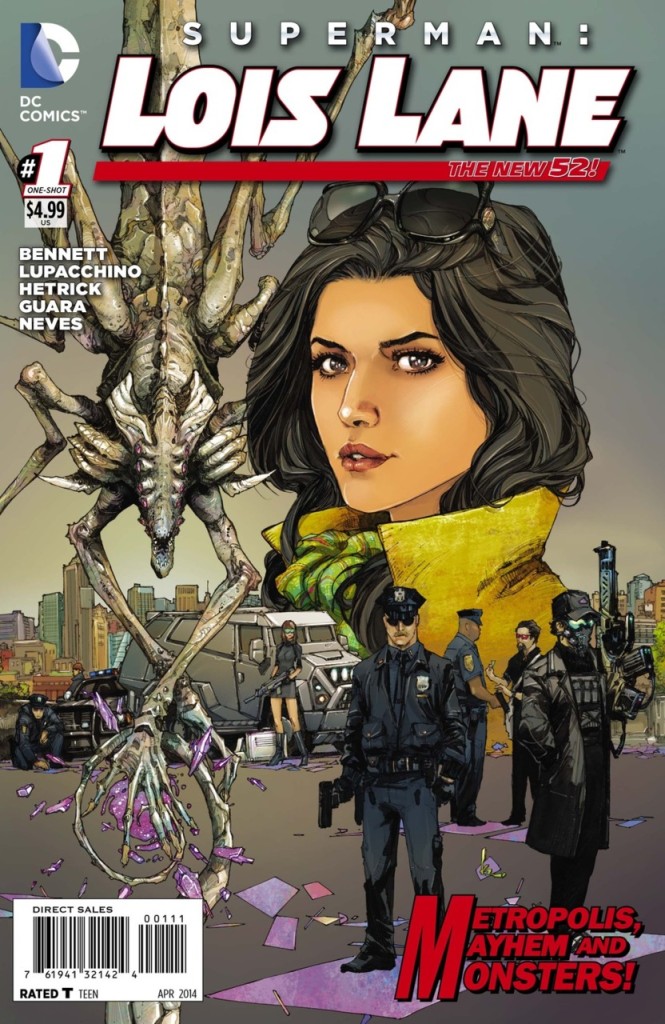 One of the First Ladies of comics took center stage this week as DC introduced the latest title in their New 52 Universe, Superman: Lois Lane #1. Lois Lane is an American Icon (notice the capital letters to indicate that I'm serious about this), and she's as much a part of the comics mythos and the fabric of American pop culture as her former blue-suited beau. Which is why it's a bit infuriating that her books (this isn't her first) don't begin with her own name. The reasons will surely be described as marketing tools by most, a big company milking everything it can from its #1 brand, but hopefully I won't be the only one calling for the removal of "Superman:" and arguing against the idea that Lois should be the subtitle of her own story. That said, on to the book itself, which is really quite good.
Written by Marguerite Bennett with art by Emanuela Lupacchino, here the "intrepid reporter" side is familiar to readers, as Lois continues her fearless pursuit of not just a story, but of the justice, helping run the Daily Planet as a global media conglomerate. She is put to the test in this first issue when her younger sister Lucy and her "roommate" (there's an implied relationship between the two girls) are kidnapped by a group of highly trained costumed operatives, after taking a designer drug that causes monstrous mutations. In Lois we see a reservoir of strength, a fortitude passed on from her parents. The idea that Lois has always been a bit of a maverick reporter because she was raised by her father, a military general, makes a certain amount of sense. Bennett also shows us that she had a strong female role model to learn from – her mother, who died when she was a young girl. Lois' devotion to her sister, and the fear that she'll never be able to be the mother figure that young Lucy deserves, also give Lois a sense of vulnerability, which makes for a more interesting character and a great story.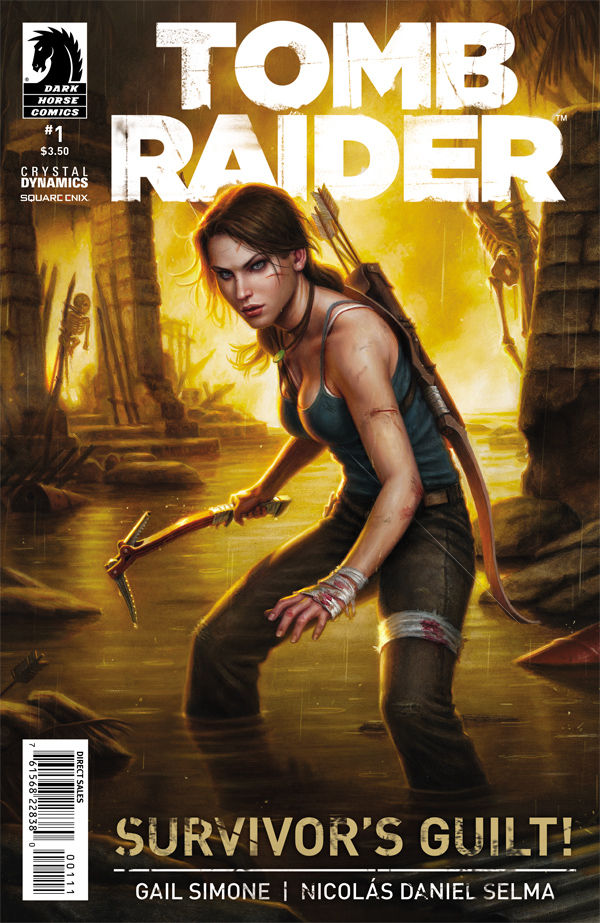 Another well known and loved woman in geek culture gets her own new comic series, written by Batgirl and Red Sonja scribe Gail Simone. Tomb Raider #1 from Dark Horse features art by Nicolás Daniel Selma and picks up where the recent video game reboot left off. If there is one flaw in the storytelling here, it's just that – the continuity from the game, which many comics readers might not have played. But it's handled deftly by Simone, and Lara plunges headlong into a new mystery with a certain sense of guilt leftover from her previous exploits. She's lost friends on her last adventure, and now those that have survived with her are showing signs of traumatic stress, as is Lara herself. Lara's demons are the driving force in the narrative and her sense of guilt has made her acutely aware that she is responsible for the people in her life, people she may have put in harm's way. Her new sidearm of choice, a climbing axe instead of a pair of .45's, is also a welcome and more humanizing switch. All in all it's the beginning of an interesting adventure and has the feel of most of the earlier video game stories, with just a touch of mysticism, making it great for fans of any iteration of the character.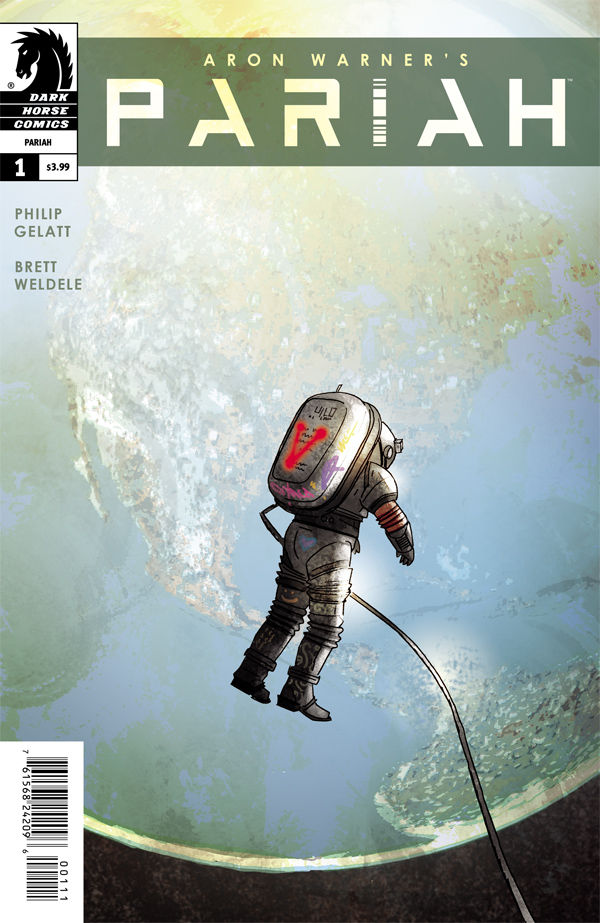 While the first two books got a lot of things right, most of this week's new series are missing the mark, in a number of ways. Thankfully, the most that Aron Warner's Pariah #1 can be accused of is pretending to be a #1 when it's really not. It is, in fact, the latest chapter in a continuing series of the same name about a group of young people who have become super-intelligent after being cured of a genetic disorder. Now, these genetically altered kids known as Vitros have been rounded up and plopped onto an aging space station far above the Earth. When their orbit begins to deteriorate they realize they've been sent here to die rather than flourish, and they scramble against time to try and survive. The tale was a bit reminiscent of the film Gravity and other disaster style stories, but the biggest drawback is that it begins right in the middle, with little to no explanation or back story that got us here. While readers of the previous series might be perfectly happy to drop right in, calling this book a #1 is misleading, more so than some other series that have done similarly before. It was difficult to follow the narrative and even harder to care about these young people, knowing so little about them beyond their unfortunate circumstance. Still, the idea that they are are superhumanly intelligent, even if it isn't presented until well into the story, proved intriguing enough to make me hunt down the previous stories. It's tough not to regard this strategy as a marketing ploy but there is enough compelling plot and character diversity here to pique interest.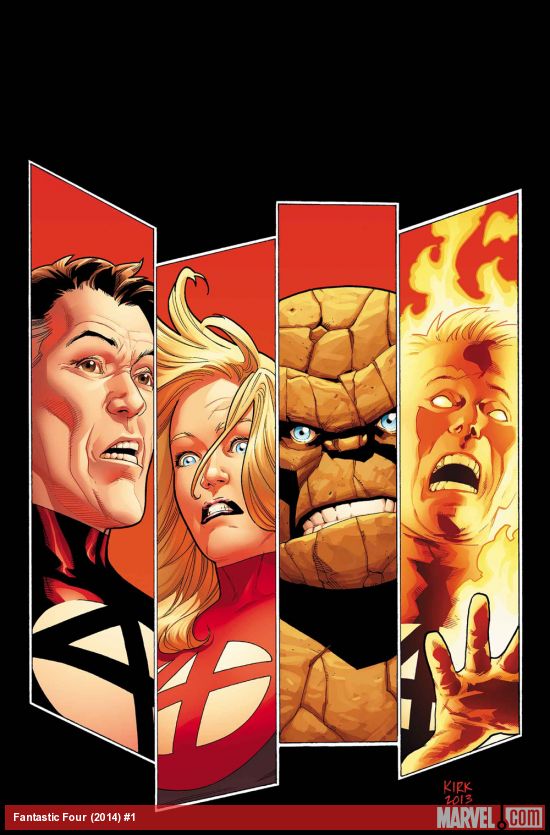 The same can't be said of Marvel's latest reboot Fantastic Four #1. This latest chapter of the lives of comics First Family isn't about forcing me to read back issues, but it should have been, frankly. The narrative here isn't remotely compelling, and in fact offers very little that readers haven't seen before. Susan and Reed are having trouble connecting because he's so smart? Ben and his love Alicia are trying to get their on again off again romance back on? Again? Johnny Storm is still just an arrogant fame obsessed jerk? The new book feel as if it's just checking off the regular FF boxes, one by one, yet still expecting us to believe there is a new darkness in this family's life, just around the corner. The problem is that, by the end of issue #1, I'm not interested in turning that corner. It's disappointing that Marvel didn't use this book, which at its core has always been about family, to look at ways the modern world consistently redefines the concept of "family", instead simply settling for familiar tropes we've seen countless times, making this book fall well and truly flat, and not taking advantage of the artistic talent.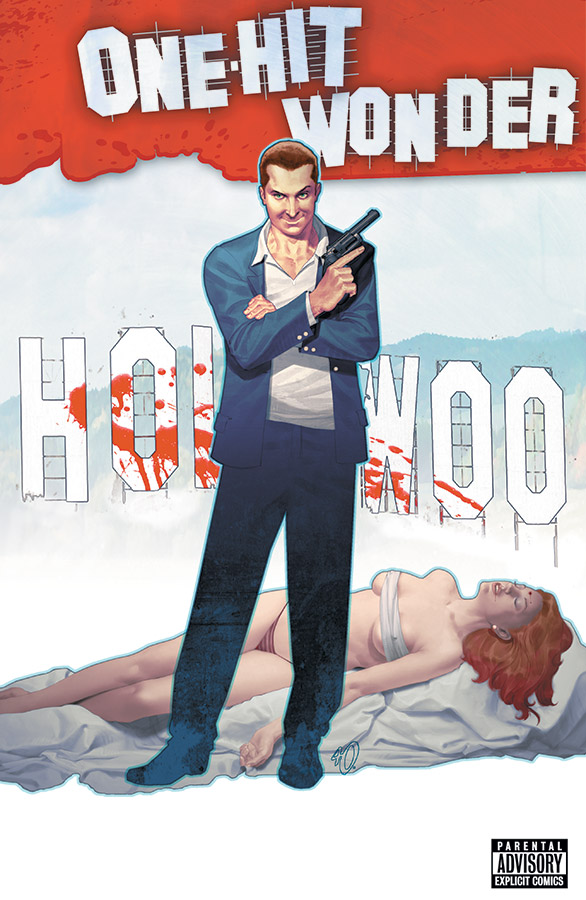 And then we arrive to violence and misogyny, starting with One-Hit Wonder #1 from Image. It's the story of Richie Reese, a former child star who has apparently become a professional killer. Except that Richie isn't all that professional. He murders an actor playing a therapist on stage in front of an entire camera crew, and then gets hired by his "broker" (for lack of a better term) to assassinate a woman named Molly Hines, who "knows too much" about his mysterious misdeeds. Richie repeatedly and openly attacks Molly in public, and Molly doesn't seem smart enough not to keep hiding in public places like bars. Though Molly does give Richie several well deserve punches in the groin, she's not particularly interesting and Richie himself is deplorable. The book also features several overtly sexist tropes, such as the fabulously wealthy Richie having topless women kissing each other at his house for no apparent reason.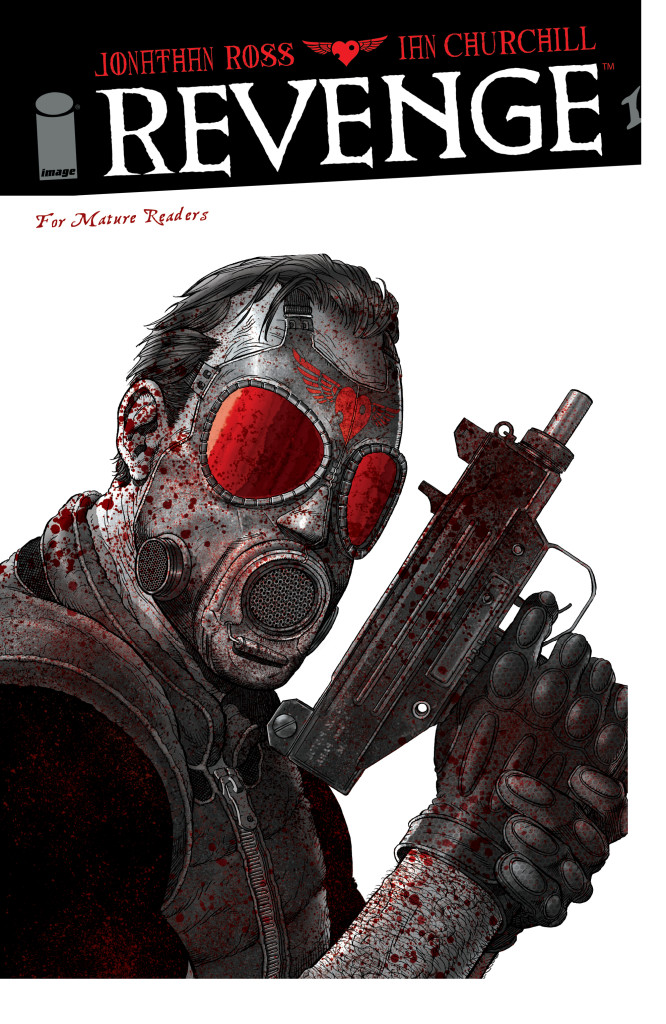 Hollywood and its excess are also tackled in The Revenge #1, also from Image, created by Jonathan Ross and Ian Churchill. It's an explicit, over the top violent story about washed up action star Griffith Franks. Franks has just rebooted his aging action franchise "The Revenger" and it's a surprise hit. Now he's very concerned with his image and flies off to Mexico with his latest trophy wife for an experimental plastic surgery. Once there he realizes that Candy, his wife, has set him up as a complicated revenge scheme for Frank's having seduced her mother years before, ruining her parents' marriage. Candy has bribed this doctor to slice off Franks' face while he's still awake, and intends to literally steal his identity as well as his fingerprints, just long enough to nullify her pre-nup and take all his cash to boot. It's a shallow and ridiculous story filled with shallow and ridiculous people. There's not one redeeming quality about anyone in the book except for Frank's adult daughter from his first marriage, a young woman who runs an animal shelter. She's not the focus of this story however, and the people who are – Griffith Franks and Candy especially – are deplorable. It's tough to root for either of them to come out on top, making for a story that's going nowhere.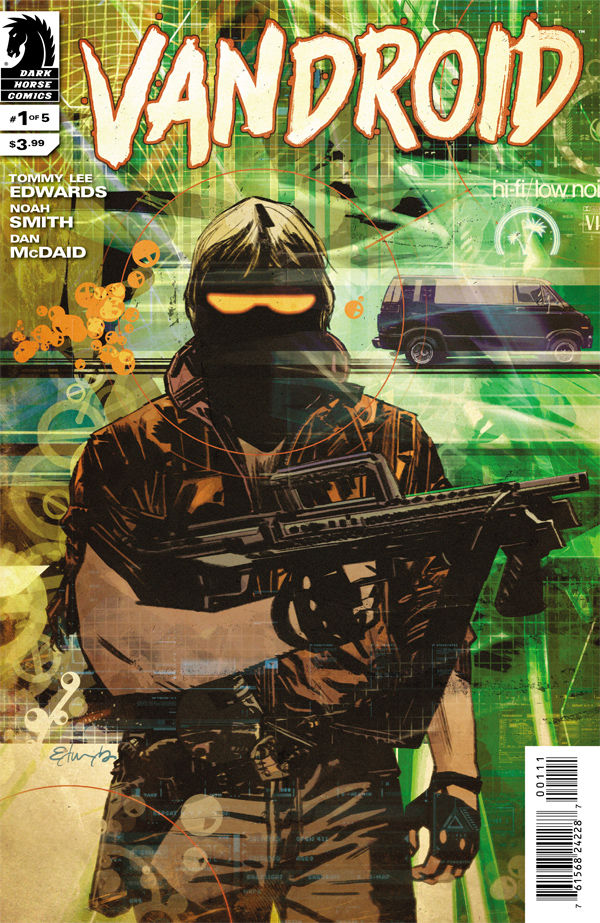 Lastly Dark horse brings us the very unusual title Vandroid #1. The tale of this comic's inception is considerably more interesting than the book itself. In 1984, a fire in a warehouse in Palm Springs California destroyed most of a grindhouse B-movie called "Vandroid," leaving behind only a screenplay and a few promotional materials. Now writers Tommy Lee Edwards and Noah Smith, with artist Dan McDaid, have resurrected the story in comic form. It's about an unscrupulous scientist who invents a violent artificial intelligence, and then bribes a 70's era custom van designer named Chuck Carducci to build a robotic body for the electronic mind. When the new "Vandroid" becomes self aware it thinks that it is Chuck Carducci and violently kills its maker before wandering off to try and assume his life. Why this means that he needs to go to his maker's ex-wife's' house and accost her in the shower is a mystery beyond a gratuitous excuse to draw the woman naked. The book is preposterous, which is in line with grindhouse style, yet the comic doesn't seem to have enough of that tongue in cheek humor that the exploitation genre is known for. Vandroid, despite its camp, isn't quite the humorous parody that it could or should have been, and instead feels like a story that's out of place in the modern world without any sort of interesting commentary or connection.