We're No. 1! is a weekly feature looking at first issues in new comic series, as well as one-offs and special releases. In his reviews, Jeff highlights stories with diverse characters and plot lines Geekquality readers can care about, as well as points out comics that miss the mark.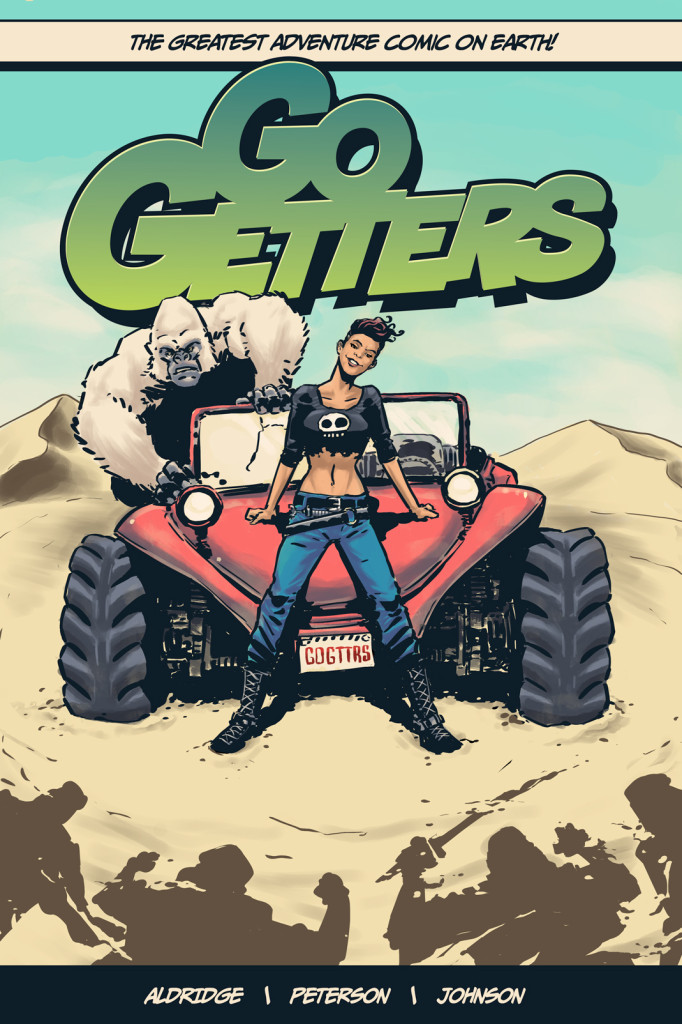 Although we've seen some solid examples recently, when it comes to diversity in comics, this week falls a little short. Still, let's kick it off with a gem that many might not be aware of: GoGetters #1, from online-only comics publishers MonkeyBrain Comics, written by Shawn Aldridge with art by Christopher Peterson. The main character is Maya Diaz, an adventurous, if foul tempered, young woman with a "pet" white gorilla named George Harrison. (As Maya reminds us forcefully, it'd be wise not to simply call him "George".) The duo work as Go Getters, finding and returning lost property to clients across the world for a handsome fee. In this first issue they are on the trail of a stolen rare coin, the golden Double Eagle, and they traipse across half the world from Austin TX to the sands of the Middle East to track it down, fighting baddies along the way in their red open topped dune buggy. Maya is tough and unapologetic, with a quick tongue and attitude to spare, and fits squarely in the vein of super heroines like Red Sonja, Spider Girl Anya Corazon from the pages of Avengers Assemble (can't stress enough how good THAT book is) and the latest iteration of She-Hulk. Where Maya falls short, at least in this first issue, is that she is a never ending stream of attitude and ultimately comes off as a bit of a stock character, a wise ass adventurer with little desire for more than mayhem; more Tank Girl than Captain Marvel. That said, the book has funny moments, and if you are a fan of digital comics, this one is well crafted and Peterson's art presents beautifully on the tablet.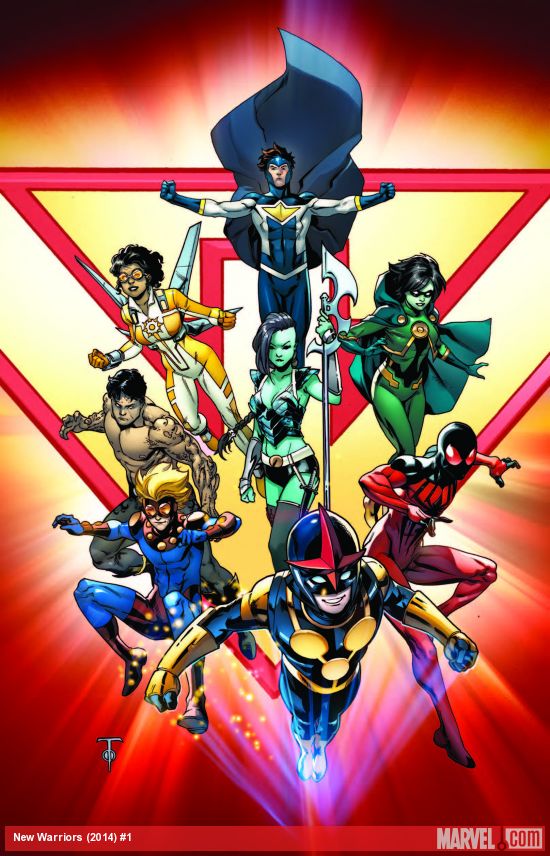 Beyond that, this has been a lackluster week as far as diversity's concerned, with just a few interesting new books. Marvel's latest crack at The New Warriors #1 brings us a newer character in Hummingbird. Though little of her backstory is given in this new series about a group of young superheroes who will try to revive the New Warriors' reputation), she's a Mexican girl who was the victim of human trafficking before being rescued by Peter Parker's clone Kaine, the Scarlet Spider. Now she's his sidekick, apparently, and has all the horrible character attributes of a sidekick. She's naïve, a touch whiny, and solely seems to exist to propel Kaine's narrative rather than her own. Meanwhile, Selah Burke a.k.a. Sun Girl, manages to hold her own quite nicely in the narrative. She's a Black woman with a technologically advanced suit that lets her fly and shoot energy. She's a novice super hero, unsure at times, even asking herself, "What would a superhero do?" Even in a book with such a large ensemble cast, Selah stands out as a well developed character in these early stages. Sadly, for all that, the book itself lacks the appeal of some of Marvel's other young hero centered books like Kieran Gillen's Young Avengers, largely due to a lack of the modern day touches of life. These "young heroes" don't seem to act or speak like the young people of today when compared to YA, and that difference is sadly all the difference.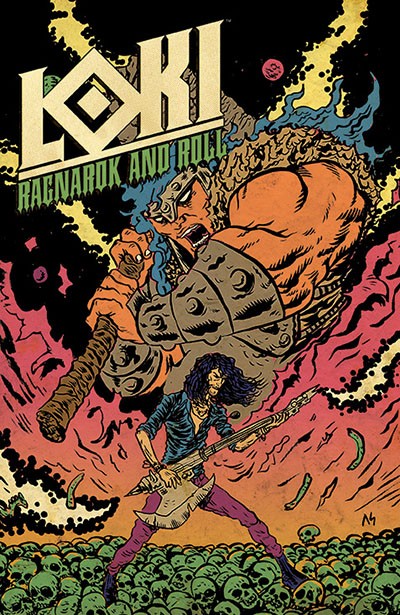 For those enamored with Marvel's latest golden god Loki (himself a former member of the Young Avengers), the newest offering from Boom! Studios might seem a bit off-putting. However, no one holds copyrights on ancient mythology, and thus we have Loki: Ragnarok & Roll #1 from Eric Esquivel, with art by Jerry Gaylord. Loki the Trickster is the central figure in this comedic romp across religion, and in some ways he's similar to the Tumblr-popular version of recent Marvel films. He's quick witted and not happy about being in his brother's shadow. Here Loki is a god in the truest sense, and he's not the only one. At his father Odin's table, every god you've ever heard of is welcome, covering all faiths and even one pretty hilarious internet meme religion. When Thor, not particularly bright or pleasant here, paints Loki as a failure in battle and diplomacy both, Loki is banned to Earth. He hasn't been on the mortal plane in a thousand years and finds that he quite likes the punks, goths and various misfits of the modern world, with their tattoos and rock & roll lifestyles. This story has tons of comedic potential and Gaylord's frenetic artistic style really brings Loki's humor to life. He's a different character than Marvel's Loki, thankfully, but there's enough of the playful trickster to appease anyone who picks up this book looking for the familiar. While the alternative lifestyle kids here don't have the realistic feel of, say, a Rick Remender book, they do set the stage nicely for a god to live it up on Earth.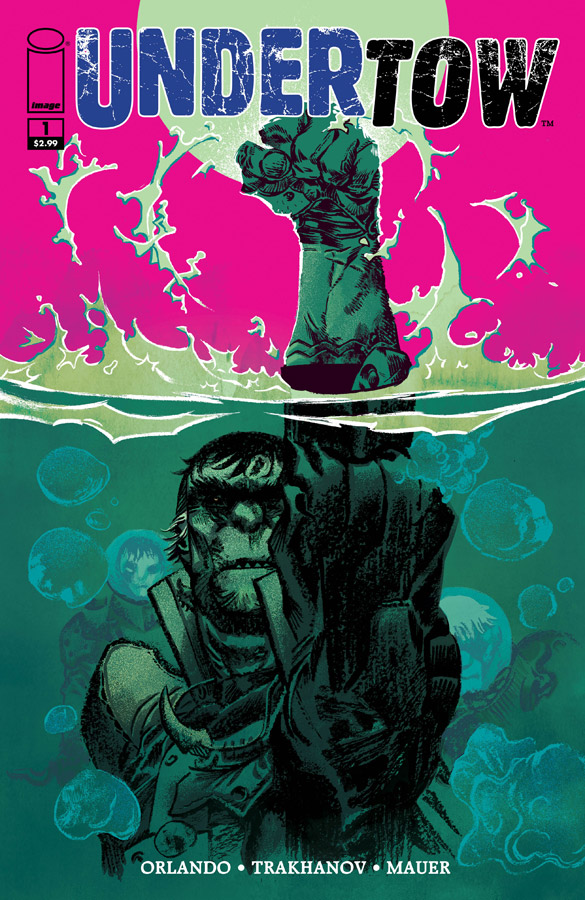 The best of the week comes once again from Image, with Undertow #1 written by Steve Orlando, with amazing art by Artyom Trakhanov. It's the story of Atlantis in a way you never quite seen before, an Atlantis at war with itself. The denizens of this long lost undersea culture are in conflict with a rogue leader named Redum Anshargal, who they believe wishes to destroy them. When spoiled rich kid turned soldier Ukinnu Alal is captured by Anshargal, however, he learns a very different story. Redum is an explorer, venturing out of the ocean and onto the surface, where early primitive man still hunts with spears while he pilots his advanced city-submarine about the ocean depths. Redum is searching for a long lost amphibian that might allow the Atlanteans to live on land, and his quest inspires the young Ukinnu to question the rigid society into which he was born. The book has some subtle things to say about the structures of society that we sometimes follow without question, as taught by our elders, but mostly, it's just a good adventure story. And seriously, enough can't be said about Trakhanov's art in this book. His gritty pencil work and magnificent color bring to life a rich fantasy world. It's grainy and fluid at the same time, and delightful to look at and read.