We're No. 1! is a weekly feature looking at first issues in new comic series, as well as one-offs and special releases. In his reviews, Jeff highlights stories with diverse characters and plot lines Geekquality readers can care about, as well as points out comics that miss the mark.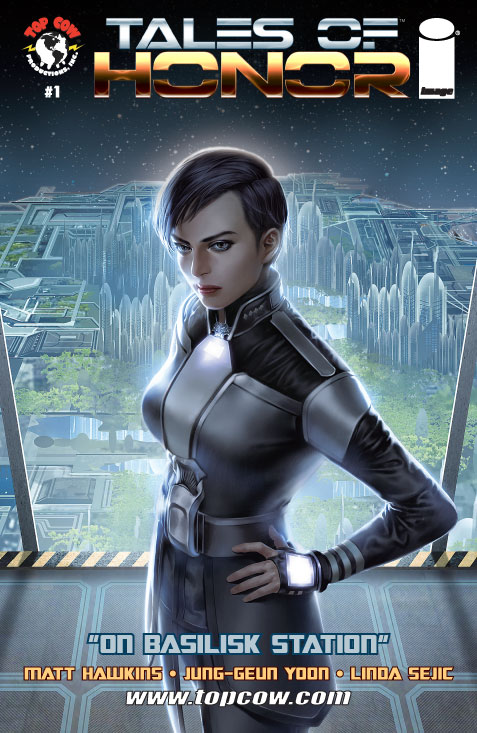 This week I'm once again reviewing comics in the digital format. This is mostly because I'm on a plane to Austin and can't get to a comics shop. (Otherwise, I encourage ardent support for local comic book shops.) My favorite selection this week is Tales of Honor #1 from Image and Top Cow, featuring space captain Honor Harrington, based on the works of David Weber. Honor is a prototypical "Strong Female Character", a tough military career leader, both physically capable and with the wits to back it up. Written by Matt Hawkins with art by Jung-Geun Yoon, we see some of Honor's early career with the Kingdom of Manticore's space navy. She narrates from her prison cell, where she is being tortured, and it's tough to let your mind wander far from the pain she suffers as she relates the events that landed her in enemy hands. Honor has to deal with the discrimination of her superior officers, both for her perceived inadequacies as a "commoner" (her society is highly aristocratic) and as a woman. She even is forced to endure humiliation from a commanding officer who had previously assaulted her while both were in the military academy. Defending herself against his assault, Honor had bludgeoned her attacker nearly to death, but, unfortunately, did not bring the incident against him. (Although her way of dealing with the situation is understandable, I can't hep but wish she not only defended herself physically but also spoke up against him on behalf of other women in the service.) That said, the story looks beautiful and Honor is a character worth following, as we'll have plenty opportunity to do. Reading the story on my tablet was ideal considering the push to develop the series across other platforms: there is a game coming soon on mobile devices, and a feature film is supposedly in development.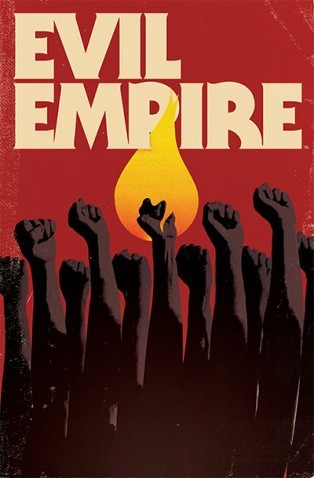 Boom! Studios' Evil Empire #1, written by Max Bemis with art by Ransom Getty, introduces us to an America in the not-so-distant future, a land that's become a fascist state, and an actual evil empire. We're told it's a fate much closer than we might expect, as the story then moves to the present day, showing us the mix of politics and pop culture that, presumably, led to such a catastrophe. We meet two fascinating characters, Democratic Presidential candidate Sam Duggins and outspoken female rapper Reese Greenwood. Duggins is a rarity, a single man running for the land's highest office. Reese is even more interesting, a woman whose politics and art blend together, placing her much further left than Duggins himself. Reese is an enigmatic activist whose lyrics decry the power that keeps poor people and minorities under its thumb. When Duggins pulls some strings to meet her, professing he's a big fan, she's not flattered nor interested, as she sees all politicians as part of the problem. As the tale progresses however, the two public personalities develop an interesting dynamic, a relationship that might be deeper than either wants to admit. Meanwhile, the wife of Duggins' Republican challenger has been murdered, and when the killer publicly reveals himself it's quite a shock. Duggins and Reese are compelling in their conflicting relationship, and even more interesting when we consider their future. We know their society will disintegrate, but neither seems like the harbinger of fascist doom. Will they become the heroes fighting against the angry uprising of a power mad State? Or are they a misguided Mr. and Mrs. Macbeth in the making, their noble ideals spiraling out of control? Only time will tell, and I'm glad to keep reading to find out.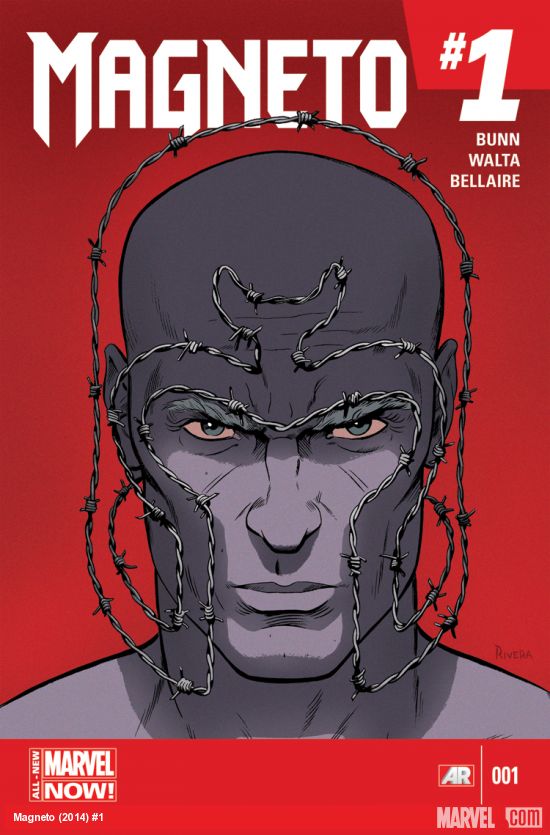 Meanwhile, if you're a fan of tragic characters, Cullen Bunn, Gabriel Walta and Jordie Bellaire have just the Marvel comic for you with Magneto #1. Magneto has been many thing's over the years, besides simply being one of the greatest comics villains of all time. He's a soldier, a Jew, a political dictator, a power hungry zealot, and first and foremost, a Mutant. In the Marvel universe, this is no small label. This incarnation is well aware of his many labels and names, and he's convinced that no one knows the real Magneto. After years as a super villain and a handful of broken alliances with various factions of the X-Men, Magneto is now fighting a guerrilla campaign for mutant justice on his own terms. With limited resources, he's traveling the back roads of America incognito, tracking a Mutant killer. What he finds is, of course, not what he expected, but certainly nothing the Master of Magnetism can't handle. Bunn has humanized Magneto, his anger serving as a scruffy layer over a changed inner core. His hatred for humanity has been tempered by his repeated interactions with those who fight for his dear friend Charles Xavier's dream. Gone, also, are his shock of wavy silver hair and flowing red cloak. Instead, Walta depicts him as aging, bald, with a touch of shaggy beard, and a powerful muscular frame. The story is an interesting take on concepts of racism and oppression, seen through the eyes of a man who is a true believer in violent retribution against those who would harm his people. It's a fascinating exploration of one of the great characters in comics, and not to be missed.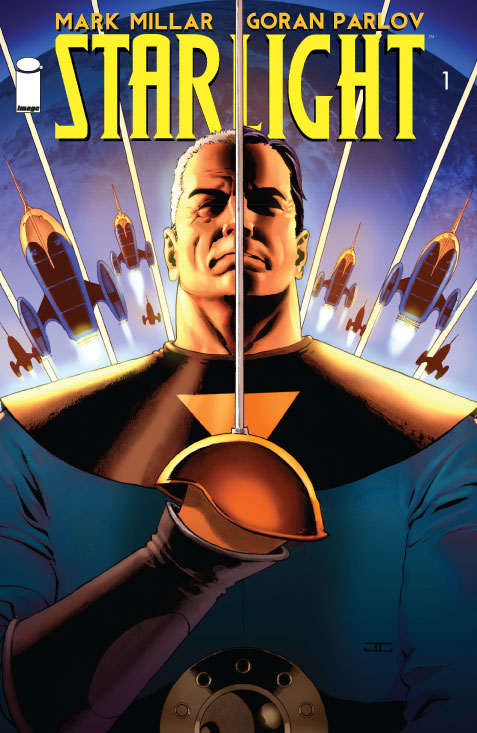 Superstar writer Mark Millar has a new series at Image Comics this week with Starlight #1. Sadly, Millar has not delivered his typical powerhouse storytelling this time around. The idea is interesting: forty years ago test pilot Duke McQueen was mysteriously rocketed to outer space for an epic adventure, toppling an evil empire and bringing peace to a far flung part of the galaxy. Now he's been home for years, raised two sons, and tragically lost his wife to cancer. An aging man who's long been disgraced, McQueen dreams of his past with a certain longing, yet he isn't quite prepared when it suddenly drops right back onto his front lawn. Fans of the legendary Flash Gordon will wonder how Millar manages to avoid plagiarism here (Flash is actually in the public domain, but still), as Duke McQueen couldn't possibly be more transparent. Sadly the entire first issue just sets up the premise that we've already bought into. He's Old Flash Gordon, about to suddenly get thrown back in the mix. We get it, it was written inside the front cover. While we get a small glimpse of what that's like (the disinterest from his adult children is especially sad but not particularly original as devices go) but not enough to fully suck us in. While I applaud the idea, I wanted to see more action in the first book.Millar doesn't quite do enough to grab this reader's attention, and I may forego this title, at least until I can pick it up as a collection down the road.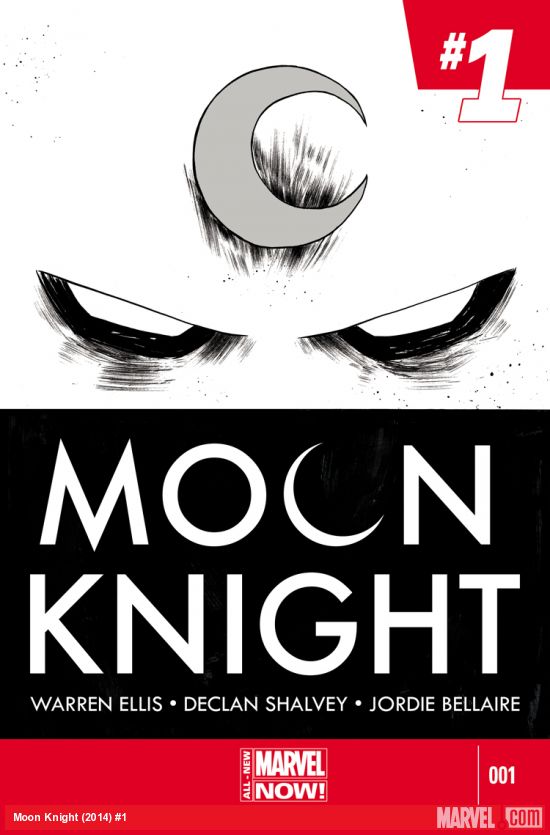 There were a few other #1's worth mentioning this week as well. Legendary writer Warren Ellis takes an original swipe at a fringe Marvel character with Moon Knight #1, an interesting exploration of psychiatric ills in the world of superheroes. (Here, Marc Spector and his therapist discuss his misdiagnosis for Dissociative Identity Disorder.) And, as a joyful personal aside, Moon Knight now fights crime in a three-piece suit, rather than spandex, which is awesome. Marvel also relaunched Wolverine and the X-Men #1, highlighting Logan's personal struggles and heavily laying on the typical teenage angst we've seen in many X-books over the years. The focus on Quentin Quire is fun, but not particularly original for the series. Oni Press has at last issued The Auteur #1, the NYCC comic rarity, as a regular series in from Rick Spears and James Callahan. It's a trippy and shocking tale of fringe filmmaker Nathan T. Rex, who's suffering an artistic identity crisis in the wake of the greatest cinematic disaster in history, his space epic Cosmos. The fabulously illustrated yarn is a gore-soaked, irreverently funny romp through the imagination.