We're No. 1! is a weekly feature looking at first issues in new comic series, as well as one-offs and special releases. In his reviews, Jeff highlights stories with diverse characters and plot lines Geekquality readers can care about, as well as points out comics that miss the mark.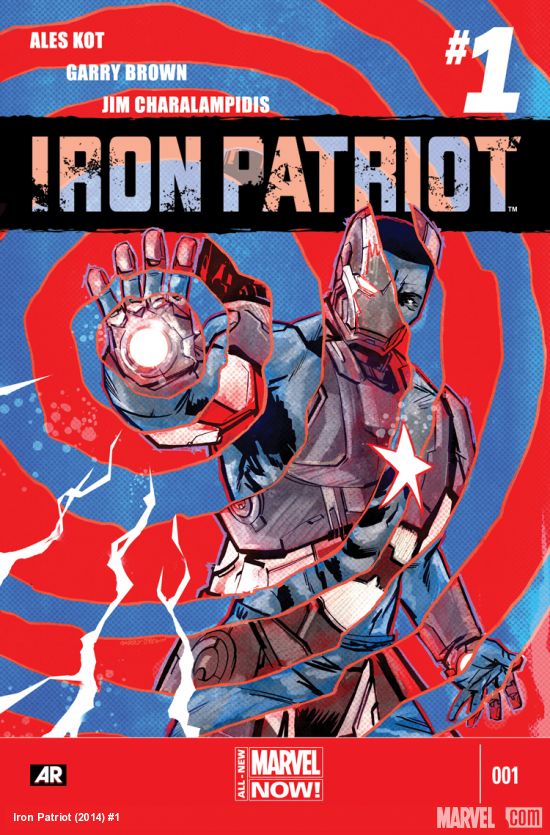 This week sees characters of color in starring roles, starting with Marvel's Iron Patriot #1 from Ales Kot and Garry Brown. James "Rhodey" Rhodes has adapted his War Machine persona into The Iron Patriot, in a tale reminiscent of what we've seen in the Marvel cinematic universe. Part of a tight-knit Black family, Rhodes is heavily guided by his father Terrance, and he's also a role model to his niece Lila, a young woman with a Tony Stark-like love for the mechanics of super armor. She is stubborn and determined, and she takes to the young person's airwaves (read: YouTube) to defend her uncle's public decision to change his focus as a hero. War Machine was a black ops soldier, but Iron Patriot is a homegrown hero, and Lila is proud of him for it. She makes this book be about more than political intrigue and a secret enemy out to destroy Iron Patriot; this is a story about family, and a realistic one at that, at the center of this book.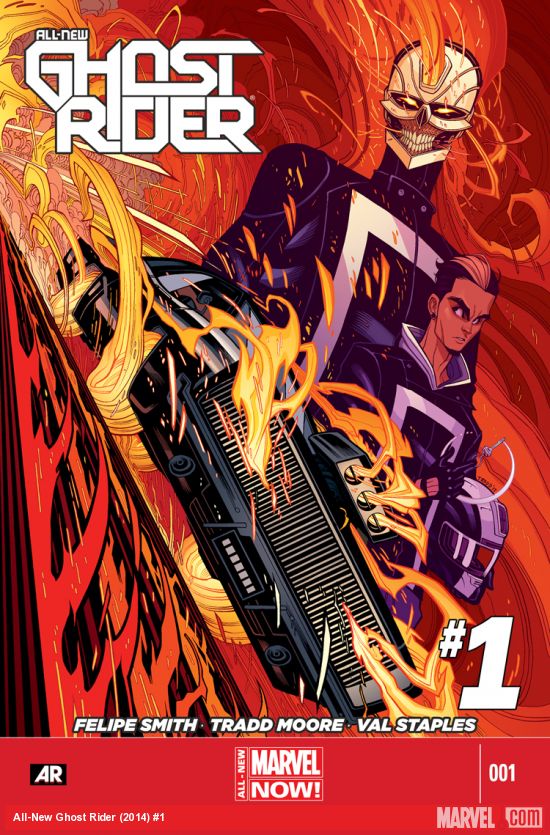 Marvel's Ghost Rider #1 brings an all new character in a bold take on the established mythos, beautifully drawn by Tradd Moore. Written by Felipe Smith, the new Ghost Rider is a young mechanic named Robbie Reyes. Robbie's job at a local auto garage in his downtrodden L.A. neighborhood sadly isn't enough to support himself and his younger brother, who's in a wheelchair. Robbie has taken to street racing the hot rod he's been building for a client. Not knowing who that client truly is proves to be Robbie's undoing when he is murdered for a load of illegal drugs stashed in the trunk of his ride. Robbie is reborn, however, as the newest incarnation of The Ghost Rider, the first to drive a hellish hot rod rather than mount a motorcycle. Robbie is a tough kid in his own right, and he's willing to take on the drug dealers of his neighborhood when his brother is threatened, doing his best to shield the younger boy from danger. He doesn't feel he has any other way out of a tough life, and the store is more powerful because he's not just a young person of color in a supernatural world, but also young man struggling in the real world, and in a neighborhood he calls home.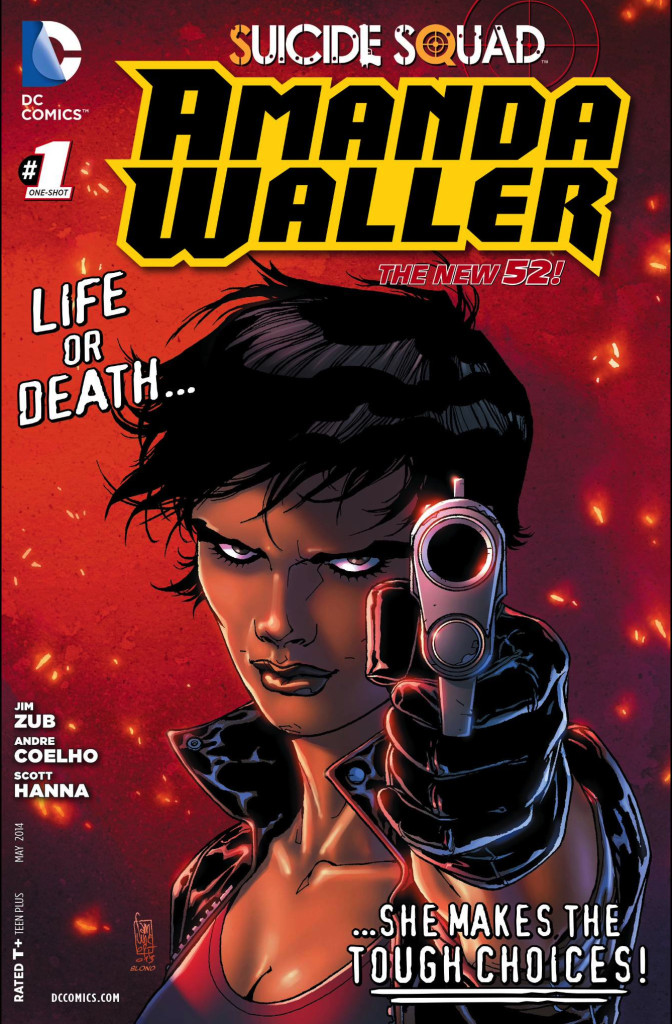 DC's one shot, Suicide Squad: Amada Waller #1 is an interesting, if simplistic, take on the Strong Female Character. Amanda Waller has long been depicted as a bit of a morally ambiguous character, willing to sacrifice others and break the law to do what she feels, or has been told, is right. She's a government operative and the brains behind the Suicide Squad, DC's group of villains-turned-heroes. In this single issue, she's all on her own however, with no supers around to help her face a particularly nasty nemesis, out to kill a scientist under Amanda's protection. She's a soldier first and foremost, and writer Jim Zub deals mostly with that part of her personality, her hard-edged narration largely centered on having to make decisions that may cost many lives, both guilty and innocent. A lot of this bravado-as-internal-monologue is something we've seen before, and Waller herself overdoes it a bit in this book. Still, as a woman of color it's great to see her character front and center, a star of a book and driving her own narrative.
There is a great young lady starring in a digital book this week, the fantasy pirate tale Anne Bonnie #1 from small indie publisher Blue Juice Comics. Finding this one in comic book stores may be tricky, but it's a great looking digital book. It's the story of Ariana, a young orphan and the ward of an evil wizard, who grows into a rebellious young teenager. She is able to steal a magical pirate ship and reignite the legacy of the pirate queen Anne Bonnie. Is this Anne's ship, hidden for years? How is Ariana connected to the Pirate Queen? The mysteries here are great, and are part of the fabric making for a rollicking adventure. Yet, at its core, this is the story of a young girl growing up and into her own. Ariana is a willful kid, and a bit too reckless for her own good, and it's her growth in this series that I'm most looking forward to. Despite the adventurous nature of the story, creator Tim Yates has done a great job making sure we understand that this is Ariana's story – not just a pirate story – and it's what makes me want to keep reading. Hopefully I'll be able to find more issues in comic shops (I asked my local retailer about this title, and you should too!), but until then I'm thankful for the digital platform.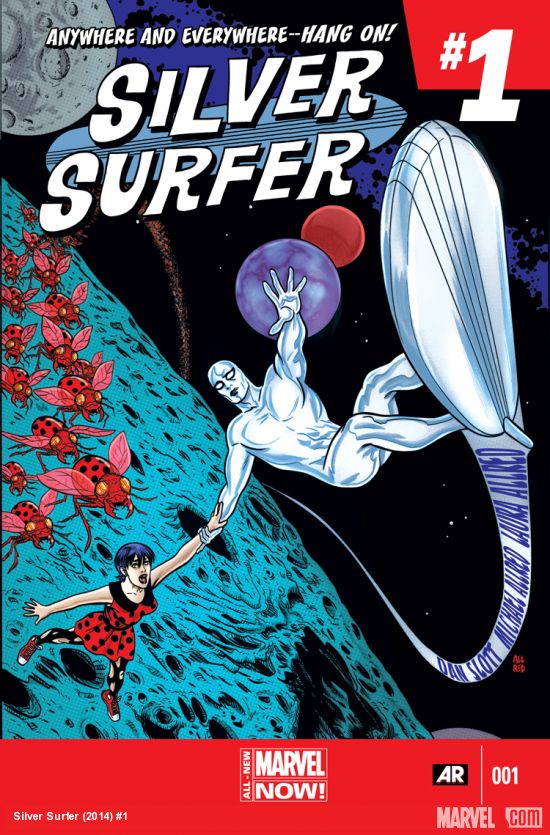 Don Slott and Mike Allred bring their singular talents to an age old Marvel character with Silver Surfer #1, and the surfer has an interesting new sidekick. To persuade the Surfer to protect their mystical outpost from a terrible villain, an alien race abducts a young woman named Dawn to hold as a hostage. Dawn is as down to earth and opposite from The Surfer as could be, and a total stranger to him as well. She's content – in fact, adamant – about living in her small New England vacation town, running a B&B with her father while her globetrotting sister Eve drums up customers all over the planet. Dawn is the star of half the book as Slott set sup how unlikely a victim she is in this whole plan, but sadly that's exactly what she is – a victim, a damsel who needs saving. Now, there's every possibility that this isn't the case, that Dawn will discover inner wells of untapped strength and help change the Surfer in her own way, saving him as much as he saves her. But so far, there are no hints that she is anything other than a pawn and a supporting character used to manipulate a male character in a story written and drawn by men. I might come back for the trade paperback once the story gets going, but I'll skip issue #2 on the shelves. It's not that it isn't a good book, it's just not good enough.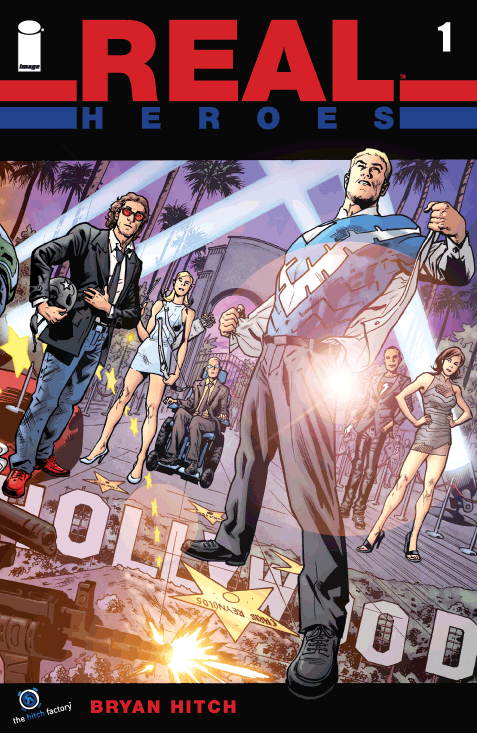 For the second week in a row, Image Comics has one of the more disappointing titles of the week, especially in terms of inclusiveness. Real Heroes #1, written and drawn by Bryan Hitch, is an amusing premise, for certain. Six of the world's biggest actors and the stars of an (obvious) Avengers analogue called "The Olympians" are sucked into an alternate reality in which the heroes they depict are real, and are also all dead. They must don the capes and cowls and save this parallel world, as long as they can get over their own issues and shortcomings. The problem is, their shortcomings aren't all that interesting or valuable, the characters who aren't white and male are highly marginalized. There's "King" Leo Washington, a rapper/actor, depicted as shallow and sexist in a stereotype of an affluent Black man. Of the two women in the story,  Jennifer Sanchez is written as a loud-mouthed and self-absorbed Latina, while the blond Nichola Fox is a "serious" actress and a relatively warm and caring person. Lastly there's disabled actor Jeremy Roberts, who has Moor Neuron Disease and is in a wheel chair. Of course, none of these characters are the leaders of the group, following another stereotype: the blond, blue-eyed Chris Reynolds, who dramatically resembles real life actor Chris Pine, almost a bit too much. The story is bland and full of stereotypes that don't need to be reinforced, and the cover is atrocious, depicting the previously mentioned female, disabled and Black characters in the far background behind the two white men. Ugh.