We're No. 1! is a weekly feature looking at first issues in new comic series, as well as one-offs and special releases. In his reviews, Jeff highlights stories with diverse characters and plot lines Geekquality readers can care about, as well as points out comics that miss the mark.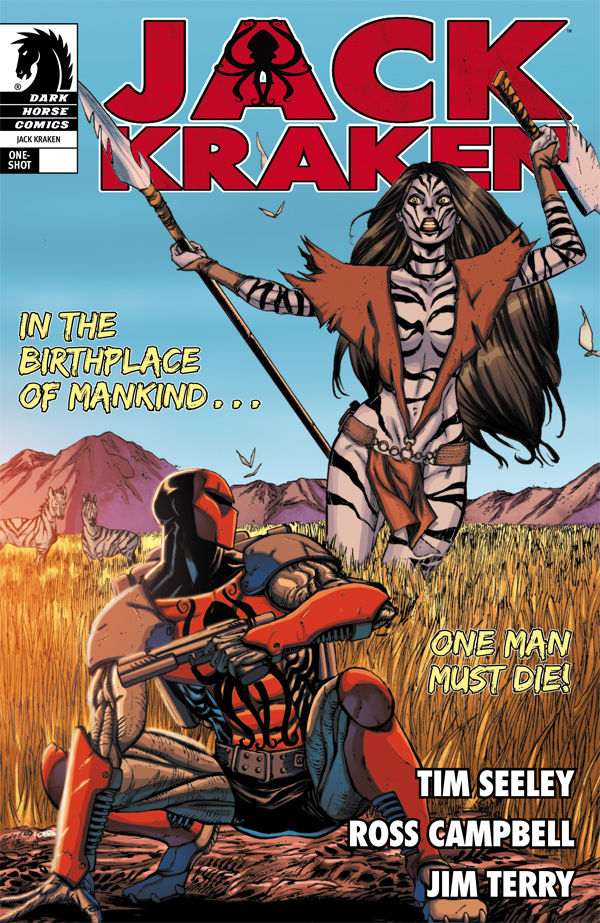 We start this week with the one-shot Jack Kraken from Dark Horse and writer Tim Seeley. It's a collection of stories, some of which were originally published online as part of Chicago-based Four Star Studios Double Feature series. Jack Kraken is an amalgamation of a hero, with abilities (his arms are basically super stretching octopi tentacles) and some gadgets as well, like jet packs and a knock-out gun. Jack works for an agency called the Humanoid Interaction Agency (H.I.M.), dealing with threats from things like vampires, banshees and Sasquatch. Yet throughout his adventures, Jack is aware (sometimes he's reminded by his operator Charlie) that these beings have their own longstanding cultural identities, and that our names for them are offensive. One should respect that vampires prefer the term Nocturnes, and that referring to a Titan as "bigfoot" is insensitive. The metaphor is obviously more than a little on the nose, but rightfully so. Not only do these stories shine a light on the cultural differences between us, by highlighting the glory of our legends, but they also remind us that "monsters" are almost never what they seem, and that getting to know them is more important than fighting them simply because they are different.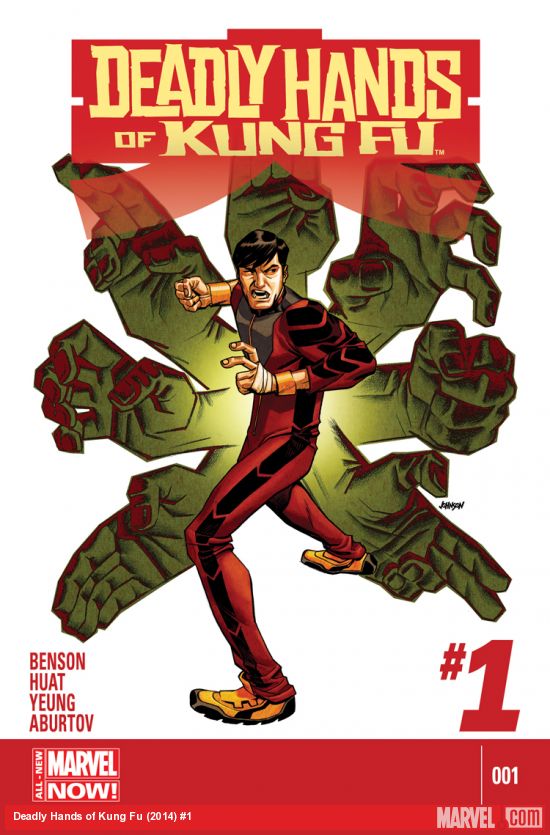 Marvel has an new book for its classic Asian Avenger Shang Chi in Deadly Hands of Kung Fu #1. Shang Chi isn't super powered at all, merely the greatest practitioner of wushu in the world, and he's on a mission to find the people who killed a former lover who worked for MI:6. The series also re-introduces Black Jack Tarr, a long time anti-hero and sometimes partner to Shang Chi, who has traditionally not held a particularly progressive point of view. Tarr's character in the past was portrayed as openly racist towards Shang Chi, but none of that attitude appears here overtly. Tarr is willing to use Shang as a tool to get to the killers, but more out of respect for Shang's abilities than anything else. And Shang is certainly capable. While there might be criticism (certainly nothing that hasn't been heard before) that Shang is a bit of a stereotypical Asian hero, his more modern incarnation combines elements of Bruce Lee and James Bond, and Shang is never truly portrayed as Asian for Asian's sake, as it were. The return of Deadly Hands of Kung Fu also promises more excitement on the way – Misty Knight!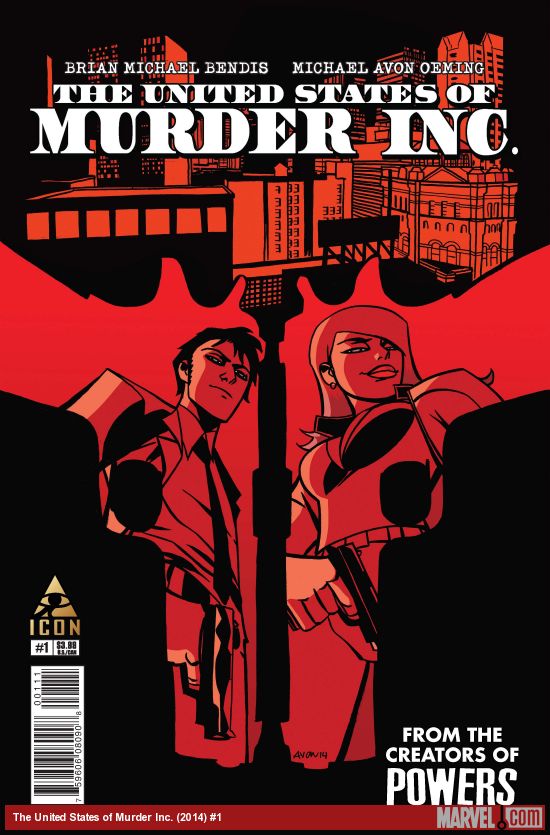 The United States of Murder Inc. #1 could be considered a super hero team-up, if you're speaking of its creators. Brian Michael Bendis and Michael Avon Oeming of Powers fame (among many others) bring us this unusual tale of an America very different form our own. At some point in the past two generations, the United States essentially ceded New England and the East coast to the Mafia, and now the made men of the Five Families rule it openly. No longer is the Mafia a myth, yet they are also still heavily scrutinized. When Valentine Gallo follows in the tradition of his father and grandfather, he thinks his future is set and that he's made his mother proud. Sent on what he thinks is a simple errand, Valentine meets Jagger Rose, a violent woman sent to protect him. Little does he know that being implicated in the death of a U.S. Congressman, especially when he's a Mafioso and apparently not a U.S. citizen, is the least of Val's problems. The art here is fantastically monochromatic, and Oeming is at the top of his game. The characters of both Jagger Rose and Mrs. Gallo are both compelling and powerful. Ultimately, the book suffers from premise confusion in a number of places, and Bendis' usual mastery of the slang of the streets isn't as accessible as it was in his early crime work, or in Powers. I mostly kept wondering how Italian-Americans would react to the book, as many get tired of constant portrayals as nothing but criminals. How would they feel about an entire Nation of Mobsters, running a huge swath of America? I don't know that the book is directly insensitive to the stereotype, but it certainly walks a fine line.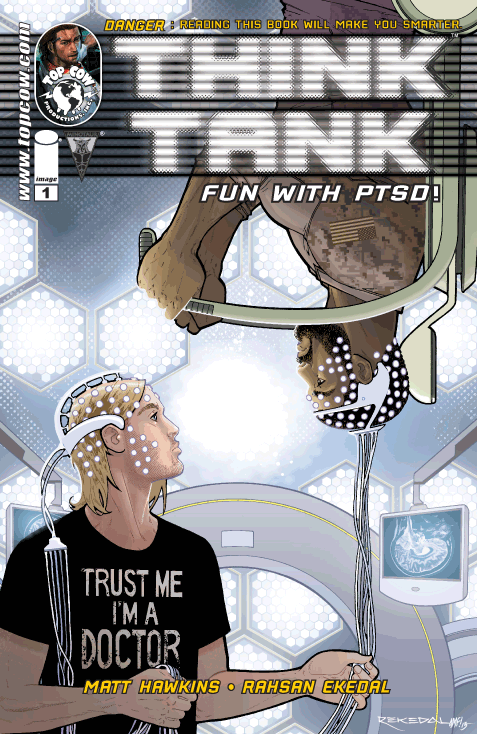 While not a #1 in the strictest sense, Image and Top Cow have a new starting point in one of their most interesting series with Think Tank: Fun with PTSD! #1.The title is far from sensitive, as posttraumatic stress disorder is no joke, but fortunately the book doesn't treat it as such. The story continues the tale of Dr. David Loren, the irreverent DARPA genius who's been essentially enslaved by the government for his intellect. We've seen David build horrific things for his country, all the while subversively working against his own creations, and this series really lets his heart of gold shine. When Dr. Loren comes face to face with a SEAL team member who previously saved his life, and learns that he's suffering from PTSD, he decides to put his considerable genius to work to help his new friend. The book does contain plenty of lighthearted moments, as the series has done as a whole, but there is a sad undercurrent in the narrative, a reminder that the military doesn't do enough for the brave men and women who protect us. While some might bristle at the thought of a white man saving a Black one, there is also a reminder here of the disproportionate number of people of color, particularly Black men, who elect to join the armed forces is ever present in the story. If you haven't been reading Think Tank up until now, you've been missing out, but this is the perfect and poignant starting point.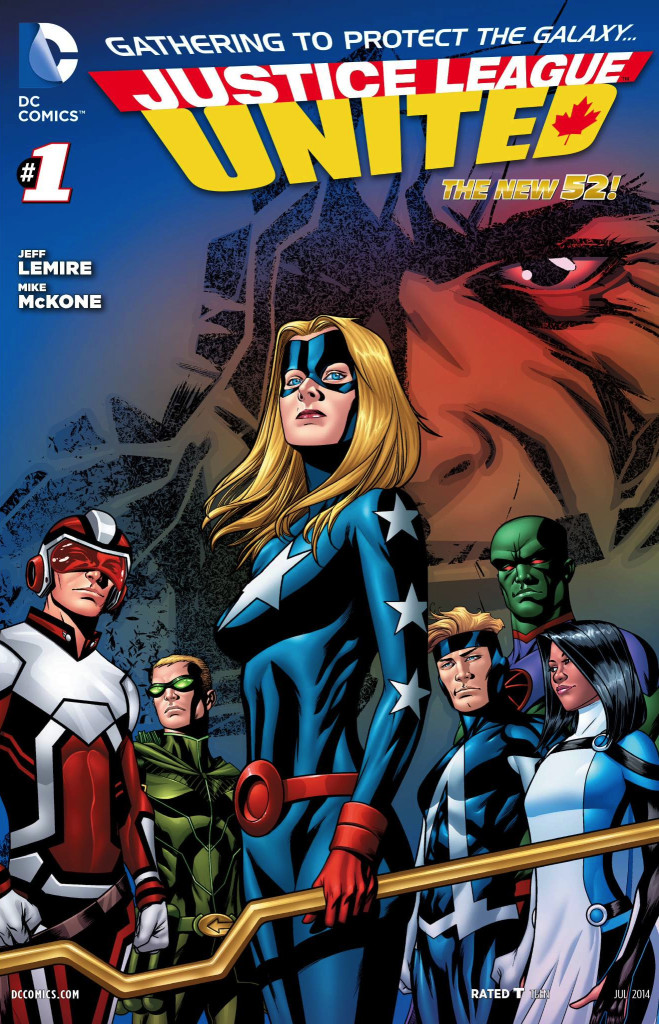 As a final note, I was disappointed once again with DC Comics, and with Justice League United #1. Much has been made of their recent announcement of the introduction of Equinox, a First Nations superhero that would join the new Justice League team, originally titled Justice League Canada. While she did make a brief appearance in their issue #0 (and readers of this column know that I LOVE an issue #0), Equinox does not appear in issue #1. There's nothing wrong with the book (besides the fact that it's just standard cape comic fare), so it would be incorrect to consider this a negative review. But If Equinox appears on the cover, First Nations readers and female fans want to see her IN THE BOOK, and so do I, and so do many others! Showing her off and then not delivering sends the message that she's not important yet, and therefore less important overall, and that's disappointing. Hopefully DC will get with the program and we'll see more of her soon.