Probably the only thing that rivals my love of a good book is the love of food. I've done my share of kitchen experiments, with some results (a 3-course traditional Russian dinner, or a boozy apple pie with a cheddar crust) more successful than others (a batch of peanut butter cookies as stiff as hockey pucks and just as delicious). I love looking through food blogs filled with mouth-watering photos and fun recipes, and for months now, I've been drooling over a website that combines all the things that I love, food and fiction: Inn at the Crossroads, a cooking blog recreating recipes from George R. R. Martin's A Song of Ice and Fire series.
The clever, artfully styled project is the delicious brainchild of two Bostonians, Chelsea Monroe-Cassel and Sariann Lehrer. Covering everything from simpler recipes, like oatcakes and pear brandy, to thematic feasts spanning the realms from King's Landing to the Dothraki Sea, the site is a great feat of kitchen wizardry. While they might not recreate every recipe for lack of certain ingredients, or just because it's a bit much (stuffed peacock, anyone?), they've also been able to translate really significant elements of the book into edible presentations, like making a cupcake to resemble the horse heart eaten by Daenerys. Now the kitchen mavens have put their skills to use in creating the official companion cookbook to Martin's series.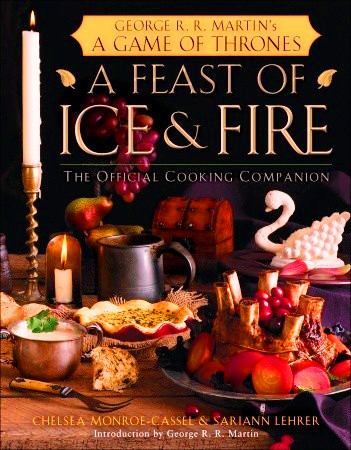 A Feast of Ice & Fire (Random House/Bantam, May 29), with an introduction by Martin himself, is a must for any history geek/foodie/fan of Game of Thrones. Since late last year, Chelsea and Sariann have carefully researched new recipes and updated old ones, set and photographed the dishes, and also enlisted photographer Kristen Teig to photograph the enticing cover for the book. Last week, over a virtual plate of spit roasted boar and a mug of mead, I caught up with the authors for a little Q&A in anticipation of the book's release. Read the interview below and at the end you will find information about a giveaway!
How did you two meet? It seems you both share a love of food and various geeky hobbies.
Chelsea: We actually first met when Sariann moved into the apartment! I've been in the same place with my boyfriend for several years now, and we sort of play "Musical Roommates" every few years or so. Sariann was a friend of a friend, but clearly fit right in from the start.
Do you guys have a background as far as the culinary arts? 
C: Neither of us is professionally trained, although we both come from food-loving families. One of the perks of this approach is that if we could make it, anyone can!
So what first inspired you to combine your appreciation of George R. R. Martin's books with your skills in the kitchen?
C: We were sitting around the kitchen one evening, and one of us mentioned, in an offhand sort of way, how much she was craving a good lemoncake. It was like a revelation. All of a sudden, we NEEDED lemoncakes. A quick Google search revealed that there weren't really any GoT recipes of note online, so we tried making up our own lemoncake recipe. Because we're geeks, and love history, we wanted to explore some historical recipes for the same. Not entirely satisfied with the result, but thoroughly enjoying ourselves, we decided to embark on a quest for the ultimate lemoncake (we think we found it- it's in the cookbook!). And because we are both prone to starting projects but not finishing them, we decided to turn our kitchen explorations into a blog, both as a way of sharing the recipes with other fans, and also as a form of disciplining ourselves to continue with it.
Martin's novels weave such an intricate, detailed world, and there's no arguing that he describes food well, but what else appeals to you about the series? Could you share a few of your favorite characters?
C: I love the depth of detail that GRRM puts into each book, in particular the heraldry. I think that the details are what make the book more compelling than many run of the mill "fantasy" novels, as well as the greyness of his characters. Hardly anyone is completely good or bad, and even the characters that you love to hate can grow on you. Personally, I love Jaime. His arc, and the slow revealing of the depth of his character, as well as the glimmer of goodness hidden away, are what make me root for him. Obviously, Arya, Bran, Tyrion, and several of the other characters also rate pretty high on the list, but they're easy to like. :)
Sariann: I love the plot's divergence from the standard hero cycle. Martin's writing style and self-imposed rules create a story that's unpredictable, fast-paced, complex, and unerringly exciting. The in-depth character and setting development also keeps me hooked. I'm a huge fan of Loras Tyrell, I think GRRM did a fantastic job developing his character. I also love Jaquen H'gar and the sort of duality he represents that's present in most of the characters.
Do you watch the series? What are your thoughts on the way the books are translated to screen, particularly with scene setting (and food)?
C: Oh yes! We throw season premiere and finale parties of epic proportions, and usually have friends over on Sunday nights to watch. We were a bit disappointed by the general lack of food in the first season, but recognized that it was a relatively minor detail. Season two, however, is chock full of food! We are a nuisance with whom to watch the show, because we are constantly trying to guess which dishes are on the table.
A few of my favorite creations from your blog have been the amazing Weirwood cake and any breakfast you've made that uses black pudding. What are some of your favorite recipes that you've recreated?
C: Aw, thanks! The Weirwood cake was a blast to create, even though it took the better part of a day! I loved that the finished cake really conveyed the image of the heart trees that I have in my head; it's one of the more haunting images in the books, and I knew what I wanted it to look like.
Going by meal, my favorites have included Three-Fingered Hobb's Breakfast (yay black pudding!), and Breakfast in King's Landing. For main courses, the mead marinated boar from Robert Baratheon's ideal meal is up there, as for desserts, the modern lemoncakes from the cookbook are an obvious choice, but I also love the Spiced Plum Mousse, honeycakes (forthcoming).
S: My favorites are, in general, those dishes that are manifested in our own culinary history. The Banbury cakes, for example, which we used as the historical version of buns on the wall, are rooted in Oxfordshire and have been made using secret family recipes since the 1500's. To me, it's these historical recipes that really bring the book series alive, and help create the setting for Martin's books.
What can you share about the process of transitioning from blogging to actually being published authors – and having George R. R. Martin write an introduction?
C: We really learned as we went. I didn't even know how to use WordPress or Twitter when we launched! Now I'm a seasoned pro at both, and spend a portion of each day managing all our social media. Going through the publishing process is a dream come true, but it's been a whirlwind year. Random House/Bantam has been great to work with, especially with the freedom they gave us to really create in cookbook form what we've been doing on the blog. Getting to work even tangentially with GRRM is also completely amazing; I get a little dizzy still when I see all our names on the same cover. :)
Like you mentioned, GRRM's research is really impressive and creates an immersive universe, as is the level of detail you've put into sourcing your recipes. What, to you, is really essential, that elevates a creative work to another level?

C: While researching recipes for both blog and book, our primary focus was to stay true to the aesthetic of GRRM's world. He has clearly put so much effort and research of his own into the work that we felt anything less on our parts would be selling him short, and wouldn't be fair to fans.
For me, the details and appeal to senses are what make some works more compelling than others. This is what inspires me to make linen heraldic banners or food from Westeros, and is likewise compelling in the forms of video games, historical fiction, and good film. To be able to hold Bilbo's pipe, or decipher the mysterious markings on a pirate map, or smell lemoncakes baking, these things transport a person to another place, and connect them to a story in a way they cannot access another way, as though the physical manifestation of something fictional calls to an almost kind of muscle memory. It's that sort of immersive fiction that I really love, and try to capture in a lot of what I do.
S: One of the first things creative writing students learn is that the devil, as well as successful fiction writing, is in the details. Martin's works are an epic example of why we learn all those literary devices in school. Like Chelsea said, it's the heraldry, the food, the weather, the clothes, all of the small details that come together to create a truly visceral experience for the reader. The research we did for our book was great fun, and really helped us to further immerse ourselves in the milieu that GRRM so painstakingly built.
Can you tells a little bit about what our readers can expect from the recipe book that'll be new and different from the website? 
C: Of course! The cookbook contains many old favorites that started on the blog. However, those dishes have been tweaked and perfected, and are almost all accompanied by brand new photographs. There are, of course, many completely new recipes, such as Onions in Gravy, Buttered Beets, Applecakes, and more! I think longtime fans will find many new and exciting recipes, and the look of the book is just beautiful. It's divided up by region and color, so it's the easiest thing to immediately flip to Dorne, or King's Landing.
Thank you so much! We're really excited for the book.
THE GIVEAWAY!
One (1) lucky reader will win a free autographed copy of A Feast of Ice and Fire! The giveaway will be open until 5pm Pacific on Wednesday, May 30, at which point comments will be closed and the winner will be chosen using random.org and announced here on the site. Anyone (who doesn't have an @geekquality.com e-mail address ;) ) can enter. Please read the full instructions below to enter.
THE RULES – read them!
To enter the giveaway complete the steps below:
1. Visit the Inn at the Crossroads website and find your favorite recipe.
2. Comment on our post here and tell us the name of the recipe you liked and one fictional character you'd like to invite to share that meal (from the series or just any fictional character!) Please note:
You must comment on this post here to enter the giveaway – not Tweet at us, or comment on our FB, or whatnot. Those won't count. (BTW, first time commenters may end up in the pending folder – never fear, we're monitoring and all entries will be pushed through.)
Only one entry per person. (But you can still stick around and join the conversation!)
When entering, comment on the main post, rather than as a response to another comment. It just makes it easier for us to make sure we don't miss your entry.
You must post with a valid e-mail address so that we can contact you.
3. Follow us! This isn't required for entry. We just want to remind you that if you like our site and want to be alerted to new content and future giveaways, you can find us on Twitter, Facebook, and/or Tumblr. We also encourage you to follow the Inn at the Crossroads, as Sariann and Chelsea are continuing to churn out great posts. (Twitter | Facebook)
Good luck!
UPDATE: The comments were closed at 5pm, and the winner was drawn. Congratulations, Rosalia!  Thank you to everyone who entered, we loved your creativity.