It's been a busy week in Comics, with New York City Comic Con; everyone at the big two and the indies alike have been doing their best to get your attention on the store shelves.  This week there are almost a dozen new #1's on the market, so let's see what's worth reading.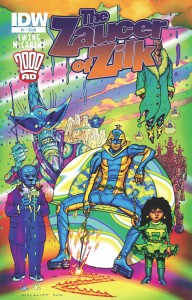 The wildest comic I've seen in a while, and certainly the best of this week's bunch, is The Zaucer of Zilk #1, by Brendan McCarthy and Al Ewing. A psychedelic acid trip of a comic, this offering from IDW is a trip, in more ways than one. Following a young English youth from the grungy streets of a forgotten hamlet, to the Technicolor dream world where he is the forgotten hero "The Zaucer of Zilk", this wild book takes us on an electric ride inside a truly unique imagination. Equal parts fantasy adventure tale, modern Shakespearean comedy, and Day-Glo Terry Gilliam head rush, this is a tale of a haughty hero who is due a healthy comeuppance, and a little girl, the text crazed teen known as Tutu, who believes in him, to her detriment. Will she be saved? Or will she do the saving herself?  This two issue series will be worth the return encounter next month, for nothing but its sheer originality.
The usually deplorable folks at Zenescope Comics are back with two new #1s this week, the first of which is following in the footsteps of Robyn Hood by making me think twice about abjectly refusing to read or enjoy everything they publish. Almost. The company that loves to reimagine our childhood legends and fairy tales gets ready for Halloween with Sleepy Hollow #1, written by Dan Wickline. This is a modern day imagining of the rebirth of the Headless Horseman in our current age, after a college scare stunt goes bad and the wrong nerd gets his head and shoulders rearranged by a speeding freight train. The art here by AC Osorio is of the same ilk as most of Zenescope's works, making it appear thematic and not treating the women in its story with much respect. There are also some peripheral African-American characters that feel like tokens, but overall this is a good modern day tale of supernatural revenge, as well as a pretty solid ghost story. The bad guys are everyone's favorite stereotype to loathe, jock douche-bags, and there is every indication that it's their heads that will begin to roll. Happy Halloween, my fellow nerds, and enjoy!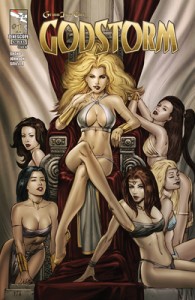 Zenescope's second #1 offering, Godstorm #1, was much less appealing, featuring a trite and violent story about a Mafioso thug, who discovers he's part of a larger war amongst the Gods, as his electricity-related super powers awaken and signal the beginnings of a war between Venus and the various gods and monsters allied with her and mankind. The story is about Julian, the mob tough who's tired of marching to his Don's drum, yet one of the available covers depicts a nearly naked Venus, the eventual villain who never fully appears in the book, clad in a bikini surrounded by what appear to be Ancient Greek… strippers? Repugnant on the outside and not much better on the inside, Godstorm seems more in line with Zenescope's childish and often misogynistic offerings.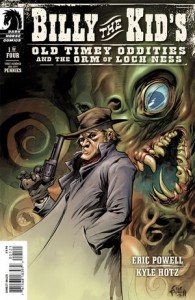 Dark Horse comics is also in a Halloween mood as they present in the next arc in their series Billy the Kid's Old Timey Oddities and The Orm of Loch Ness, #1. Sadly, with a title that fantastic, this book isn't a true #1, but the first in a new arc with characters we're supposed to know a bit about, and even an unresolved kidnapping plot from previous issues that makes up an integral part of the story. Written by Eric Powell, it's the story of Billy the Kid (mysteriously still alive) on a journey with a group of carnival sideshow performers, who have an eerie knowledge of the things that go bump in the night. It is an entertaining idea, and the art here by Kyle Hotz is a touch campy at times, selling the shtick with aplomb. This book makes for solid Halloween reading, and I'll perhaps be going back to get to the true beginning of this story.
Dark Horse's second offering this week the fantastically creepy Ex Sanguine #1.  A vampire story that can hold its own against the likes of True Blood and The Vampire Diaries, this one is the tale of ages old vampire Saul Adams, a creature nearly lost in his own immortality. His comfortable secret existence is disturbed by tortured, but tough-as-nails, female FBI Agent Quinn and by a local waitress named Ashley, who's surprisingly monstrous herself, while being all to human at the same time. A gory tale of murder and mystery, this one is solid reading in the best month of the year for frights and bites, so don't miss it.
Dynamite Comics brings us After Earth: Innocence, a one-shot that's the official prequel to M. Night Shyamlan's upcoming film starring Will Smith and son Jaden Smith, After Earth. The sci-fi thriller gives us some solid background on the history of humanity's expansion into space and our conflicts with both the alien life we find there and, more importantly, with each other. The storyline of the one-shot provides solid background to establish the universe in which the film will be set, but very little to spoil the plot, which is the best kind of prequel, frankly.
And the #1 issues just keep on coming. One has to love months in which big comic conventions (NYCC) and the greatest cos-play holiday in the world (Halloween) coincide, since the comics companies just seem to go all out. Top Cow has a free #1 available this week in the form of Cyber Force #1, a reboot of one of the first ever Image comics titles, and a return by legendary artist and writer Marc Silvestri, who created the original series. That said, if you never read the original, this might be extremely confusing. I didn't, and it very much was, so further reading might be in order. The tale revolves around the daughter of the local leader in a far off future, on the run from her own sister and an advanced military of robots and "special forces hybrid" dogs. This book is chock full of powerful women trying to either save or destroy the world, apparently, but they all look like the Witchblade character, and are sometimes tough to differentiate because of over-stylized art. Still, this issue, and the first 5 in the series in fact, will be free at local comic stores and in digital format as well, so it's likely one I'll stick with for a bit.
There are offerings from the big boys this week as well, as Marvel kicks off an Ultimate Iron Man miniseries, with a tale of Ultimate Tony Stark's lost young love; the Ultimate Mandarin is also introduced, with overtones from this summer's Iron Man 3 laced throughout. We also get a healthy peek inside Marvel NOW! new offerings with Marvel NOW! Point One #1, a frame story starring Nick Fury and the beloved Agent Coulson, revealing small bits of five new upcoming Marvel titles with mini stories of their own. We'll see new series from Nova, Cable, and the Secret Avengers, and they are all previewed here.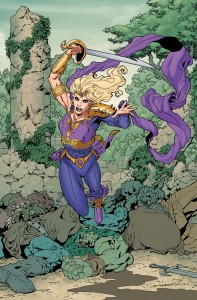 DC gets in on the action as well with Sword of Sorcery #1, featuring the reboot of an old DC heroine, Amethyst. It's a bit of a magical Game of Thrones-style fantasy, with gemstones to define the houses, and much more style with much less substance. It honestly feels like a Wonder Woman knockoff. It also feels like I should have read the issue #0 last month, which I did not.
Whew! Quite a week, with lots of reading! Hopefully you'll find some gems in the pile this week, be they great stories or just good ideas for Halloween!  Until next week, enjoy!