As can be witnessed in my previous post about The X-Files, I tend to fawn and gush over my favorite OTP, Mulder and Scully. Before, I touched on the soulful foundation of their relationship. This here list is an unabashed dedication to the more fluffy aspects of their relationship, the almost-but-not-quite moments that made me squeal and flail in glee. I'm aware that ten is an absurdly short list for a show that ran for nine seasons – and is coming back for more – but one must cap things, or we'd be here all day. Because it's a given, I've also left out the deleted bee-kiss scene that had literal theaters of people screaming.
Without further ado, ordered by season and episode:
1. PILOT (S1E01): SCULLY'S BATHROBE

So you thought Mulder's seemingly instantaneous attraction to the brainy and bespectacled Scully was just you Reading Into Things? How about their first Coworker Sleepover, when Scully ran into Mulder's dark hotel room and took off her bathrobe so he could hover over her butt with a candle to "check for alien probe marks"?
2. SQUEEZE (S1E03): NECKLACE LOOP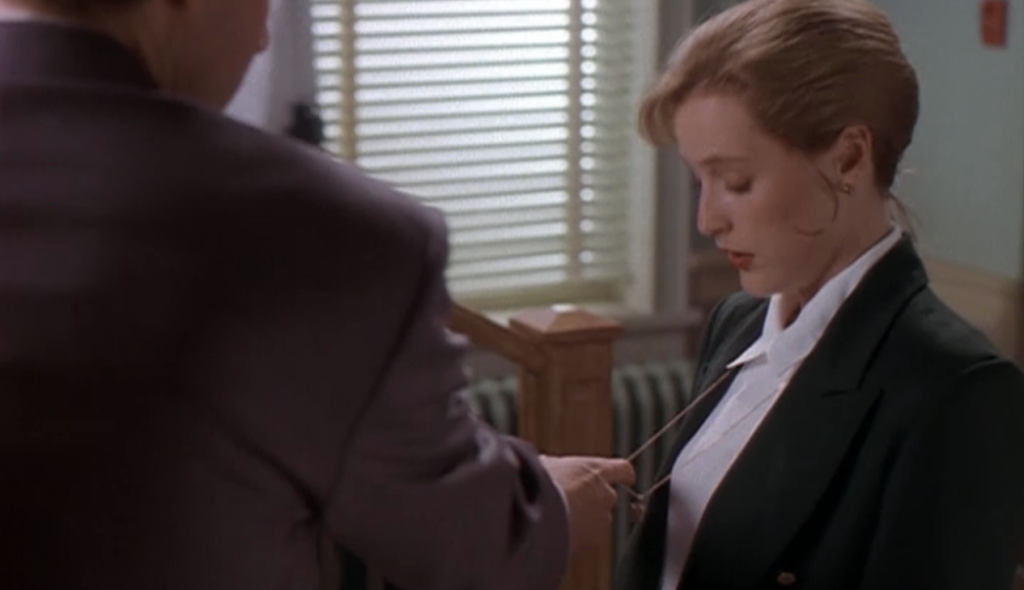 This is one of my favorite non-kiss moments between Mulder and Scully. Scully is peeved at Mulder's behavior during an interrogation. She quips, "It seems like you were acting very territorial," and is about to turn away when Mulder just grabs her necklace saying, "Of course I was." After the initial shock at his physical proximity to her chest (seriously, Mulder?), he puts the necklace back, but can't help reaching out and touching the charm again. Smooth. Real smooth.
3. ICE (S1E08): NECKING
The investigation in Alaska is one of the many times that Mulder and Scully would find themselves up against the world. In this case, our brave duo are stuck in Icy Cape, where an alien life form is using people as hosts. So yes, I totally understood why Mulder had to grab Scully and lock her with him in a room and – after much heated staring – to turn her around to pull down her shirt and palm the nape of her neck. Oh yes.
4. MILLENNIUM (S7E04) NYE KISS
Because it was their first ever kiss. It wasn't loud with proclamations of everlasting love, tears, and dramatics. It was understated, quiet. A moment of "Oh, why not, it's New Year's Eve!" Still, you can't help but know and feel that a page has been turned in their relationship as they pull away from each other. CAUSE IT'S THEIR FIRST KISS!
5. HOME (S4E02): BATHROOM HUDDLE

"Huddled in a too tight space together" may still be one of my unabashedly favorite tropes. Yes, I know this particular bit was deleted, but I still like it, okay? The cherry on top is Mulder's low "Mmm" of appreciation and Scully's eyeroll.
6. TEMPUS FUGIT (S4E17): SAUCEY! 
That entire opening scene was just adorable. Not only does Mulder remember Scully's birthday and gives her a little present, but he wipes sauce off her face. FACE TOUCHING. It's just so intimate.
7. POST-MODERN PROMETHEUS (S5E05): SLOW DANCE

This is such a lighthearted moment between those two that it's hard not to smile when watching them slow dance. It's just them taking a chance to breathe and not worry about missing siblings and government conspiracies, for a little while. It's also wonderful to see Scully drop her guard.
8. TRIANGLE (S6E03): KISS ME, SCULLY!

As with "Arcadia" (below), "Triangle" is an episode that capitalizes on another fanfic favorite: time travel. Mulder finds himself on a ship hosting a Nazi party and Scully and Skinner are spies. You know your OTP is OTP because they find each other and fall in love, even in a parallel universes. Because Mulder knows it's technically not Scully, he finds it in his guts to do something he's sure he might not get a chance to do otherwise – pull her in for a good smooch before jumping off.
9. THE ENTIRE ARCADIA EPISODE (S6E15) 
The entire "Arcadia" episode in Season 6 is pure fluff and produced some of the best moments ever between these two, when they go undercover as a married couple. Heck, all of Season 6 was like the writers decided to churn out as much fanfic fodder possible. Who didn't love Mulder's enthusiasm for playing house? He was way into it and you can't tell me otherwise.
10. ALL THINGS (S7E17): HAIR TUCK
Ah yes. That little hair tuck when Scully falls asleep on Mulder's couch. It's so fleeting in terms of physical expression, but 's so tender and significant when it's between these two. This episode is also important because of this opening.
BONUS! THE UNNATURAL (S6E20): BASEBALL!
I know I said 10, but I lied. Have an 11th moment (not that you're complaining). Keep pressing your bodies together, you two, and grinning like a couple of teenagers. It's just "baseball."
Don't want to get off the train just yet? Bask in it a little more by watching this romantic montage of best kisses, or you can watch Mulder's terrible advances and pick-up lines on Scully. Tell me your favorite moments!