Bang! Wow! It's a huge week for new comics stories this time around, and it's largely due to a MAJOR month long event from the big boys at DC.  On top of that, there is a whole slew of new series beginning this month from the rest of the industry.  Which ones are giving us stories of real value?  Which ones are just blowing stuff up?  And isn't it OK, sometimes, to just blow stuff up?
The big event in comics for the next moth is what the Folks at DC Comics are referring to as Zero Month.  It's been exactly a year since DC pulled off one of the boldest storytelling moves in the history of comics, rebooting it's ENTIRE mainstream universe with The New 52. (Yeah, yeah, they've done something similar before with the Crisis  storylines, but nothing has been quite like this total revamp.)  Now, after restarting the stories of every hero in their catalogue with varying degrees of their past histories changed, rebooted or compressed, DC is giving us an issue #0 of every book on it's list. Each will take place as a one shot form before the start of the New 52's storylines and will set each book off in new storytelling directions.  There were more than a couple this week, including Green Arrow and Detective Comics, but three #0's in particular earn special Geekquality attention for their treatment of women and people of color in particular.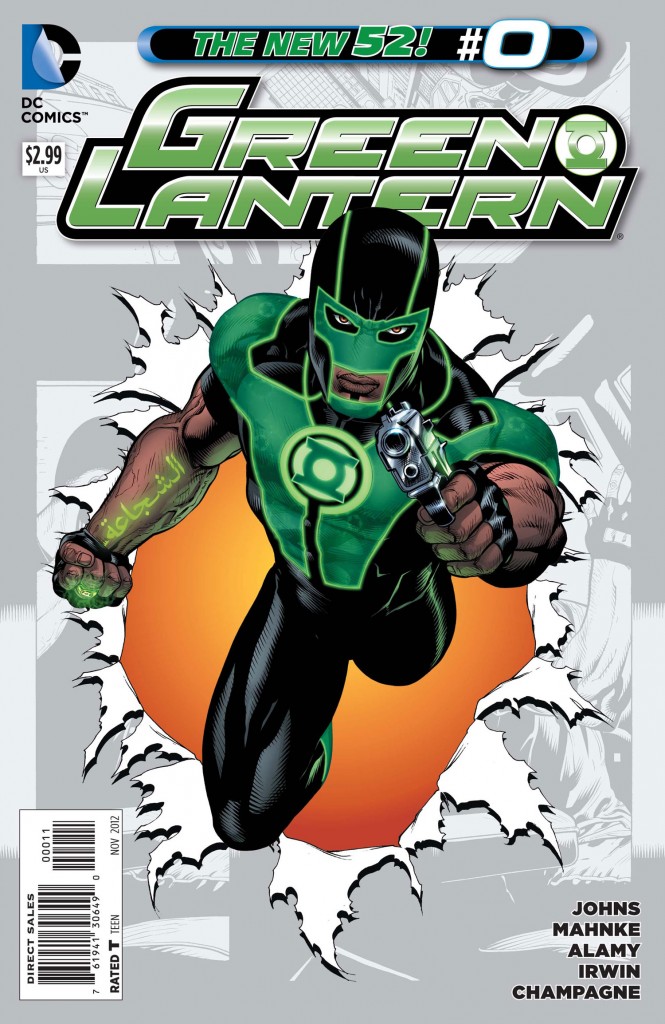 Green Lantern #0 is the issue in the series that's most like a true one shot.  It's the story of yet another all new Lantern here on Earth, and this new hero is no Hal Jordan or Kyle Rayner.  Simon Baz was a small boy, living with his family who had immigrated to the United States from Lebanon, when terrorists attacked the Twin Towers on September 11th, 2001.  In the ten years since, he's grown into a man with a lot of problems to deal with, from racial discrimination and profiling, to the hard times of the American economic bust.  Having been laid off from his job at an auto plant in Dearborn, MI, Baz has resorted to a life of illegal street racing and petty crime, stealing cars to help his sister-in-law with her bills after his brother's death.  Simon has the unfortunate luck to steal a van carrying a bomb, putting him under the thumb of some unsavory government characters in a Guantanamo-like prison cell.  Just as things are about to go from bad to water-boarding worse, Simon is saved from the prison by … a Green Lantern Ring!  Just what does the ring see in this disenfranchised youth who's losing his grip on the American Dream?  Only future issues of Green Lantern will tell, as DC tackles racial and religious relations with the first Arab-American Green Lantern.  This bears following, especially since I gave up on Green Lantern very early on in the New 52's run.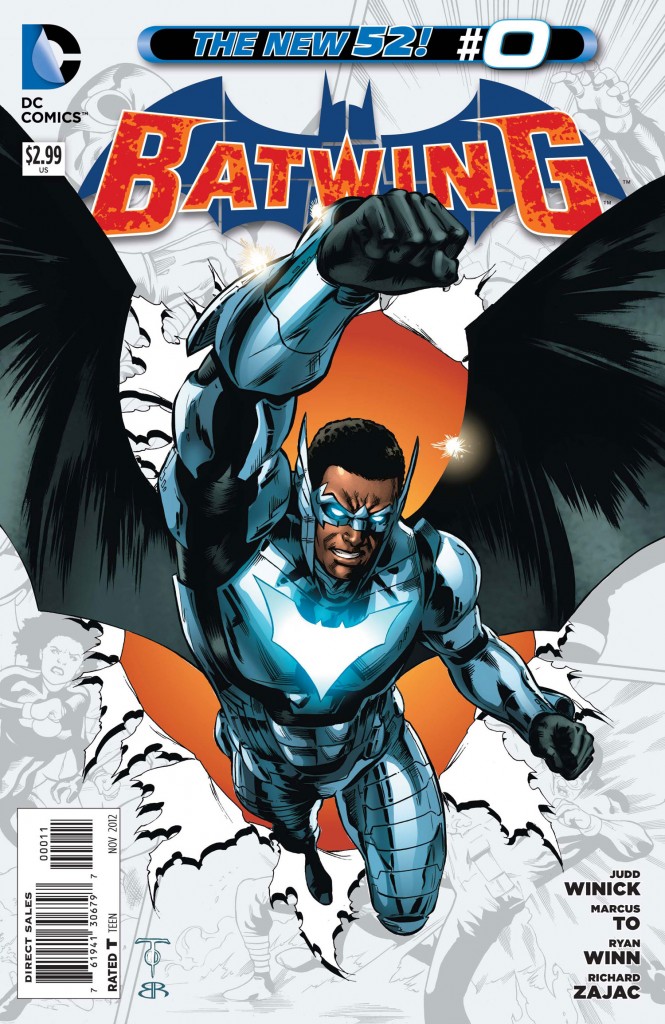 Green Lantern isn't the only hero of color in DC's stable, however.  One of the best new titles in the reboot has been Batwing, featuring a hero who's part of Batman Incorporated and its mission to bring Bruce Wayne's war on crime to every corner of the globe.  David Zambiwe was born in the Democratic Republic of Congo, taken hostage as a child and forced into service in that country's horrible conflict.  His strong PTSD from life as a child soldier, and his regret over some of the horrors he helped inflict, has driven him to take up crime fighting in his homeland.  In this issue #0, we get a more fully realized origin story, revealing the depth of David's abuse and subsequent problems that resulted from it.  The story does a good job of filling out the nature of the African conflicts in a world filled with meta-humans and bat caped detectives, providing us with insight into how it might play out.  David is, thankfully, not just a token "African Batman" but one of many of his countrymen who were fed up with corruption and violence in their home lives and followed in the footsteps of the heroes they've been hearing about in the West.  It's nice to see the character more fully realized as an African character, and not just a variation of Batman in this story, and helps show us that the Universe of comics is filled with all the real life injustices that our lives are touched by as well.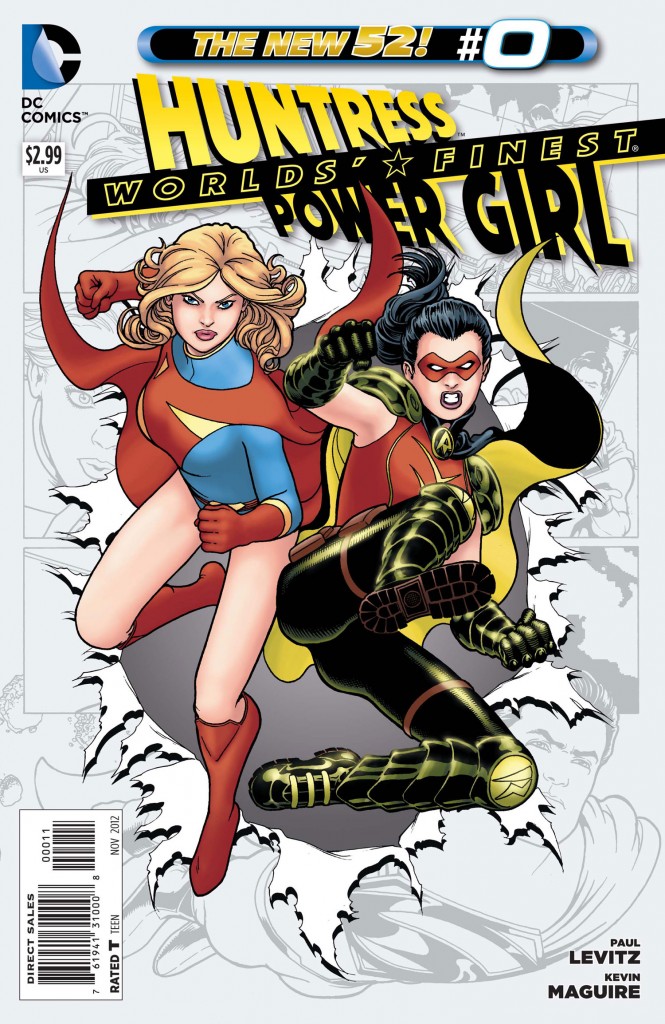 Lastly, DC gives us a dose of girl power with World's Finest: Huntress and Power Girl #0.  This story can be a little tricky if you aren't a DC reader, but it's also a good way to connect two ladies who have had each other's backs for quite a long time.  Power Girl and Huntress are, in fact, not from "our" world, meaning the mainstream DC Universe, but from Earth 2, where the famous recent addition of the openly gay Green Lantern Alan Scott resides.  In their home reality, Huntress is better known as Robin, both Batman's sidekick and his daughter, with their reality's version of Catwoman, while Power Girl is that reality's Supergirl, re-costumed so as not to confuse the public, I suppose.  Why she can't have a costume that includes pants is still a mystery, but I digress.  These two young ladies face overwhelming difficulties in their own reality, which is nearly all but destroyed.  They've also witnessed the deaths of those closest to them, their parent's and families (Earth 2's core heroes were all killed.  Yup, Batman, Superman, Catwoman, all dead.)  They're trapped now in our reality with no way to get back home, and all they have is each other.  The #0 origin tale isn't so much of them as it is their bond with each other, the friendship between two young women who've lost a lot and are hanging onto each other for dear life, and it's a compelling beginning.
Beyond the DC universe there a handful of new #1's this week, but not quite so compelling or quite so socially responsible.  A great many of them are not really new stories at all, but continuations or reboots of previous stories and characters, a popular theme in comics these days.  First up is New Crusaders #1, from Red Circle Comics, a division of old favorites, Archie Comics.  Indeed, this series in a new start to a super hero comic originally published in the 1960's.  Now, these heroes have retired and raised families of their own in a little town known as (conveniently) Red Circle.  However, when these WASP-y heroes' oldest foe suddenly reappears and destroys them, it's their children who have to step into their shoes, led by the sole survivor of the attack. The title does show some racial sensitivity, as the original Golden Age comic had nothing but white heroes, and only one woman.  Here, the descendants are more evenly spread through both gender and ethnic background, including an adopted African-American son and a young Latina girl who had been taken on as a mentor.  The art, in a somewhat simplified Archie style that appears very much like a modern cartoon television show, makes the book feel like a story for kids, and it doesn't have a lot of depth in it's first issue beyond a good superhero fight, but it's neat to see more diversity in an old Golden Age staple.
The rest of this week's #1's are worth mentioning but not much more.  Dynamite Comics has two new series this week.  Peter Cannon: Thunderbolt #1 is another Golden Age reboot, a saga of a super-heroic blond Scandinavian who talks like a mystic, and might also be the villain as well as the hero.  Damsels #1 is another re-imagined fairy tale, starring Rapunzel as a (possibly) evil queen, the little mermaid Ariel with disturbingly pointy teeth, and an analogue of Rapunzel, the dreadlocked and tattooed main character Rapa, who's mysteriously lost in their fairy tale world.  This is certainly a story of powerful women who aren't subservient to the men in their lives, but the storytelling is hugely all over the place, and very difficult to follow.
Guarding the Globe #1 features yet another reunion of the Guardians of the Globe, a super team made up of supporting characters from Image Comics long running Invincible series, including the new Invincible himself.  In a largely convoluted story, we see these super heroes as a state funded group of tough guys who easily handle whatever their bosses throw at them, and have few complaints beyond the stale donuts they eat at meetings.  It's the real world problems that are on display here, as The Brit, who seems to function as team leader, deals with struggles at home upon learning that his young son is diagnosed as autistic.  Hopefully this book can become about humanity beyond blowing stuff up, but the artwork suggests a sense of flippancy, making it tough to feel sympathetic to the really interesting issues.
In addition, honorable mentions go the Marvel's Road to Oz #1, a children's fairytale comic with an adorable twist on the classic tale, and Boom! Studios' Planet of the Apes: Cataclysm #1, a prequel story to the original Heston version of this sci-fi classic featuring Dr. Zaius, and Cornelius working on his doctoral thesis in the midst of the destruction of the Moon! Fun fluff reading for all.
We'll be back next week with more new comics stories, including further reviews of Zero Month.  See you all then, and happy reading!