It's the last week of DC Comics Zero Month, and after last week's lady powerhouses, the project seems to be going out with a whimper. Thankfully, the industry is back to it's old tricks with several new #1's to take a look at, so read on as we do just that.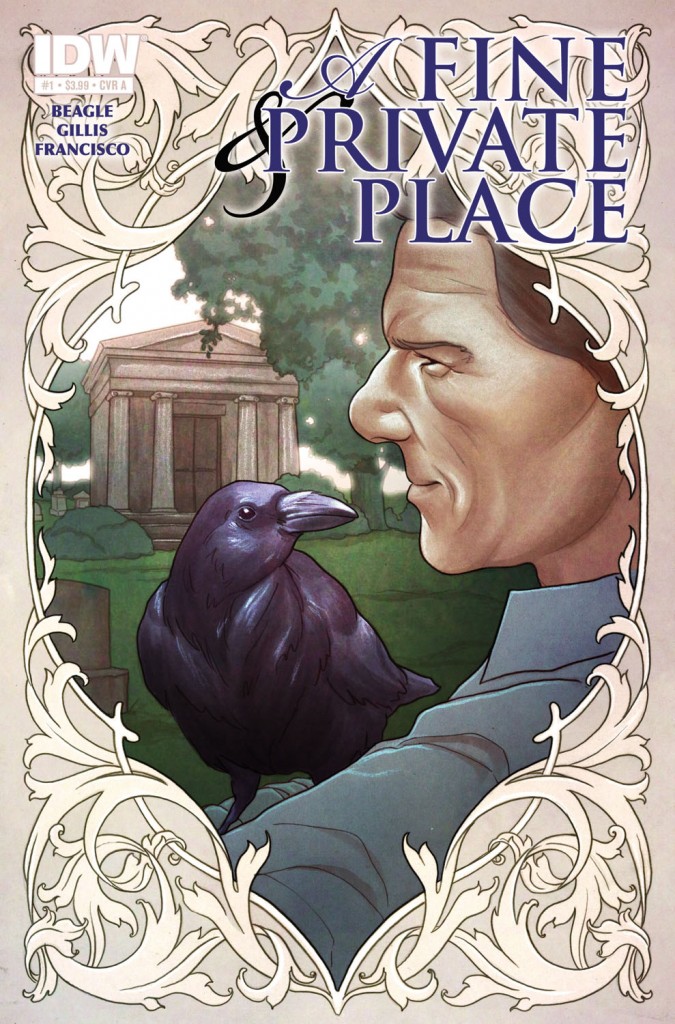 IDW has one of this week's most appealing comics with their adaptation of Peter S. Beagle's novel A Fine and Private Place. The adaptation follows the unusual life of Jonathan Rebeck, an aging man who lives in a cemetery mausoleum, and the unusual afterlife of Michael Morgan, a deceased man recently buried in the same cemetery. Jonathan can see Michael ghost while others cannot, and the two engage in philosophical discussions on the nature of the afterlife, the joy of chess, and the mystery of Michael's murder. This is a charming comic without spandex or 'splodin' (as the inimitable Matt Fraction used to say), and while it's just a touch disjointed in the first few pages, it picks up coherence and steam quickly. The art by Eduardo Francisco is warm and lighthearted, making A Fine and Private place a poignant and engaging read.
Taking a break from its #0s,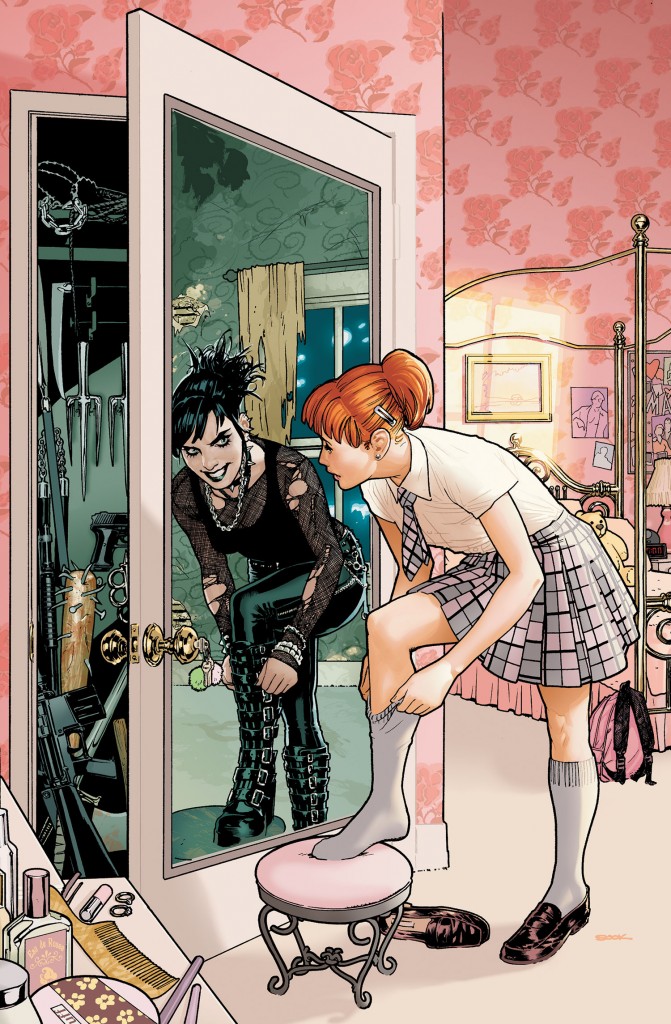 DC Comics brings us something in its new line of National Comics, Rose and Thorn #1. Rose is a good girl who's been having a rough life recently. Not long after being released from a psychiatric hospital (after her father's untimely death) and being enrolled in the brutal hell of an all-girls private high school, Rose beings to get blackouts, waking up with no memory of what she's been doing. Her only clues are that she's covered in someone else's blood, and is bearing a tattoo she doesn't remember getting. Soon, the high school rumor mill, an ever-present crowd of mean-girls and, of course, the Internet, remind her not so subtly that she's dealing with a very troubled split personality, and a young lady inside her that's not quite so school-girl nice. Rose is also Thorn, a scheming powerhouse of teenage lust and anger, all wound up on a mission for revenge. Rose and Thorn is compelling reading, well crafted from plot point to plot point, and without a single wasted panel to spare. It's a story with girl-power gone horror story, leaving you unsure of the villain or the hero, and whether or not the distinction matters.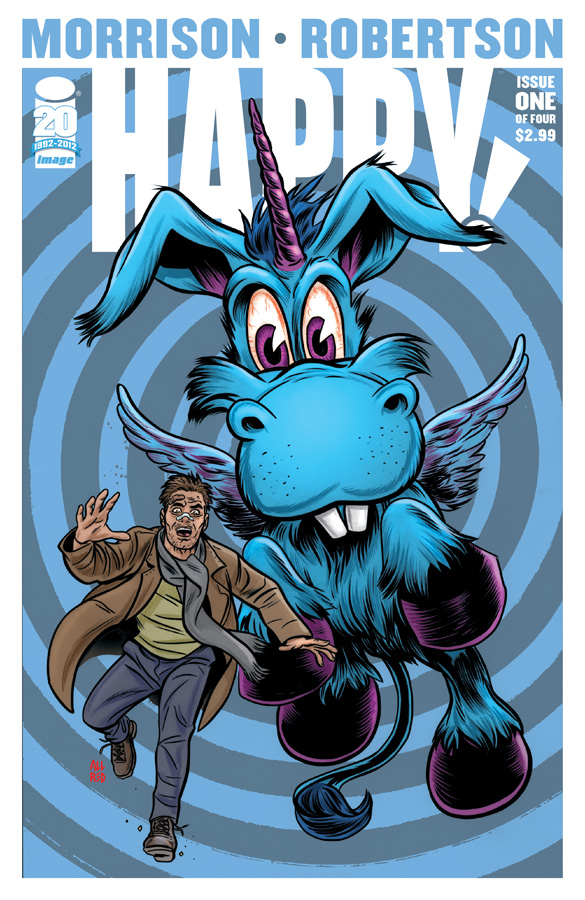 From there we go to possibly the strangest noir comic ever created. Happy #1 from writer Grant Morrison (All-Star Superman, Supergods) is the story of Nick Sax, a dirty ex-cop turned gangland assassin, hot on the trail of three Mafioso brothers in a town that's rotten to the core. After the hit gets botched and Sax is captured by a crooked cop and the Mob's torture squad, Sax is saved by … a winged blue cartoon unicorn named Happy. Yeah, you can reread that again if you need to. The cartoon-like character might be a figment of Sax's deluded mind, or it might be the literal manifestation of his daughter's imaginary friend, but whichever way, he makes Sax's life that much more complicated, setting off this unusual gangland thrillers in a wild new direction. It's so wild it might bear following for a little while, but it needs to get it's act together quickly, because it's frankly just to strange to hold one's interest for long.
The last of this week's #1's is a new ongoing series featuring your favorite characters from The Avengers. No, not those Avengers, but the irreverent British super-spies Steed and Mrs. Peel. The new series promises to be ongoing, as there are several recent mini-series from publisher Boom! Studios, and thus it is a #1 in name, to be sure. In spirit, it is a new tale, but feels as if it's part of a previous whole. At least, it does for a page or two. Before you know it, someone has nuked Britain, and we're apparently in an alternate 1960's universe. This is going to test the mettle of our outspoken cult heroes with all new challenges, as they are forced to join up with mortal enemies The Hell Fire Club, in order to avoid the ravages of nuclear zombies. We once again see the Avengers continuing their unusual, flirty banter that borders on risqué, including cracks on the relative appeal of Mrs. Peele's posterior, and this feels like the Avengers we've come to know, for those of us who've watched the old '60's TV show, only (again) with nuclear zombies. Fun reading, to be sure.
And lastly, we have myriad of titles in DC's Zero Month, most of which aren't worth a whole heck of a lot. Talon #0 is an issue that's really a #1, as there have been no previous issues, and the Talon series will be part of DC's Third Wave, a launch of new comics in their rebooted Universe. It's the origin tale of the last survivor of the Night of the Owls crossover series from DC's Batman titles, giving a heroic tale of the last of the story's villains, reborn in an all new adventure. The rest of the respectable #0's this month are all, in fact, just reboots of the Batman's origins and those of his confederates, as Scott Lobdell brings us the beginnings of Red Robin in Teen Titans #0, Grant Morrison does double duty this month with the terribly random beginnings of Batman Incorporated #0 (possibly the the most ridiculous Batman storyline to come down the pipe, ever) and a look at the random nature of crime and criminals in Batman:The Dark Knight #0. All in all, DC seemed to burst it's bubble last week, and I for one will be glad to get back to the regular run of storytelling in a lot of their titles.
So, until things get back to normal next week, enjoy your reading, and come back for a look at more new stories in comics!