Welcome back to normal, friends, or as normal as it gets in the world of comics. With DC's Zero Month over at last, we can get back to our usual comics reading list, with new stories from someone besides DC. There are a few goodies so far, with the promise of even more big happenings coming next week. More on that later, but for now, here are the best of this weeks new stories in comics.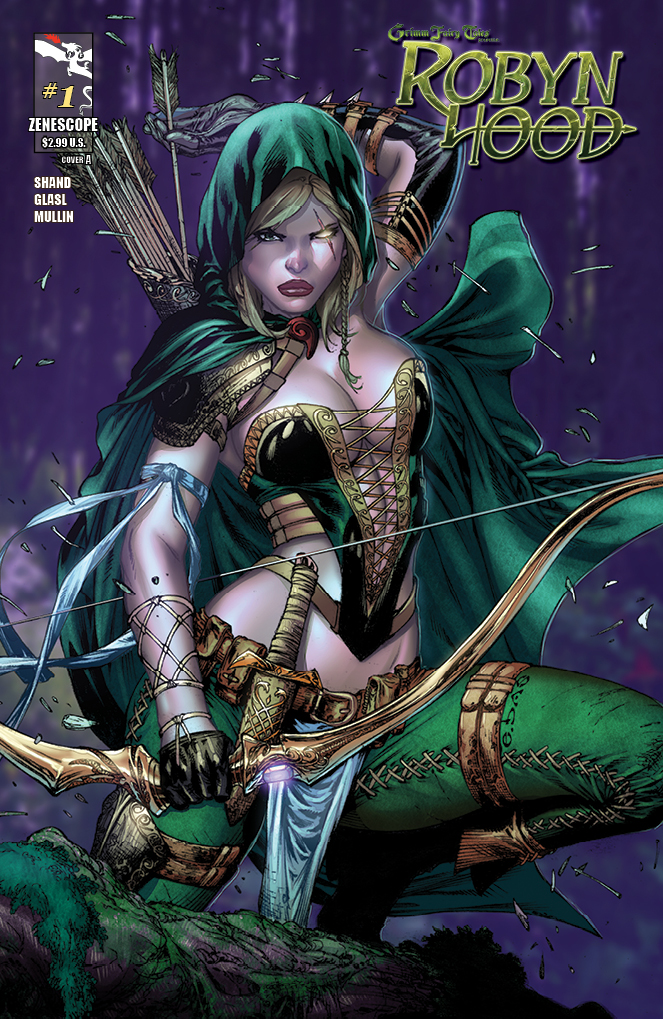 I've mentioned before that the heinous portrayal of women in the majority of Zenoscope comics had turned me completely off of the company altogether. That said, I found I couldn't resist picking up their newest offering, Robyn Hood #1 written by Pat Shand, with art by Dan Glasl, not because they were trying to lure my inner-teenage-boy with a scantily clad version of the famous green clad archer on the cover, but because Robin Hood has long been a favorite of mine and I've always enjoyed new renderings of his legend. Here, the folks behind Grimm Fairy Tales at Zenoscope offer up a new (at least to this reader) twist by bringing someone from "our" world into the realm of familiar bedtimes stories and legends. The main character, a baby from another dimension deposited on an Earthly doorstep and unnamed until the last panel, is a little girl from a broken home. Having learned to steal at an early age, she uses her skills to help alleviate the burden of medical bills for her mother, suffering from illness, as well as to help out others. After nearly being beaten to death and losing an eye to a local crime lord's son, she suddenly finds herself pulled into a magical forest, forced to defend herself and, ultimately, the innocent. A neat twist on the old legend, and if they can keep her true to herself as a strong woman, and fully clothed (the covers, at least two variants of which depict her topless, suggest they might have trouble with this) then Zenoscope might have something here. While they don't have a good track record depicting female characters without exploiting their sexuality, this is the first of their books I've seen that's going in the right direction, with a powerful female heroine who seems to respect herself.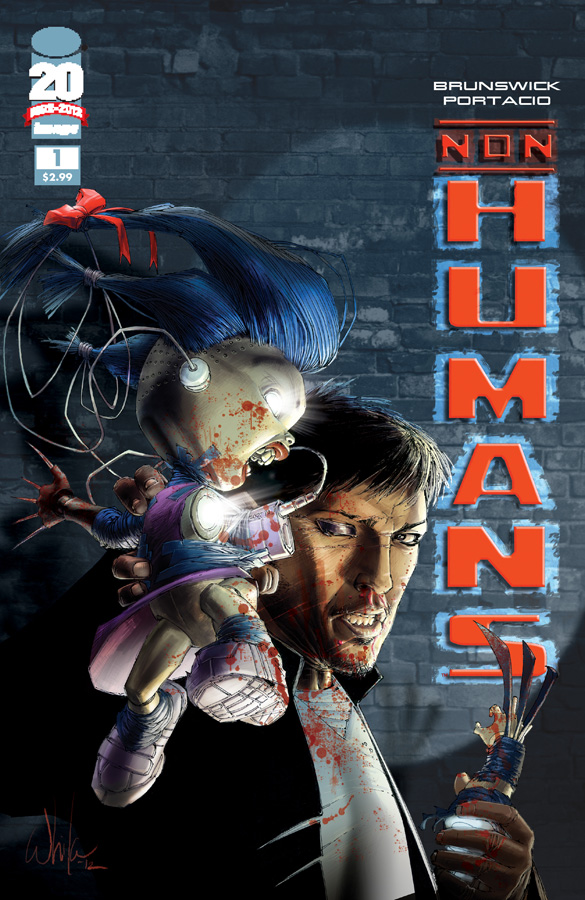 Beyond that, there's very little socially forward on offer this week, but tons of good ol' comics fun. The best of the bunch is NonHumans #1 (by Glen Brunswick and Whilce Portacio). This would be a run of the mill '80s era cop story, with one small twist, as it hits all the high points of the genre. It features 1) a burn out detective who is 2) divorced from a bitter ex-wife, has 3)a kid getting into trouble with the law and 4) a recently murdered partner he must avenge. He's teamed up with a 5) partner who he feels represents the biggest threat on the streets (that's where the twist comes in … wait for it) and a 6) intelligent and up and coming female rookie detective whom he at first does not respect. Together they must track down a 7) homicidal maniac. The twist is that the tale is set in a future where a mysterious virus infecting the population takes our imaginations and uses them to bring inanimate toys and mannequins to life. Yup, from Victoria's Secret displays, to pocket sized action figures, even a smooth talking Drug-dealing Teddy Ruxpin clone, the plastic has come to life and formed it's own subculture, hiding a secret threat against humanity. This utterly weird noir style thriller is gripping and full of a LOT of action in the first issue, and will be one to follow for a while.
DC did manage to get one new title in the game this week, but only in a round-about sort of way. Legends of the Dark Knight #1 gathers in print a collection of Batman shorts that have previously only been released online. There are three vignettes in the first issue, and if their quality is indicative of what's to come (this is promised as at least a three issue series) then I might have to try and give digital comics one more chance. (Or not, if they are going to gather them together like this.) The book features some of the best writers and artists working in comics today (including Damon Lindelof, Jonathan Larson and Nicola Scott), all having fun with the Batman character and his allies, without the burden of one continuity or another. Frankly, that's the best way to tell Batman's story to begin with.  This is a good book for devoted readers of comics and newbies alike.
Lastly, Marvel brings us two power-house #1s, tackling some spin-offs of one of their oldest heroes, and the death of another. First is the one-shot Minimum Carnage: Alpha #1, a stand alone comic that begins a crossover between two of Spiderman's wannabes, the ex-bully turned Secret Avenger and super soldier reincarnation of Venom (it's Peter Parker's old school bully Flash Thompson combined with the black suit symbiote), and The Scarlet Spider, a clone of Peter Parker and former anti-hero. The two team up to take on Carnage in a reality-bending caper that will cross over between both their titles and end with a one shot finale. This is fun stuff if you're a deep dive Spidey reader, but might be a little out of your wheelhouse otherwise.
T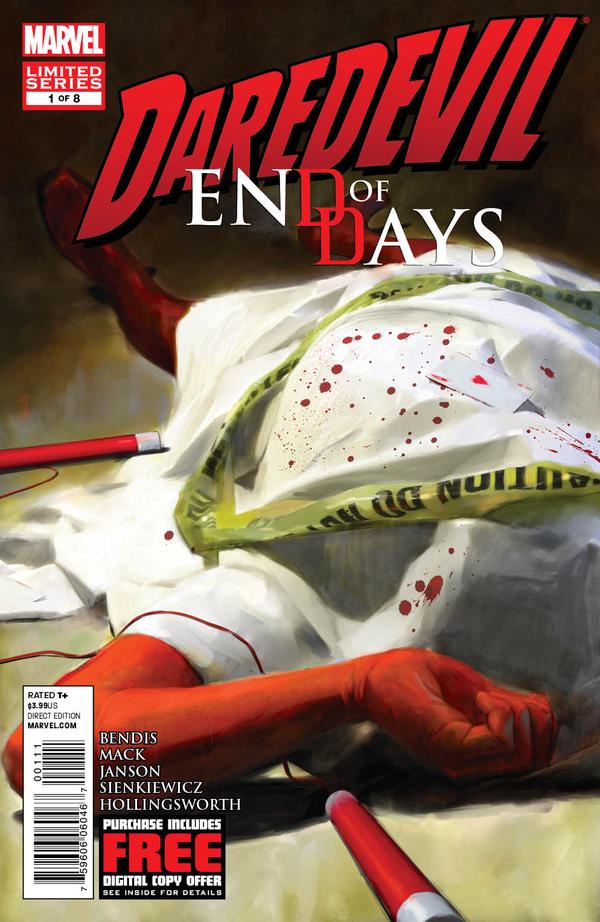 he second tale is the gripping "near future" 8 part mini series Daredevil: End of Days #1, a shockingly violent story about the death of The Man Without Fear. Written by long time DD scribe Brian Michael Bendis, this series features a rough edged painted art style by Klaus Janson and Bill Sienkiewicz, lending a great deal of grit and depression to the dark storytelling. I won't be giving anything away by revealing that Daredevil gets savagely murdered in the first issue, since it happens brutally on page 3. This is a tale of the Devil's downfall and not his death, as seen through the eyes of Daily Bugle reporter Ben Urich. This incarnation is much more sincere and earnest than the turn he got by Joe Pantoliano in the awful Ben Affleck helmed film, and the narration feeds off the savage nature of the art and the violence of the story. This one is not for kids, to be sure, but it's a compelling, dark look at a society so inured to the actions of super heroes, that it can stand idly by while one falls, literally right in front of them.
Those Marvel titles take us to the end of this week, but also gear us up for the rest of the month. Not to be outdone, Marvel is going to launch a massive series of new events starting next week with MarvelNOW! and including the new blockbuster title at the end of the Avengers vs. X-Men run, Uncanny Avengers #1.  Be here next week, true believers!