This week in #1 issues in comics we have no less than TEN new series to talk about. To sort through them all, let's talk a little bit about the types of stories, and how these fit into certain patterns.
There's more than one way to skin a cat, and certainly more than one way to start a new comic series. The most obvious is to start a brand new story in a brand new universe, with original characters and a whole new world, with no expectations. There are two solid examples of this purist form of the #1 this week, and they are about as different from each other as can be.
The first is Vitriol the Hunter #1,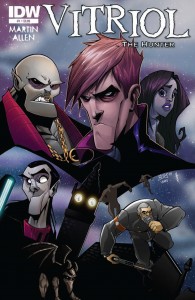 from IDW comics, set in a near future world beset by Vampires. These are not local teenagers mooning over each other but fanged, nasty bloodsuckers running the streets at night and conspiring to eat us all. Enter our hero Nimirus Vitriol, Vampire Hunter. Vitriol is on a mission to clear his family name, as his father was a scientist who attempted to enslave vampires to work for the government, leading to them coming out of the coffin, so to speak, and into the open night. Vitriol's name gets right to the heart of his anger with the nosferatu, but he's a fairly flat character, frankly, and the Vampires themselves are also somewhat one dimensional. The art work by rocker Billy Martin of Good Charlotte leans more towards the Saturday cartoon and gives the book a lighter feel than I think was intended. It's a simple horror action piece with one stock female character and not a lot to offer in terms of diversity, but it's harmless fare to be sure.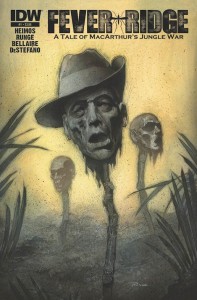 The second of the pure new stories this week is Fever Ridge: A Tale of MacArthur's Jungle War #1. Obviously a WWII comic, this book's tone couldn't be more horrific or serious, and its cover is cringe worthy enough. It's a well-researched story about American troops fighting against the Japanese in New Guinea before the invasion of Normandy. Unfortunately, the first chapter is too disjointed, beginning in a New Mexico boot camp with two German-speaking recruits suffering snake bites. There's also a distracting and largely irrelevant flashback to the actual snakebites, and I was curious why the story wasn't more linear. The art by Nick Runge has a very realistic feel and does well to illustrate the horrors of war, but the narrative isn't coherent in either of the settings, and it's so off-putting I'd have a hard time recommending the series any further.
The other types of new series fall into four similar categories, and these four are becoming far more prevalent in the world of comics. The first are the #1's that aren't really new stories at all, merely new story arcs and continuations of previous series. These usually have a lot of backstory wound into their narrative, but if presented well, they can be good portals into these worlds.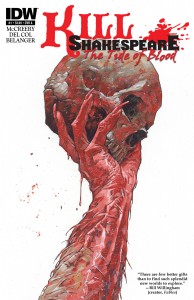 An example of this type done well was last week's Powers: Bureau, and the best example this week is Kill Shakespeare: The Tide of Blood #1, by co-writers Conor McCreery and Anthony Del Col, with art by Andy Belanger. This is the third arc in this series, actually, (the first two are popular in academic circles and have been produced theatrically as well) but it does a couple of things very well. The story has enough exposition, so that the reader doesn't feel lost without having read the previous works, and it also tells its own story well enough to make you want to come back. Here, Shakespeare's most famous main characters live in a land that exists inside their creator's mind. Hamlet, Romeo, Juliet, and Othello have led their people to defeat the armies of Richard III and Lady Macbeth, and now must face the onslaught of the armies of Titus Andronicus. They have even been in direct contact with Shakespeare himself, whom they revere as their "Wizard-God" and creator. Now, with a fragile peace being threatened and their own lives in turmoil (Juliet has left Romeo for Hamlet! Scandal!) the heroes meet Miranda, daughter of Prospero, and must seek to prevent Shakespeare's most powerful Wizard from unmaking the world. The story is told in Shakespearean dialect that's just a shade simplified from the original texts, but has an original and natural feel to it. The action is fast paced and these age-old characters take on new life. Juliet in particular is an interesting empowered adult and a General of the army no less, and passes the Bechdel test, albeit just barely. Mostly, the women speak to the men, but their conversations are often about grave matters and saving the world, and the language is so well crafted it's a joy to read.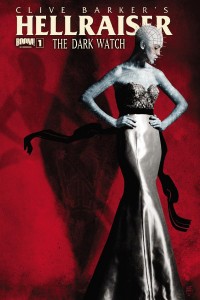 A less succesful example of this type of first issue is Clive Barker's Hellraiser: The Dark Watch #1. Set in Barker's bloody nightmarish world from the film series, this story seems to pick up right in the middle of either one of the films or perhaps one of the accompanying comic series (this is not the first that publisher Boom! Studios has put out). A single dying man solves one of the mysterious puzzle cubes that opens a portal to hell, and is given a tour of the Damned by one of the Cenobites, an unnamed Pinhead-like female. This man identifies himself as a theologian, but is in fact a warrior fighting against the Cenobites. Coming in contact with several Cenobites, he seems to have knowledge of their human forms (it turns out all Cenobites were once human) and there's a mountain of unexplained backstory here. This tale is so convoluted and wrapped up in other Hellraiser stories that's it's virtually impossible to follow, and while it did have me running to Wikipedia to try and figure out what the heck was going on, I had no desire to continue reading this, or any other Hellraiser series, ever again.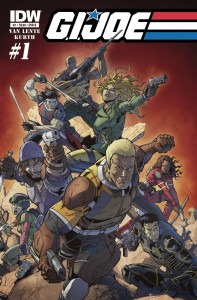 The last of these is types of stories is this week's G.I. Joe #1 from IDW, who own the rights to most of Hasbro's franchises. This new series falls on the heels of previous G.I. Joe stories, and begins with the public "outing" of the formerly secret military unit and their enemy, the terrorist organization Cobra. It works as a gentle reboot as well, with the characters now using their goofball toy monikers as code names to promote recruitment into various branches of the military. (The Naval representative is particularly offended at being referred to as Shipwreck.) Their backstories seem to have been repurposed as well. There are new characters along for the ride, with some women tough enough to carry their own weight (common in the G.I. Joe franchise) including the Joe's new official embedded internet reporter known as Hashtag (a ham-handed nod to the future I suppose). There's also acknowledgement of the somewhat forced nature of the toy series' token racial diversity. The franchise has always had a strong tokenism vibe, with many characters little more than gender or race placeholders. In their brave new public world, these Joes are very aware that they are officially on display for America to worship or gawk at, and as soldiers, they chafe against it, making for an interesting human dynamic in the midst of this somewhat silly concept.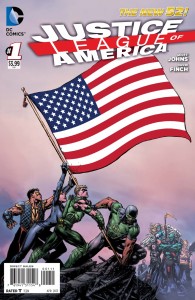 Next up is just a good ol' fashioned reboot from DC Comics, the company that made reboots all the more famous with their New 52. This time they are restarting Justice League of America #1, the parallel to the original Justice League with a slightly darker twist. This band has no affiliation with their more famous Justice League counterparts, but has been assembled by a branch of the US Government as their own officially sponsored superheroes. The new team includes stalwarts like Martian Man-hunter, Hawkman and the poorly characterized Stargirl, as well as some unusual choices like traditional villain Catwoman, and some newer DC characters. These also provide some racial diversity, but not necessarily in a token way as we saw in G.I. Joe. Here we have Simon Baz, the first Islamic-American to become a Green Lantern, the Japanese female assassin Katana (who got her own new series last week), and newly rebooted Latino superhero Vibe. The book itself is a fairly simplistic story, told entirely in one conversation between the two government agents assembling the team, and is a loose and uninteresting framework with little else going for it.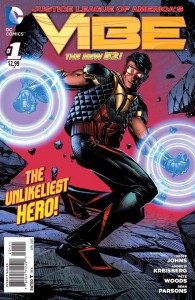 JLA #1 does lead us to the next type of #1, and it's one of the oldest around, the spin-off. These are as common as weeds in comics, taking supporting or new characters and fleshing them out in their own books. DC does it first with Vibe #1, giving us a look at this new version of the little known character as he makes his debut in the bigger team book. Vibe is actually a teenager named Cisco Ramon, the youngest of three brothers from Detroit, Michigan. His older brother was killed in the invasion of earth by Darkseid, which helped spark the beginning of DC's New 52 reboot last year, and Cisco developed a kind of unexplained vibration power as a result of the attack. Now he is working hard to get into college and live the American dream, often being held back by his freeloading middle brother, while trying to help his aging father get by. His story is very much the tale of the American immigrant, but like his recruitment in the JLA it is a touch simplistic: he's a superhero who's handed the costume by the government, and he feels as if he's being manipulated. This story is in the early stages of development, obviously, but his exploitation by the powers that be could be a positive way of using the superhero metaphor to shed light on the lives of Latinos and other people of color, and I for one hope DC stick with it.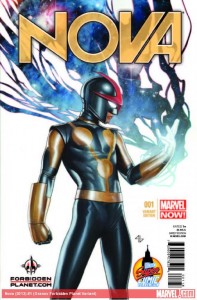 Marvel gets in on the spin-off game as well with two new titles. Nova #1 presents the origin of an all new hero to don the Nova Helmet. The Nova Corps has always been Marvel's rather blatant rip-off of the Green Lantern, but this new series humanizes the character in a way that's not been done before, passing the mantle to a teenage boy who doesn't believe his father's fantastic tales of space travel and adventure. Sam Alexander's father was a Nova no one has heard of; not the main character Richard Rider who we've seen in Marvel comics over the years but a member of the "Black Helmets", a sort of classified special ops group of this intergalactic police force. Sam's dad has fallen on hard times and resembles a burned out war veteran, but Sam is shocked to find out his father's stories aren't as unlikely as he thought, when he meets Rocket Raccoon of the Guardians of the Galaxy. (Marvel are doing everything they can to bring this character to the public's attention, with their impending film on the way.) Sam's a good kid, but is he ready for this level of power and responsibility?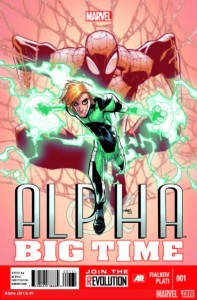 Responsibility is a popular theme at Marvel, beginning with its mainstay hero Spider-Man, and it's a Spider-Man spin-off that tackles that same theme this week with Alpha #1. Alpha is yet another high school boy accidentally turned superhero by an adult Peter Parker himself, but Alpha – better known as Andy Maguire – failed to live up to the responsibility of being super. Peter Parker and Spiderman (whom Andy didn't realize to be the same person) removed Alpha's nearly limitless super abilities, and now he's resigned to life as the school nerd. The cliched characterization of the other school nerds is disappointing – a teenage girl with pink hair and an overweight young Black boy – and this new "lowered" status of the blond, blue-eyed All-American male is portrayed as some sort of superhuman disgrace. Alpha is the kind of kid who doesn't quite deserve the hot rod his parents bought him, and when a now evil Peter Parker (he's possessed by Dr. Octopus, if you recall) restores some of Alpha's power, he's off again screwing up people's lives and generally behaving like a jerk. There's not a lot to recommend in this book, frankly, and I won't be back.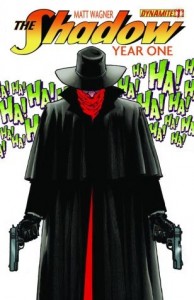 Last but not least there's the prequel, a type of new story that most good geeks fear, thanks to George Lucas. It can be done well, however, and Dynamite comics takes a stab at it this week with The Shadow: Year One #1. While the title isn't original, this re-imagining of the pulp hero's early years takes on an entertaining twist. We see his first meeting with long time crime fighting partner and romantic interest Margo Lane, a character who broke feminist ground years ago, generating equal measures of hate mail and acclaim, when her popularity in the radio series led to her introduction into the original pulp novel. We also get a glimpse into the darkness within Lamont Cranston during his time overseas perfecting his crime fighting and psychic abilities, and some of the difficulties he had mastering these gifts as a fledgling crime fighter in America. This first issue actually has strong overtones of the book that spawned it's title, Batman: Year One, as the characters have so much in common, but it's in the art and the period setting here as well. The Shadow: Year One doesn't fall into the trap that other period pieces sometimes do, depicting disgusting social behaviors in an attempt historically locate the story. We do see a gangster treat a woman like dirt, but it's to show he's a bad guy, not that this is the 1920's where everyone treated women that way, as we sometimes get in other period pieces. Ultimately, it is an entertaining book.