This week's #1 releases hit some of the heavy spots again. Marvel continues to get spacey, preparing us for the summer movie season; fans of Stephen King's Dark Tower series have new mysteries to ponder; Dark Horse revives Hellboy's buddy Abe Sapien; a classic femme fatale from the 1930's is reborn; and gamers get a preview of new stuff from Naughty Dog. First, the highlights of the week.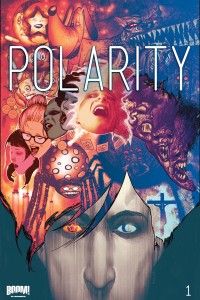 The best of this week's offerings is Polarity #1, from Boom! Studios, with art by Jorge Coelho and a script (and free music download) by Max Bemis of the band Say Anything. It's the story of Tim, a depressed Brooklyn painter who's finally come to grips with his own mental health after a near fatal hit and run suicide attempt. He's fully medicated now, and his art career is finally moving forward, but he's not happy at all. Drowsy and muddled in a sea of anti-depressants and bi-polar meds, Tim has lost his edge. He is turning an ugly and unforgiving eye on the people around him, and losing connection with humanity, including his girlfriend Alexis (whom he never particularly cared for) and his best friend Adam. After failing to impress the girl he's really interested in, college mate Lily, Tim decides that enough is pharmaceutically enough, and drops his pills and his therapist for the "real-life" experience of self-medicating with stale weed, too much beer, not enough sleep, and television binging. As his mind begins to spiral out of control his paranoia mounts, bringing on some startling revelations about his therapist and his neighbors. Is he truly unbalanced, or are they suppressing his supernatural abilities? Polarity has some uninteresting, albeit funny, things to say about hipster culture, and a good many more interesting things to say about mental health care. In a story with a great deal of reality for even the super-hero indie fringe, Bemis shines a light on a character all too many of us have seen, loved and lived with, sometimes inside our own skin. It's a serious story about living with mental illness, and the difficulties in maintaining a life that's predicated on prescriptions. It's also the beginnings of an interesting adventure tale with an ironic twist. Coelho's artwork looks like a more serious take on Rob Guillory style familiar to fans of Chew, and it's appropriate for a book with a touch of snark but some honest angst in it as well. This 4 issue miniseries is not to be missed.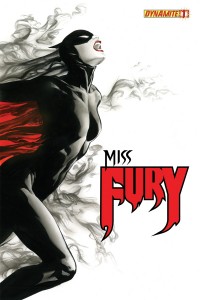 Following close on its heels in terms of quality is Dynamite Entertainment's Miss Fury #1. Resurrecting one of the oldest pulp comic heroines around, Miss Fury centers on the adventures of Marla Drake, the original Miss Fury form the '30s newspaper serials and early comics. A spoiled heiress with time on her hands, Drake has recovered an ancient Black Leopard suit that gives her free reign to act out in the most adventurous ways. She's become a thief and a thrill seeker, but also a heroic adventurer, and her character served as inspiration for Marvel's Hellcat, as well as many modern incarnations of DC's Catwoman. She's been making guest appearances in Dynamite's Masks series alongside the Shadow and The Green Hornet, but her solo series has a different. more modern take. While battling Nazi undercover agents in new York City just before the outbreak of WWII, Miss Fury stumbles into a time machine, which launches her to 2013 and into a future where the War still rages on. Marla Drake is a fascinating character, a strong and powerful woman but without much moral center. She has little use for men who don't respect her, as her cocky safari guide learns to his own mortal peril. She's sometimes prone to violence, but not likely to sit idly by and let a man tell her what to do, and she's an interesting mix of feminist strength and subconscious victimization. Her strength seems to come from arrogance, but one wonders what's driving it underneath. One also wonders why the artists insist on depicting her naked in her bath reading the newspaper, as opposed to fully clothed over breakfast, the way most of us who still read papers do, and the pandering to the 15 year old boys in the audience certainly diminishes the book's otherwise strong female lead. The art is strong and the covers are particularly well done, especially the variant cover by legend Alex Ross (included here) of Miss Fury in all her violent and powerful glory. This book is one to follow, to see just how this great leading lady develops.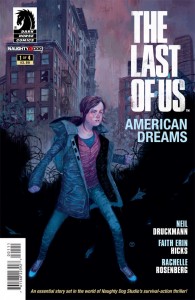 Dark Horse also gives us a strong female lead in its new series The Last of Us: American Dreams #1. It's a prequel to the PS3 console RPG The Last of Us from Naughty Dog games (which looks pretty fantastic) about a decimated world, fallen into ruin as it is plagued by mutated fast zombies. The comic introduces us to one of the two main characters, a young girl named Ellie, off to a military run boarding school in Boston, one of the last uncontaminated cities left on Earth. Ellie is a tough and determined young woman with a temper that all too often has gotten the best of her. She's not afraid to tussle with boys twice her size, and has a long list of disciplinary problems, but she's also cautious and a little fearful underneath, which helps us remember that she is still just a kid in a savage world. A true teenage rebel, Ellie is determined to keep up with her new schoolmate Riley, another rebellious young woman, and it will be a curious trip through the newly ruined world for both of them. The illustrations by co-writer Faith Erin Hicks (Demonology 101; Friends with Boys, previously reviewed here) are a bit less dramatic than the subject matter but give us a taste of the innocence of a girl who really is too young to be living through such horrible times, and remind us that the strength she finds comes at the expense of her childhood.
The last of this week's indie #1's is a rather confusing offering from Avatar Press, Uber #0. Uber is a super-hero story set in the last days of WWII, as the Nazis unveil their doomsday weapons, the superhuman soldiers known as The First Ubermensch Army. These living weapons bring about untold death an destruction in the last days of the Soviet siege of Berlin from the east, altering history as we know it and routing the communist forces. Exactly why this series begins with an issue #0 instead of a #1 is unclear, as there isn't much backstory on the Ubers themselves. We see the horror of the Nazis experimenting on captive Poles, with the typical excessive bloodshed and violence common to Avatar titles (the company publishes the horror comics Crossed and Ferals), but we learn little of where these Nazi supermen have come from, or more specifically, how they were made. It is clear that they were made, much to the Communists' detriment, and the book itself shines no positive or negative light on either side in the conflict. It appears that the writer's intent (based on a lengthy prologue) is to look at the violent nature of all humans, not just the super powered ones, but the book is tediously long, not and not particularly clear in its narrative. This is more a failing of the artwork of Canaan White than the storytelling of The Young Avengers' Kieron Gillen. The art is vivid and violently depicts the horrors of war, but its characters are difficult to differentiate early on, and it took a reread to set everyone straight in my mind. The standout character here is interestingly the only woman amongst the Ubers, Klaudia Hoch, known as Sieglinde. She alone seems to understand the futility of war, but fights for the Fuhrer's cause nonetheless, knowing that she can't win but that she can make sure, "everyone else loses." She's depicted with a sadness and hints of emotional depth that other characters, war ravaged though they may be, seem to lack. It's a weighty book, and not just because of it's lengthy 44 pages, but might bear following for a while.
Some big franchises have given us new entry points this week as well, with a whole slate of #1 cross overs and mini-series. Marvel continues its work educating the masses on the dangers from outer space, which will culminate in next summer's Guardians of the Galaxy film. This new series is Thanos Rising #1, starring the scary purple-faced villain from the end of The Avengers. Thanos is a legendary marvel villain, a violent alien obsessed with death in all it's forms. He's brought destruction and ruin to thousands of civilizations across the galaxy, and even walked with Death personified, but how did his story begin? Here we see a young Thanos and his first experience with horror. But do we develop sympathy for him? His childhood in the great city under the surface of Titan, the moon of Saturn, was a rough one no doubt, but how did a scared and mutated boy really become the harbinger of Death? There's not a lot of depth in the early pages of this tale, and one worries what Marvel has gotten itself into, cosmically speaking.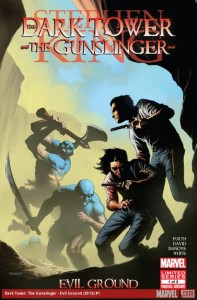 Heavy hitter Stephen King comes back to his Dark Tower franchise comics, overseeing but not writing the latest release from Marvel, The Gunslinger: Evil Ground #1. It's a tale from the past of the last Gunslinger, Roland Deschain, taking us to his youth with long lost friends Jamie Cuthbert, Thomas and Alain. Fans of the novels and the previous comic series will see plenty of what they've seen before, frankly. Roland is driven to find the Man in Black and the Dark Tower, his ruined world is unusually strange and barren, and the past was always better than any future he might have. If you're new to this series, this isn't a good jumping off poin, as you'll be in deep water with no idea where the bottom is.  This isn't to discredit the story by King's long time research assistant Robin Furth and writer Peter David, as well as Richard Isanove's artwork. The comic is well crafted, and frankly, beautifully painted, but it has the feel of plenty of Roland's stories we've seen before, without the mysterious nature and heavy depth that King has brought to the character in the past.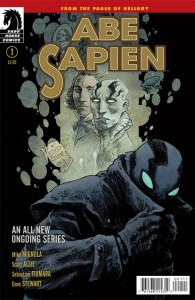 There's new depth to an old fan favorite character in the "Mignola-verse" with Abe Sapien: Dark and Terrible #1 from Dark Horse. Abe has left the Bureau of Paranormal Research and Defense and struck out on his own across an America littered with monsters. rising up faster than you can shake a stick at. With Hellboy long gone and the B.P.R.D. overwhelmed on too many fronts, Abe has abandoned his colleagues to seek his own answers about who he really is, and how he fits into the world. Fans familiar only with the Guillermo Del Toro films will see a tough, competent Abe that they might not recognize, but comics fans will enjoy the mer-man's return as he daringly strikes out on his own. Granted, taking on some derelicts on a freight train isn't quite the heroic test we had in mind, but the stage is set here for Abe to really come into his own again, as we learn about his secret past, and Mike Mignola doesn't treat his highly popular character lightly. Of the many B.P.R.D. perspectives we've seen in the recent months, this has been the best of the bunch, by far.
Lastly, Valiant Comics leaps into territory typically dominated by the Big Two, with a massive company wide series crossover event that begins in Harbinger Wars #1. After their reboots of Harbinger and fan favorite Bloodshot failed to impress last year, it was tough to get me to care about this tale, I must admit. It did have a fairly comprehensive prologue, letting me in on what's been going on in these books, and how they now tie together. The fate of a group of superhuman children enslaved by a shadowy agency of the government has fallen into the hands of Bloodshot, a human weapon determined to protect them from any who would do them harm. As is common in massive comic crossovers, it might not be completely clear who the enemy is, and it's a rather obvious set-up to bridge stories between the heroes of various books, doling out some whoop-ass on each other for several pages, whilst exchanging pithy quips. The highly convoluted plot steers comics readers into the exact direction of many previous mega-events, and the only original thing here is that it happens between characters with which we're less familiar. There will undoubtedly be new series emerging from the best of the supporting cast here, and at least one minor character will die, permanently or not, to motivate others to keep fighting the good fight. Sadly, this is a fight that's tough to care about in a world that's almost too confusing to understand. Which, in the world of comics, is saying something.