We're No. 1! is a weekly feature looking at first issues in new comic series, as well as one-offs and special releases. In his reviews, Jeff highlights stories with diverse characters and plot lines Geekquality readers can care about, as well as points out comics that miss the mark.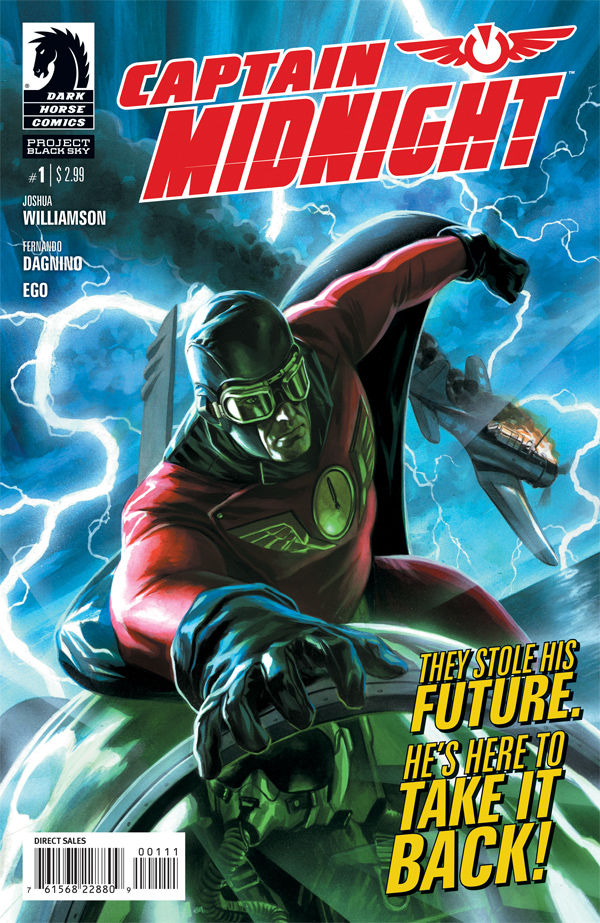 Dark Horse Comics continued doing their favorite shtick, which seems to be resurrecting characters from the 30's and 40's, this time with Captain Midnight #1. We took a look at their issue #0 a few weeks back, and this is interestingly a little less of the same, so to speak. Captain Midnight himself barely features in the book, and much is made of the granddaughter of his WWII era love interest, Major Charlotte Ryan. On the hunt for Captain Midnight, she is a capable career soldier and a character who will hopefully still have more to do, now that her objective is complete, nor will become a stand-in romantic character, now that her grandmother is in her 80's. Written by Joshua Williamson (Voodoo, Uncharted) with art by Fernando Dagnino (Resurrection Man, Suicide Squad), this book does still default to its hero too often and too quickly. The concept of a man out of time might be a way to explore lots of complex social issues, like how he'll do working under Agent Jones, an African American, when the good Captain's last active service was in a segregated military. The Nazi threat is present here, as always, but hopefully other and deeper social issues will come to light in future issues.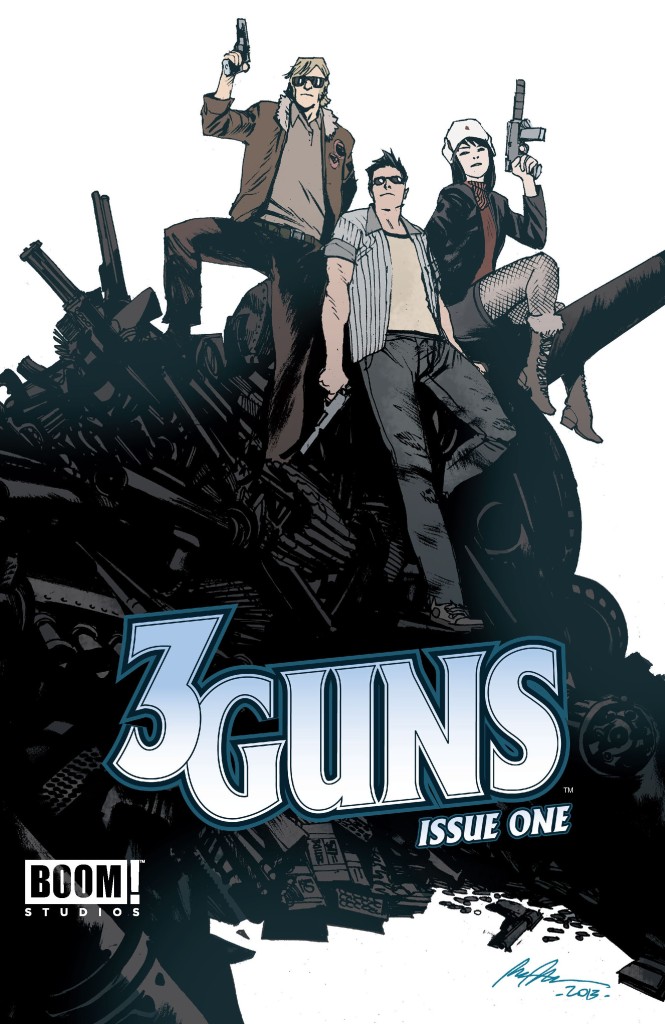 The upcoming release of the film adaptation of Steven Grant's 2Guns has spawned the inevitable (and goofy-titled) comic series sequel 3Guns. The two undercover agents return, still undercover and still on the wrong side of the same case, but this time a third operator is in the mix. She's either a Russian femme fatale Zhenya Ropox, or a bar maid named Joey, but with the never-ending twists and turns common to this series, she's likely neither of those. This wildcard character is clearly pulling the strings in this case, and to good effect. As the series progresses, it probably would be interesting to see how she develops. However, the plot so far is thin and was too complicated to follow, so I'm not entirely sure I'll be coming back for more.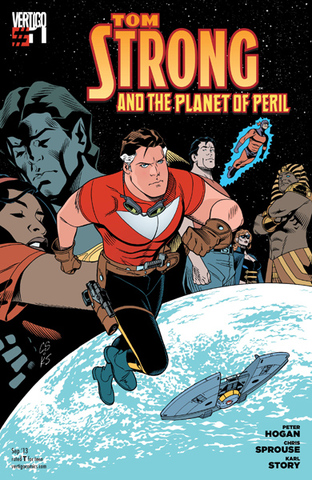 Vertigo gets in on the old school action as well, though not quite as far back. They've resurrected Alan Moore and Peter Hogan's "Science Hero" Tom Strong in a new series, with Tom Strong and the Planet of Peril #1. This carries on the adventures of Tom Strong as he struggles to save his super powered and very pregnant daughter from being killed by her own super powered fetus. To do this, he must travel to the planet Terra Obscura, where an alternate version of himself known as Tom Strange lives, and acquire the advanced science that will make his daughter Tesla indestructible. It's a very complex story structure involving a series titled Terra Obscura that recounts the other world's adventures, with some commentary on what comic book writers' lives must be like, and features a pair of interracial relationships. Still, this one is all over the map and does little to set any positive examples for readers. The "Science heroes" of Terra Obscura feature a pair of Egyptian deities that one might construe as stereotypes, but there are several characters of color in the story, and it's nice to see a comic where at least a few of the people of color don't have super identities that play solely on their heritage.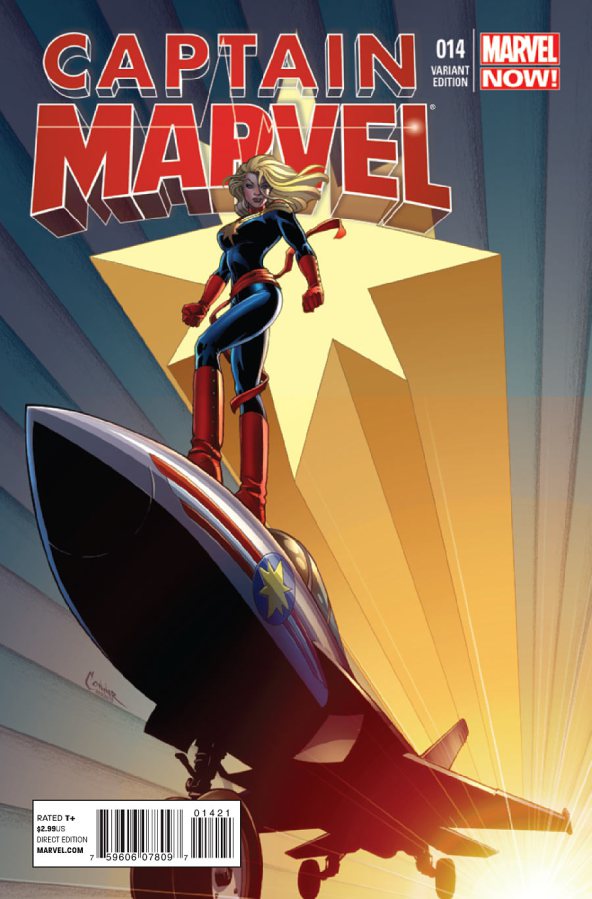 Beyond that, there was little on the new comics front to offer this week. However, as a gigantic honorable mention, there's a fantastic conclusion to one of Marvel's mini-series that speaks loudly to some of the issues often lacking in comics these days. Carol Corps, the outspoken fan base of the newly crowned Captain Marvel Carol Danvers, as well as hercurrent scribe Kelly Sue DeConnick, now get the final chapter in a pivotal cross over The Enemy Within, in Captain Marvel #14. Carol Danvers faces one of her toughest decisions as Captain Marvel yet, and her noble self sacrifice will mark a big change in the character going into Marvel's Infinity event. The book ends with a depiction of a young Carol Corps fan, complete with homemade Captain Marvel hoody – the kind of stuff taking Tumblr by storm lately – rushing out to cheer for her hero, and her parents have the difficult job in telling her that Carol may be gone forever. The concept of a hero saving a city, and then a parent saving a child from a broken heart is so compelling it inspired a touch of the waterworks over here. This has been a great series, and makes a fantastic entry point into one of the best female characters in mainstream comics today. Carol Danvers, having sparked a devoted fan base across geekdom, shows what it means to be a hero, irrespective of gender, body type or age. Get on board now!