We're No. 1! is a weekly feature looking at first issues in new comic series, as well as one-offs and special releases. In his reviews, Jeff highlights stories with diverse characters and plot lines Geekquality readers can care about, as well as points out comics that miss the mark.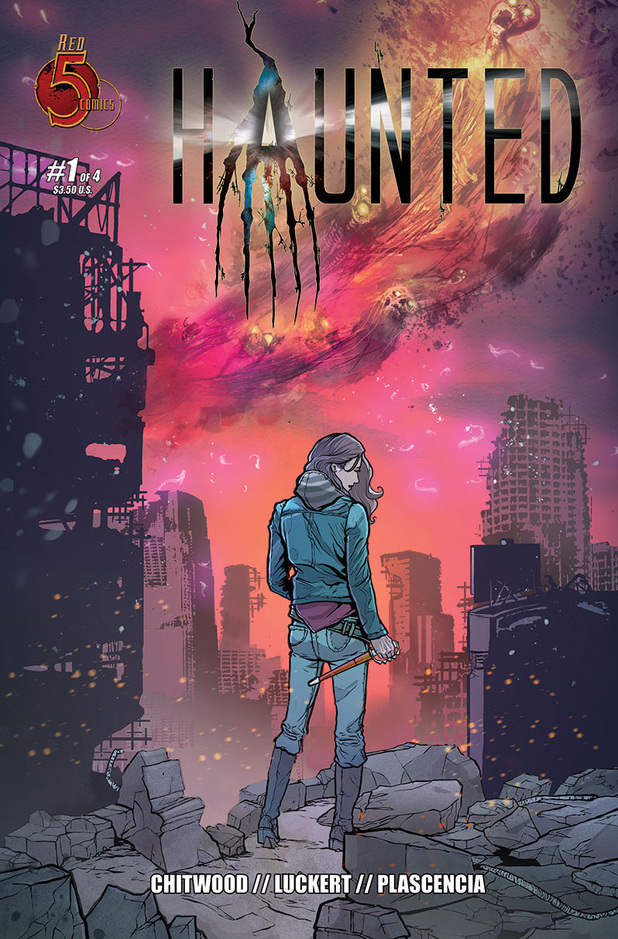 The indie titles are once again where it's at, and this week the best is the already-optioned-for-television Haunted #1 from Scott Chitwood and Danny Luckert for Red 5 Comics. It's the story of a young woman named Sarah McAllister who lives in a unique post-apocalyptic world. 13 years ago, the very fabric of reality ripped open, spilling ghosts and demons from the supernatural plane onto ours, making the whole world haunted. Now humans fight for food and try to stay hidden after dark, when the banshees, wraiths, and other evil spirits of the netherworld roam the planet, killing at will. Sarah has stumbled upon a scientist who was there at the Hadron Collider, where the end of the world began, and a priest who believes it's their calling to help this man fix it. The frightening and violent blending of science and occult horror has a feel of Ghostbusters meets The Road Warrior (at one point Sarah whaps a ghost with an electrically charged cricket bat!) and the heroine is a tough as nails survivor. Her memories of her mother are strong, and it's possible that one of the harmless sad ghosts who follow her about is her mother. Sarah isn't afraid to slug an old lady for a box of food (don't worry, the old lady slugs back) or fight a handful of demons to save her friend Steve from possession. It's a nice twist to see a female protagonist saving the lives of not just some but all of the men around her. If you don't get a chance to pick the book up this week, look for it Saturday as part of Red 5's offerings for Free Comic Book Day.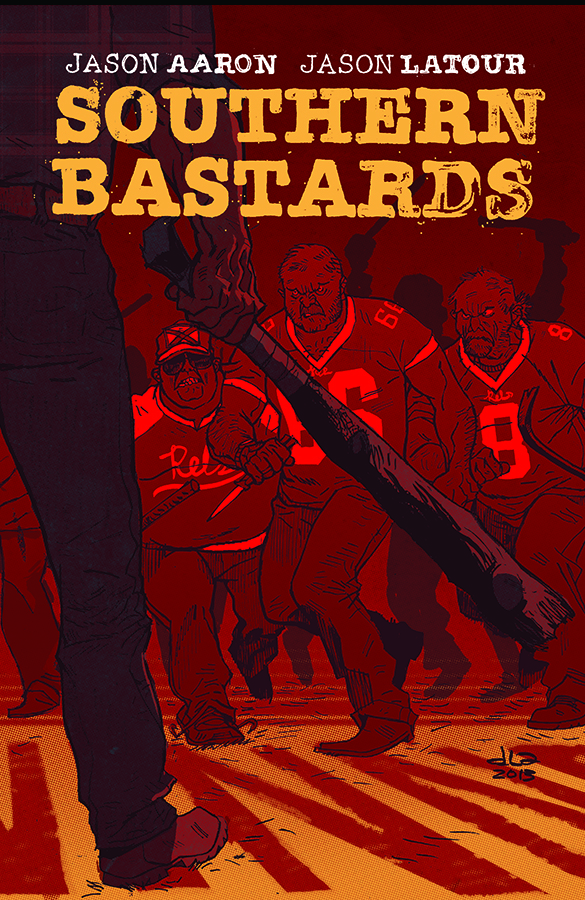 Image Comics has the other best book of the week, the tour de force slice of Dixie violence Southern Bastards #1. Written by Jason Aaron with art from Jason Latour, this book practically drips BBQ sauce and blood in equal measure. Both men are Southern born and bred, and both have some demons to exorcise. The book is the story of Earl Tubb, an aging man returned to pack up his deceased father's belongings. But Craw County, Alabama has become one of the most corrupt towns in Dixie. Faster than a '69 Charger jumps creeks, Earl runs afoul of minions of the man known as Coach Boss. This series promises to explore both Southern prejudice and pride in one adrenaline packed thrill ride. While the first issue delivers plenty of action, there's not much in the way of race representation happening. Craw County is still obviously very divided (the only Black character we see works in the kitchens of the BBQ joint, and one of only two lines he speaks is "I jus' smoke the meat"). Still, the book promises to get down and dirty with the many wrongs perpetrated by Southern Bastards, and it's more the promise of more to come than what's delivered in issue #1 that make this book compelling. All that said, this is hands down the best art of any book on the shelves this week. Latour's saturated colors and rough lines capture both the syrupy drawls and hard edged fists of these characters masterfully.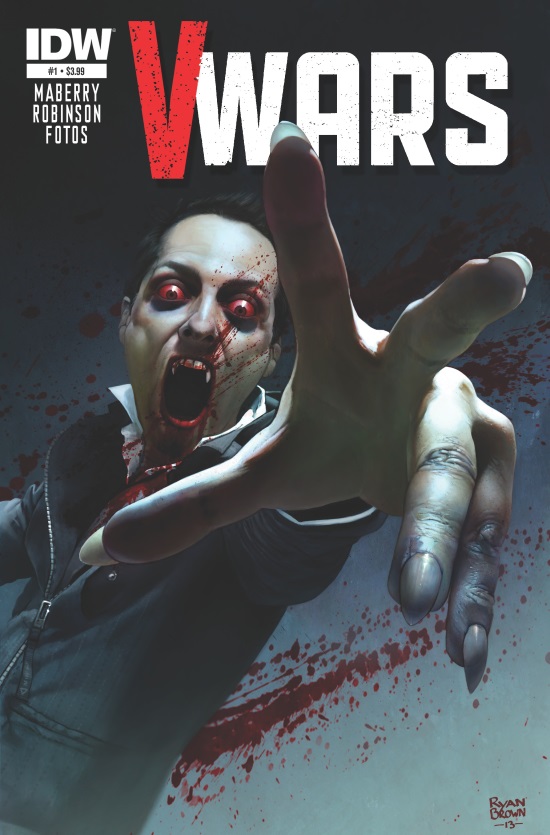 Horror fans might be hoping for some good old bloodsucker battles in V-Wars #1, from IDW and horror writer Jonathan Maberry. The series, however, is the story of a world in which the melting polar ice caps have released the virus that causes vampirism and the bloods (as they prefer to be called) are just trying to live among us in peace. That is, until the pro-peace Speaker of the House is assassinated and a vampire fringe group takes credit for it. Suddenly there is open war in the streets and the media follow along, questioning the validity of our war on Terrors of the Night. The book isn't particularly scary, and in fact turns out to be an in your face indictment of … something? It just can't figure out what. It's an obvious analogy with "The War on Terror", and the divide between the haves and have-nots, but its tough to pin down exactly what Maberry is railing against, other than everything. Perhaps leaving the reader to his own inferences is the point, but the book mostly leaves you wanting.
Two of the biggest geek franchises going, Star Wars and Battlestar Galactica, are in comics this week. Dark Horse begins what is surely one of their last Star Wars series before Marvel takes over the franchise, with Star Wars: Rebel Heist #1, and it's a pretty straight forward tale of Han Solo's adventures with a new recruit to the Rebellion. The series promises a similar structure per issue, featuring each of the major players form the first trilogy, and Leia is next, so keep an eye out for that issue in May. The big winner in the mega-space-franchise comics this week is Dynamite's Battlestar Galactica: Six #1. It's the origin tale of Cylon infiltrator known as Number Six, and in just the first issue she appears (as could be expected) in a myriad of unusual situations, including being part of a mining team that suffers an off planet disaster, and as a tough amnesiac mental patient. These are the first steps that she will take in her efforts to learn how to look, feel, love and hate like a human being. Six is a beloved sci-fi icon, a woman with equal measures of beauty, strength and fragility, and writer J.T. Krul has a solid handle on such an iconic character. The art by Igor Vitorino might not have as many touches of the famed television series as some might like, but it's the wild variations of scene that make Six, and this comic, so compelling, and he illustrates them well. For fans of BSG this should be an enlightening exploration of her early days, which the spin-off show Caprica never got to explore the way they supposedly wanted to. For folks new to the series (I have to ashamedly admit, I've only seen the first two episodes of Season 1, myself) it might just be the spoiler free teaser you need to get into this genre classic.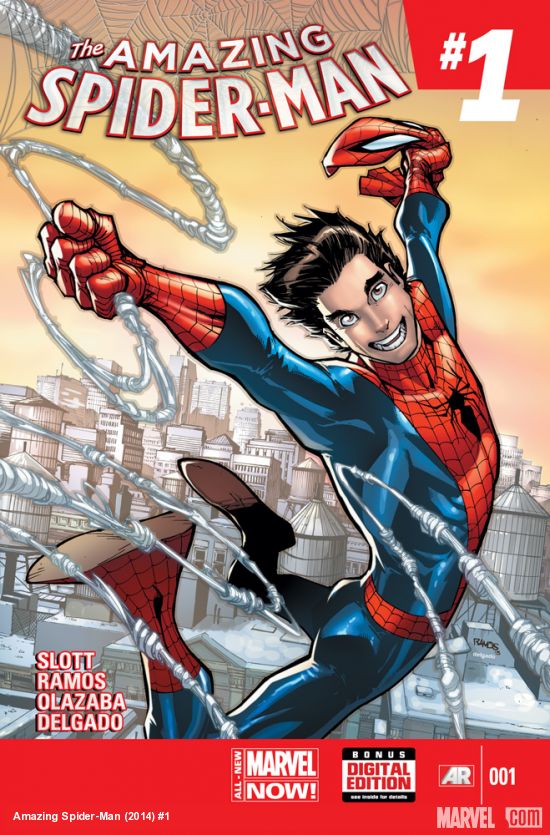 While the best of this week are genre and indie titles, I would be remiss not to mention the mega-event that is Marvel's re-launch of The Amazing Spider-Man #1. Peter Parker has returned to his body after several months of Dr. Octopus posing as him in the pages of Superior Spider-Man, and Spidey writer Dan Slott has thrown Pete a lot of curve balls in this oversized issue (the thing is huge.) It also contains several shorts featuring supporting cast of the mythos, including a great story featuring Black Cat, Spidey's on again, off again lover and partner. Doc Ock was not so nice to Felicia Hardy, and the Black Cat is sure to take it out on Peter in issues to come. Otherwise, the book is largely about Peter and his problems, some of which include suddenly finding he's finished his doctorate and is CEO of his own corporation. Tough life, folks, but great to have the funniest super hero in comics back in his own head.