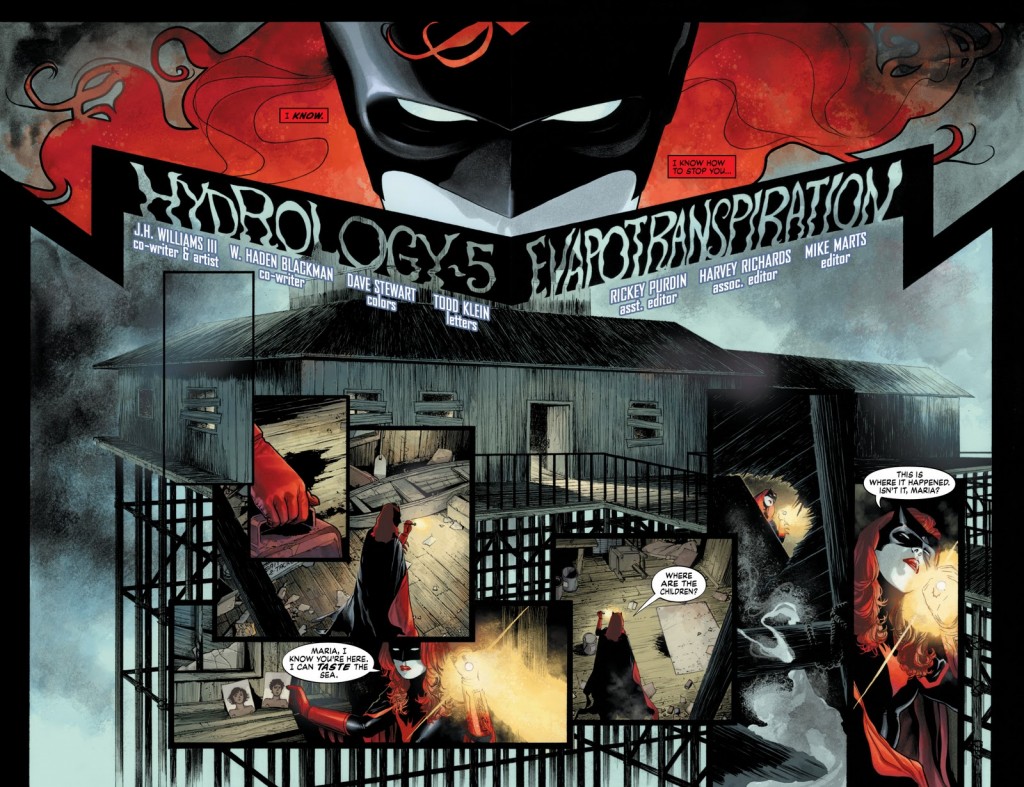 Where terror lurks in the corners of Gotham City, a dark and vengeful hero rises to avenge the people. With the cape, the mask, and a watchful eye, this hero protects the city when it cannot protect itself. And it might not be who you think.
Making her re-introduction into DC's New 52 relaunch of the universe is Kate Kane. Discharged from West Point Military Academy under the "Don't Ask, Don't Tell" mandate, she dons the mantle of Batwoman and evolves into a symbol of courage and persistence. Batwoman soldiers on through the hardships that come with balancing a personal life and a superhero's duty.
W. Haden Blackman's new series for Batwoman launched in September 2011, illustrated by Amy Reeder Hadley and J.H. Williams III. Hydrology deals with Kate picking up the pieces of the events of Elegy: her relationship with her father is dodgy at best, and the mystery behind her twin sister's existence still looms heavy over this hero. Teaming up with her cousin, Batwoman and Flamebird face a rising supernatural evil that threatens the children of Gotham. Kate must also balance maintaining a new romance with the knowledge that her girlfriend has launched a full-scale investigation into the vigilante Batwoman.
When it comes to the classic Bechdel Test, Hydrology passes it with flying colors. There seems to be a trend in female-headlined superhero comics to include more women in the storyline in general, and there are no complaints here. The reader gets a wide range of women to keep an eye on: girlfriend and detective Maggie Sawyer, headstrong Flamebird, and no-nonsense secret agent Cameron Chase. And while Kate Kane and Maggie Sawyer are involved in a lesbian relationship, the depictions of their romances are passionate, not pornographic.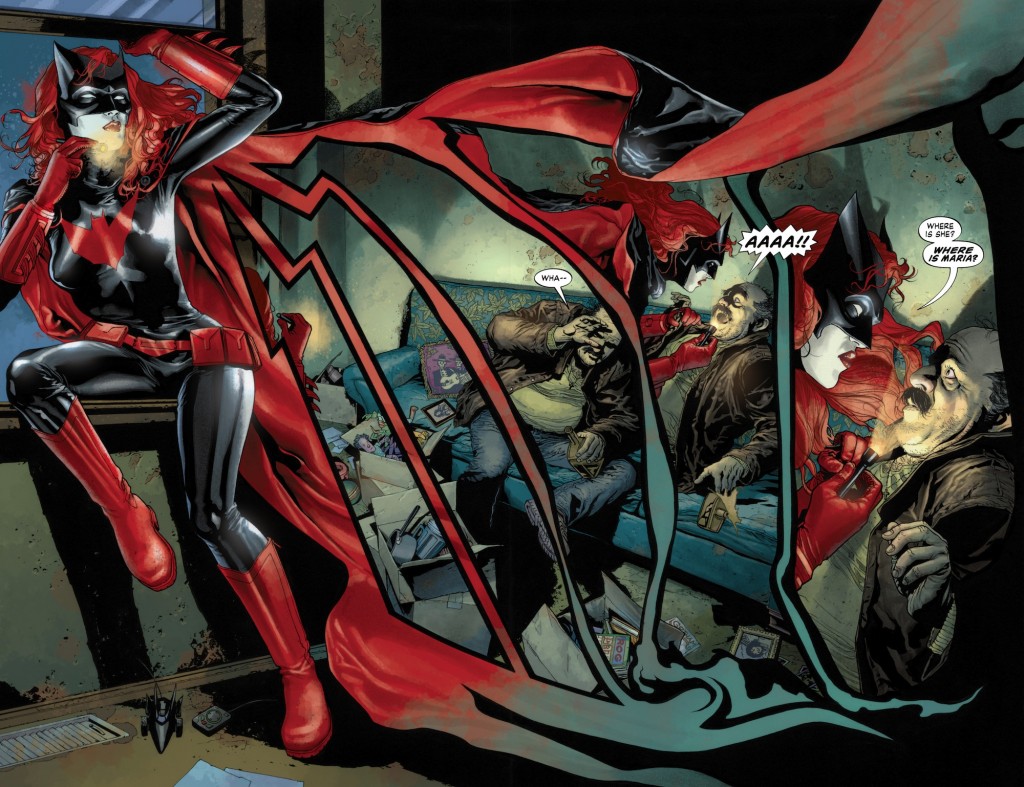 Hydrology's story-arc is one that cannot be missed, not only for it's non-stop story, but for the breathtaking art. Each page is a piece of beauty all on it's own, and it changes the game as to what defines a panel-space: be it a cape edge, a night sky, or the glint of blood on a hook. Illustrator Amy Reeder Hadley finds space to fill with story in the most ingenious of places. And perhaps it is the fact that a woman illustrated it, but there are much fewer over-sexualized poses in Hydrology. Kate's soldier-like build, red cape and hair are loud, threatening messages to the darkness in Gotham: if you can see her, she can see you.
To look at this beautiful, complex Batwoman story arc with a critical eye is hard, but there are some aspects of Hydrology that are problematic to say the least. First off, while Williams and Blackman do a very good job, it would be refreshing to see a female-headlined superhero comic illustrated and written by women, and would be equally lovely to see it written by a queer woman. Secondly, there is a scene in Hydrology that pairs Kate's sexual encounter with Maggie with interstitchings of a graphic fight scene. Visually, it is beautiful, but putting the two of them on the same two-panel spread is unsettling. Lastly, the Hispanic community of Gotham is central to the beginning of the main arc of Hydrology. Now, while this was a good way to show the diversity of the population of Gotham, Batwoman comes off in some moments as a bit of a White Savior.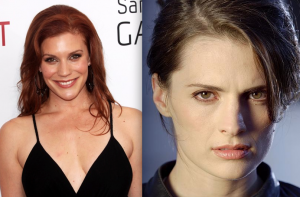 The reason it is so hard to be critical of this arc is because the actual character of Batwoman/Kate Kane is so thrilling to watch. And with the success of The Dark Knight Rises, DC fans are clamoring for more Bat-movies. Now, even with the knowledge that a Batwoman movie is years down the running (if ever), it doesn't hurt to dream. Directors like Guillermo Del Toro could really bring the mystical elements of Batwoman's newest arcs to life, while keeping the non-supernatural elements gritty and dark. To bring the hardened spirit of Batwoman to the screen, actresses like Castle's Stana Katic could don the mantle. For that matter, sci-fi veteran Katee Sackhoff of Battlestar Galactica fame would be breathtaking as DC's first openly lesbian character.
Kate Kane is refreshing: a solider with a loving heart, a female superhero for which romantic and familial love is not a weakness. A definite reason for this is that her independence, love and compassion for the people close to her is not filler: it is vital to who she is. She is still a daughter to her father and a cousin and mentor to Flamebird. She is a lesbian, and we get to see her have lesbian relationships that are human and engaging, while still being central to the plot. As equally compelling as her relationships is her drive. Kate Kane is the goddamn Batwoman because she says she is, and her training, resolve and love for Gotham keeps you turning the pages.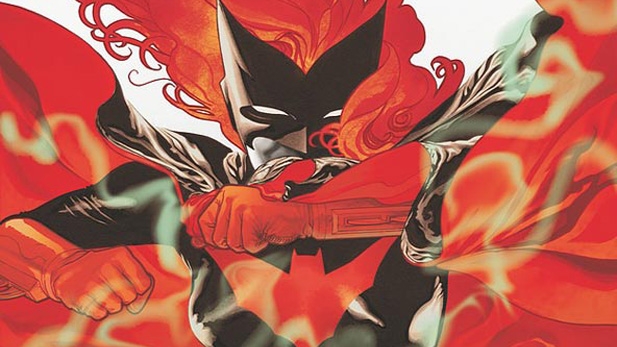 Batwoman's run in The New 52 is eleven issues long so far, spanning the Hydrology arc and the following arc, To Drown The World.