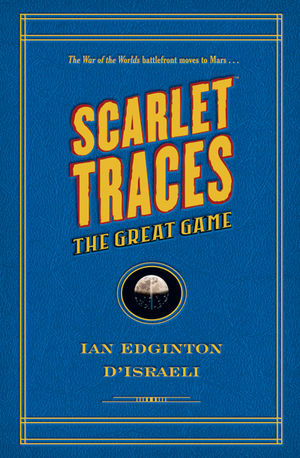 Are you guys ready for more tripods, red weed, and heat rays, and all that with a bad-ass lady journalist taking on the system and exposing the sins of the British Empire? The Great Game picks up another 30 years from where Scarlet Traces left off. Robert Autumn has faded into obscurity and insanity, and his discoveries have long since been covered up and forgotten. The war against the Martians has been taken to their home planet, in order to secure complete dominance for Queen and Country.
The Great Game follows photojournalist Charlotte Hemming, a woman whose name strikes fear in the hearts of government officials. Charlotte returns from a recent expose trip to find the BBC destroyed and a hit put out on herself and her boss. Her life is saved at the last minute by a mysterious old man with a missing an arm and a small dog for a companion. Robert Autumn, as he's revealed, is there to give Charlotte the story of a lifetime, and so she embarks on a trip to Mars, uncovering the deepest secrets of the British Empire, as well as the Martians.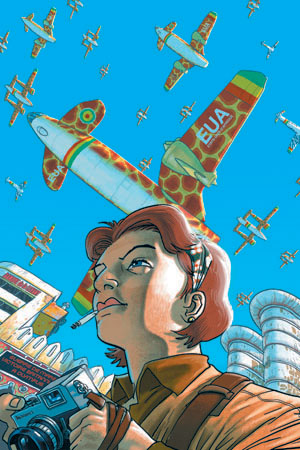 Naturally, I love that the heroine in The Great Game is a no-nonsense Indiana Jones type. Charlotte swears like a sailor and takes her whisky neat, while still being a Lady who manages it all with fabulous hair (and footwear appropriate for an adventuress). She responds to talk of conspiracy and foul play the way I would, by jumping head first into the fray and getting to the bottom of things, at all costs.
The Great Game presents a lot more character diversity and inclusivity. Charlotte's boss and editor of The Interceptor, Bernie Goldman, is openly gay. Robert Autumn, despite missing an arm, is a key character in setting the events of this story in motion. Still, like the previous volume, and even on Mars, it's just… white people forever. Still, I am again impressed by the story and art, and recommend this book to anyone who is a fan of War of the Worlds. I think even H.G. Wells himself would have enjoyed it.