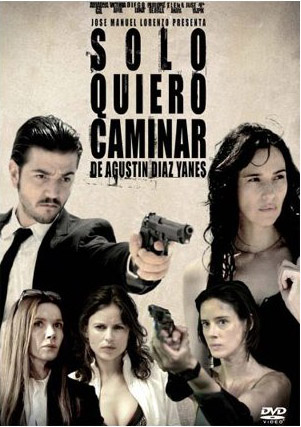 Sometimes I'm just in the mood for a mindless popcorn heist movie. The best heist movies are stylish, like Ocean's 11, and successfully pull one over on the audience with a last minute twist. Despite the wildly inaccurate Netflix description, which seems to have been written for the American male demographic, the Spanish film Solo Quiero Caminar (Just Walking) is the rare heist movie with an all-female team of robbers. Although not well known in the US, I cannot recommend this film highly enough for anyone that enjoys heist movies, bad-ass ladies, and/or movies that not only pass the Bechdel Test but blow it out of the water. After an impulsive add to my Netflix queue, I absolutely fell in love with this film within the first 15 minutes.
Solo Quiero Caminar opens with our team of ladies breaking into a jewelry store. Unfortunately, they are caught in the act and their leader, Aurora, stays behind to allow the others to escape, which lands her in prison. Fortunately for the audience, this sets off an exciting chain of events that allows us to see how she escapes from prison and lands in Mexico, hatching a plan to ruin the leader of a Mexican drug cartel. I love this movie not only because it turns the usual heist movie on its head with a close knit group of women with a strong sense of camaraderie, but also because it's a tale of revenge against the man who abused and put their friend into a coma.
Women in American action films typically fall into the action girl trope or only function as love interests for the male protagonists. However, each of these women  is unique and plays out her individual struggles and conflicts throughout the film, from the mother trying to provide for her son, to the youngest and most inexperienced of the group who must face her fears to help her friends. In addition to the strong friendship displayed between the characters, each of the women is allowed to be smart and resourceful, using their wits and every advantage they possess to outsmart the men who stand in the way of their plans.
Aurora, the leader of the group, could easily fall into the "strong female character" trap of the stoic, unfeeling heroine, but her cleverness, loyalty, and ruthlessness make her a dynamic and interesting character. In addition, the love story between Aurora and Diego Luna's character, the assassin working for the antagonist, is subtle but tragic and fascinating, as the two characters dance around each other. It's a love story of two criminals who live hard lives right up to the end.
Although I love popcorn heist movies like Fast Five (one of my biggest guilty pleasures), Solo Quiero Caminar has an unexpected depth, with gritty action, complex characters, and an entirely female driven story. I also appreciate the non-sexualized violence and the strength of the women's friendship which is the highlight of the film.
Agustín Díaz Yanes, the writer and director, has worked with stars like Penelope Cruz, Diego Luna, and Gael García Bernal, but has have never really crossed over into US popularity the way Alfonso Cuarón or Pedro Almodóvar have.  Still, Yanes is one of my favorite filmmakers because of his complex female protagonists and stylish storytelling. To me, it's obvious that Diaz loves his female characters and enjoys exploring their relationships and struggles in a patriarchal society.
For further exploration of female relationships and a more fantastical story, I would also highly recommend Yanes's film Sin Noticias De Dios about an angel (Victoria Abril) and a waitress from Hell (Penelope Cruz), battling over the soul of a boxer.
Note: Solo Quiero Caminar can be a trigger with regards to violence against women, domestic abuse, and dubious consent. While these aspects of the film weren't explicitly discussed in the article, this is a warning to anyone curious to see the film.